Display all pictures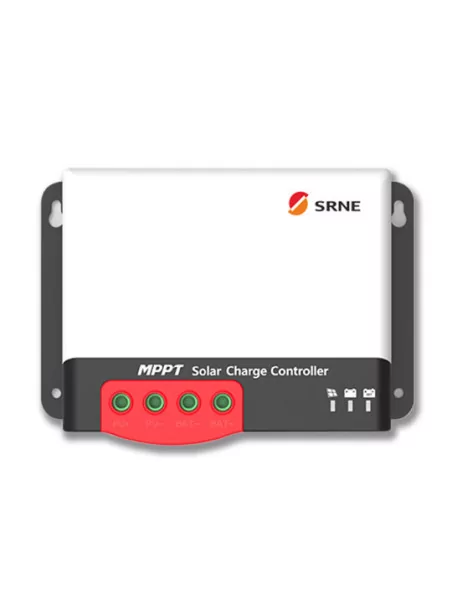 Solar Regulator SRNE MPPT 12/24V 40A
SRNE
More info

Its strengths
♦ PowerCatcher technology, tracked by the maximum power point, allows the controller to track the maximum power point of the solar panels, even in a complex environment. Compared to traditional MPPT tracking technology, it offers faster response speed and greater tracking efficiency.
A built-in MPPT (Maximum Power Point Tracking) algorithm significantly increases the energy efficiency of the photovoltaic system, which is about 15% to 20% higher than the traditional PWM charge.
It offers an active control function of the charge voltage. When the battery is open-circuited or the BMS lithium battery overload protection is activated, the controller's battery terminal delivers the face value of the charge voltage.
The effectiveness of MPPT follow-up is 99.9%.
With advanced digital power technology, the circuit's energy conversion efficiency can reach 98%.
Available for multiple types of batteries. It supports charging procedures for different types of batteries such as lithium batteries, colloidal batteries, sealed batteries, ventilated batteries, etc.
A limited current charging mode is available. When the power of the solar panel is too high and the charge current is greater than the rated power of the valve, the regulator automatically reduces the charge power so that the solar panel can operate with the nominal charge current.
Supports automatic identification of lead-acid battery voltage.
It is possible to connect an external LCD screen or Bluetooth module to view operating data and equipment status, and it is possible to change the controller settings.
Support of the standard Modbus protocol to meet communication needs on different occasions.
An integrated overheating protection mechanism ensures that when the temperature exceeds the device's set value, the charge current decreases linearly with temperature.
---
Characteristics
| | |
| --- | --- |
| Articles | Parameter |
| Model | MC2440N10 |
| Tension of the system | 12/24V |
| Zero load loss | <10mA |
| Battery voltage | 9V-32V |
| Maximum open-circuit PV voltage | 92V (25oC); 100V (Lowest ambient temperature) |
| Maximum voltage range at power point | 40A |
| Nominal charge current | 550W/12V 1100W/24V |
| Maximum PV input power | |
| Load conversion return | >99% |
| Temperature compensation coefficient | -3mv/C/2V (defect); Lithium battery without temperature compensation |
| Operating temperature | -35C / 60C |
| IP rating | Ip32 |
| Weight of the device | 1040g |
| How to communicate | Communication series TTL |
| Altitude | |
| Dimensions (mm) | 183*127*65,5 |
Data sheets and documentation
Specifications
| | |
| --- | --- |
| Charge power | 40A |
| Voltage | 12V / 24V |
| MPPT/PWM | MPPT |
| Weight | 0,8 kg |
| Width | 183 mm |
| Height | 127 mm |
| Thickness | 69,5 mm |