Display all pictures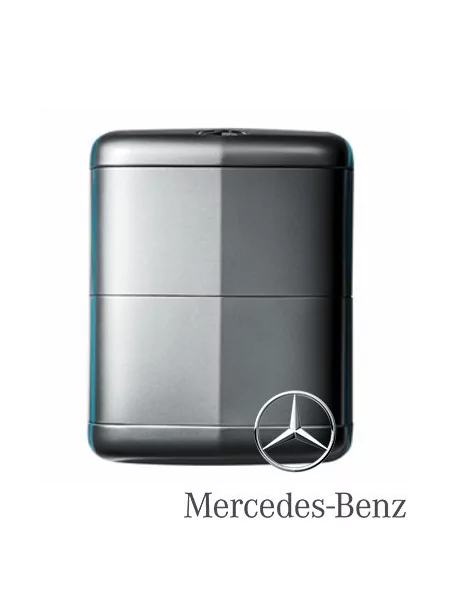 Energy storage Home 6kWh - Mercedes-Benz
Mercedes-Benz
More info
" Accelerate your own energy revolution. "
The road is clear for you to take control of your own power and optimise your home energy consumption. Mercedes-Benz Energy Storage Home can store electricity produced by your solar PV installation so solar power can be used even when the sun isn't shining. Now you can use more of your renewable energy and be protected against fluctuating energy costs. The systems can also be configured for backup power functionality, so you always have the power you need when you need it.
---
Road-tested technology for use at home.
Our focus on energy storage is fueled by the same passion we invest in constantly reinventing the automobile, always bringing you the most innovative, highest quality solutions. Our storage systems are based on the same technology used in electric and hybrid vehicles made by Mercedes-Benz. Developed to meet a challenging application in vehicles, the battery technology in Mercedes-Benz Energy Storage Home complies with the strictest safety and quality requirements per automotive industry standards. With increased autonomy and efficiency from Mercedes-Benz Energy Storage Home, take the next step toward a clean energy future.
---
It pays off.
Straight from the car to the living room – the battery technology without which electromobility would not have been possible can now also be put to use in your own home. Losses from surplus kilowatt hours produced by photovoltaic installations are now a thing of the past. Mercedes-Benz Energy Storage Home allows you to maximise consumption of your own electricity and to use sustainably generated energy.
---
Mercedes-Benz Energy Storage systems at a glance.
Modular system ranging from 3.0–24 kWh
Can be upgraded to suit your individual requirements
Optimisation of home solar consumption
Backup power functionality available
Safe and long-lasting lithium-ion technology
Noiseless and reliable
Wall-mounted or floor standing installation
Mercedes-Benz quality – made in Germany
Ten-year warranty
Up to eight energy modules, each with a capacity of 3.0 kWh, can be combined to create a perfectly sized system for your needs. The benefits of Mercedes-Benz Energy Storage Home include protection against fluctuating energy costs, greater utilization of your own clean energy, more independence and a reliable energy supply.
---
The quick and easy way to your own energy storage system.
Your local electrician can help you find the perfect configuration for your Mercedes-Benz Energy Storage Home solution – for example, in combination with a photovoltaic installation. He can identify the ideal storage solution for your needs, and can advise you and act as your contact for planning, ordering and installation.
---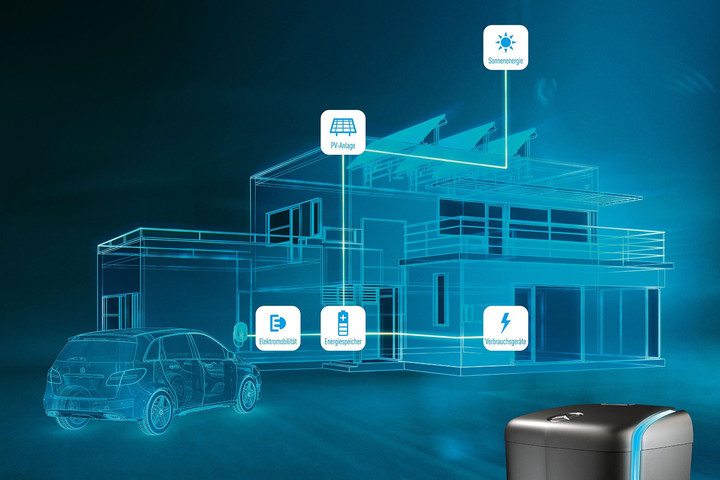 During the day, more photovoltaic energy is produced than your household consumes.
Excess energy is stored with the help of Mercedes-Benz Energy Storage.
Up to 65 % of self-produced energy with our complete solution: Mercedes-Benz Energy Storage, battery inverter and intelligent control.
Optional charging station for emission-free recharging of electric and plug-in hybrid vehicles with stored energy.
---
---
Mercedes-Benz Home - Technical data

6
9
12
General data
Dimensions horizontal mounting (l / h / d)
cm
47 / 67 / 29
47 / 92 / 29
47 / 117 / 29
Dimensions wall mounting (l / h / d)
cm
47 / 68 / 29
47 / 93 / 29
47 / 118 / 29
Weight, horizontal mounting, accessories included (32 kg heaviest handling group)
kg
69
101
133
Weight, wall mounting, accessories included (32 kg heaviest handling group)
kg
67
99
131
Mounting Type
Vertical or Wall Mount
Eligible Network Architecture
IT
AC / DC-coupled Possible
Possible (depending on the system)
1-/-3 phases
Possible (depending on the system)
Protection class
IP20
Ambient temperature
+6 °C to +44 °C
Battery Data
Number of battery modules
2
3
4
Useful energy value
kWh
5.6
8.4
11.2
Number of cycles expected
8 000 (80 % DoD/0,5 C)
Residual capacity after 10 years
> 80 %
Operating voltage range
39,7 V à 54 V
Cell technology
Lithium-ions (nickel, manganese, cobalt)
Continuous battery power
kW
3.7
5.6
6.2
System Performance
97 % round cycle
Warranty
10 years warranty replacement value
Inverter compatible with
SMA Sunny Island 3.0 M/4.4 M/6.0 H/8.0 H
Standards
2006/66 / EC (on batteries and accumulators and waste batteries and accumulators), 2011/65 / EU (on the restriction of the use of certain hazardous substances in electrical and electronic equipment) (BSW, BVES, DGS, StoREgio and ZVEH), ProdHaftG, ProdSG, harmonized standards and transport and packaging instructions
Data sheets and documentation