Display all pictures
Kit batterie LG CHEM RESU Plus 16.5kWh
LG
More info

" Kit LG Chem Lithium RESU Battery -16.5 kWh - 48V "
This kit contains :
1x lithium battery LG Chem RESU 6.5kWh
1x lithium battery LG Chem RESU 10kWh
1x Resu Plus extension kit
---
Optimized Solution for Energy Saving & High-quality Power
Electricity Bill Saving
Charge during off-peak times
Discharge during peak times
Self-consumption
Store solar energy generated from photovoltaic panels for the future use
Emergency Power Back-up
Discharge during a black-out, functioning as back-up power
Compact Size & Easy Installation
The compact and lightweight nature of the RESU is world-class. It is designed to allow easy wall-mounted orfloor-standing installation for both indoor and outdoor applications. The inverter connections have also been simplified, reducing installation time and costs.
Powerful Performance
The new RESU series features industry-leading continuous power (4.2kW for RESU6.5) and DC round-tripefficiency (95%). LG Chem's L&S (Lamination & Stacking) technology provides durability ensuring 80% of capacity retention after 10 years.
Proven Safety
LG Chem places the highest priority on safety and utilizes the same technology for its ESS products that has a proven safety record in its automotive battery. All products are fully certified in relevant global standards.
Diversity in Product & Capacity Options
A total of five different models are available to meet customers varying needs with respect to voltage and capacity. With the RESU Plus, all 48V models can be "cross-connected" with one other 48V unit of any capacity. This allows the RESU range to offer energy storage capacities from 3.3kWh to 19.6 kWh.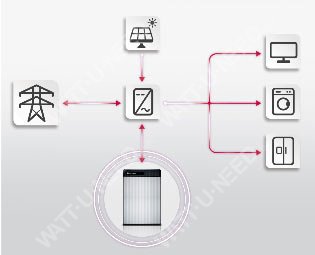 ---
---
---
Technical specifications and dimensions
---
Lithium LG CHEM battery paralleling kit
RESU Plus is an expansion kit specially designed for 48V models of new RESU series. With RESU Plus, all 48V models can be cross-connected with each other.
It is possible to connect two Resu batteries with LG Chem Resu Plus.
The following combinations are possible:
RESU3.3 + RESU3.3
RESU3.3 + RESU6.5
RESU3.3 + RESU10
RESU6.5 + RESU6.5
RESU6.5 + RESU10
RESU10 + RESU10
Technical data
Dimensions: 385 mm x 240 mm x 65 mm
IP55
Resu-Plus extension kit
Dimensions
mm
120.5 x 156 x 216
Weight
kg
2
Humidity
%RH
5 - 95
Operating temperature
°C
-10 / 45
Installed method
Wall mount
Installed position
Indoor-Outdoor
Conductor cross-sectional area
mm²
33 - 50
Cable outer diameter
Max. 18mm
Cable lug hole size
M8
Cable lug width
mm
18
Safety
UL recognized
Available with
RESU 3.3
RESU 6.5
RESU 10
Energy
kWh
3.3
6.5
9.8
Voltage
V
42 - 58.8
42 - 58.8
42 - 58.8
Current
A
51 - 71.4
71.4 - 100
85 - 119
Data sheets and documentation
Specifications
| | |
| --- | --- |
| Voltage | 48V |
| Technology | Lithium |
| Battery capacity | 315Ah |
| Weight | 127 kg |