Display all pictures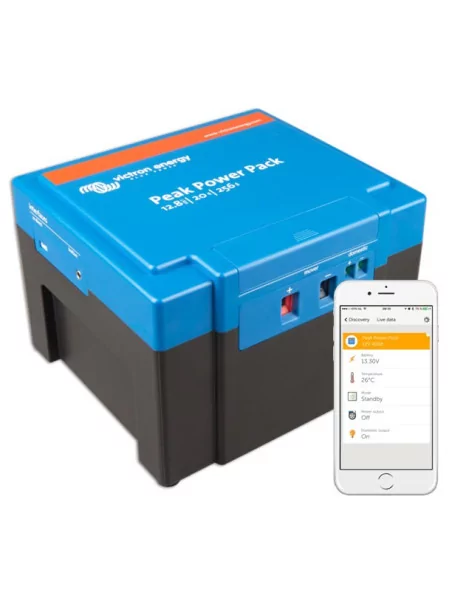 Battery with built-in Victron 12.8 V charger - 8 to 40 A
Victron energy
More info
The Peak Power Pack is a complete substitute for lead-only batteries in applications where high currents occur over short periods of time. Designed primarily for caravan tractors, it is equipped with an integrated charger allowing charging from the car's electrical system during the caravan ride. In this way, the pack will be fully loaded upon arrival at the campsite. If necessary, it is possible to carry out the load thanks to the adapter provided to connect to the network. Charging is also possible from a solar panel.
Lightweight and easy to install
Ideal device for mobile applications
Fully protected against misuse
Excellent performance for solar or other applications, where deep discharges and insufficient recharges can quickly damage lead-only batteries.
Output 1: High current output for motorized maneuvering assistance systems and high power applications
- Application for motorized system of assistance to the maneuvering of caravans: automatic stop of the high power output, 30 minutes after activation.
- Other applications: the high power output can be switched to the "always on" mode.
- Resists short circuits Protection against excessive discharge of the battery
Output 2: Auxiliary output for low DC loads (not available on the 8Ah model).
-Always on
-Resists short circuits
-Protection against excessive discharge of the battery
Input 1: Solar charger input / multifunction vehicle battery
Voltage and current set to safely charge the lithium-ion battery. Almost any source of electrical power can be connected to this input, as long as it is between 11V < Wine
Input 2: second input for connecting a power supply
A 3A power supply is included (connect to the 100/240 VAC mains).
Fast charging possible through input 1 (high current output).
A battery charger or converter/charger can be connected to a high power output to achieve fast charging. Maximum load current of 40A, and maximum charging voltage of 14V.
Storage mode
Reduces the current absorbed from the battery to almost zero. This function prevents damage to the battery against excessive discharge during long storage periods.
Technical specifications
Data sheets and documentation