Display all pictures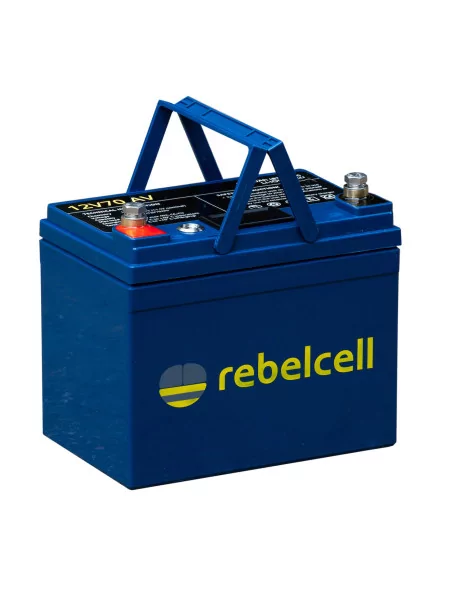 RebelCell 12V 70Ah Lithium battery
Wattuneed
More info

12V 70Ah
Description
Battery Li - ion 12V 70 AV with digital indicator of the State of the charger, for use in the following applications:
Angling : 12 V electric motor, sounder, energy water needs.
Electric boat: propulsion of an electric motor 12 V up to 55 lbs (for example, power barges, dinghies, etc.).
Leisure : battery service for yachts, boats, motor, mobile homes and caravans.
---
Key benefits
Compact and lightweight: the battery weighs only 6.5 kg
Performance maximum : thrust constant even when the battery is almost empty, discharge (up to 100%) without negative effects on performance or life cycle
Friendly: Lightweight and compact, LED charge status indicator, can be used with «standard» AC - DC converters
Easy loading: reloaded quickly and between charges (full charge in 4-5 hours).

Can also be loaded with solar panels (special solar charge controller required).

Reliable with a long service life: built-in protection against abuses (against deep discharge, surge, high temperatures, etc.) via BMS and service life up to 10 years.
2 years warranty
---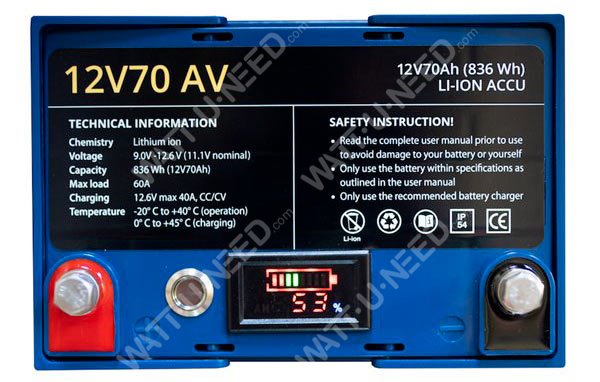 Technical specifications
| Technical specifications | 12V70 AV |
| --- | --- |
| Chemistry | Lithium ion |
| Voltage | 12, 6V |
| Capacity (C1 - C20) | 70Ah |
| EqPb (equivalent lead-acid) | so 130Ah |
| Nominal power | 836 Wh |
| Maximum discharge continues | 60A |
| Maximum discharge (10 sec) | 75A |
| Life cycle (#charges) (@ 80% DoD) | ~ 1500 |
| Life cycle (#charges) (@ 100% DoD) | ~ 1000 |
| Dimensions | 195 x 130 x 155 mm |
| Weight | ~ 6,5 kG |
| Energy density | ~ 104 Wh / kG |
| Electronics & BMS | |
| Voltage of bandwidth | 9.0V ~ 12.6V |
| Temperature load | 0 ~ 45 ° C |
| Discharge temperature | -20 ~ 60 ° C |
| Storage temperature | -20 ~ 45 ° C |
| Load profile | CC / CV |
| Maximum charge current | 35A |
| Integrated cell balancing | Yes |
| Temperature protection | Yes |
| Maximum discharge current protection | Yes |
| Protection high voltage | Yes |
| Protection low voltage | Yes |
| | |
| Protection and certification | |
| Standards (IEC 529) | IP54 |
| Certificate CE | Yes |
| warranty | 2 years |
---
Specifications
| | |
| --- | --- |
| Voltage | 12V |
| Technology | Lithium |
| Battery capacity | 40 Ah |