SMA Sunny Home Manager
View full size
Display all pictures
The SMA Sunny Home Manager is a powerfull control center for intelligent energy management.
Optimizes your installation by understanding your household energy flows. Production of your PV system forecasts and electricity costs fluctuations are also taking into account.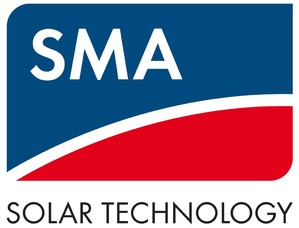 Available on order
More info
By buying this product you can collect up to 43 loyalty points. Your cart will total 43 points that can be converted into a voucher of 12,90 €.
More info
" Sunny Home Manager "
Description :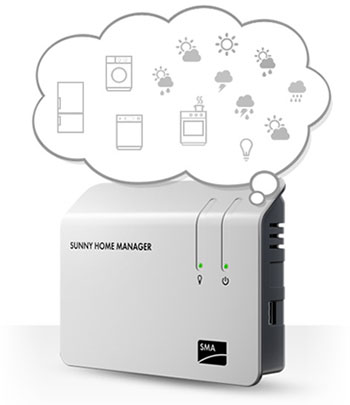 Free access to Sunny Portal interface (see at the bottom of the page) to manage your installation.
You have a complete overview of the household energy flows and you can effectively control your self-consumption.
Data are instantly visible via the interface on a computer or smart phone.
Self-consumption optimisation
Increase self-consumption thanks to the recommended actions provided by the Sunny Home Manager
Automatic activation of controllable loads (ex: washer, dishwasher,...)
Clear display of energy produced, powers, ...
Easy to install
Easy to install thanks to the installation wizard.
Free access to the program Sunny Portal to manage your installation
Easy to use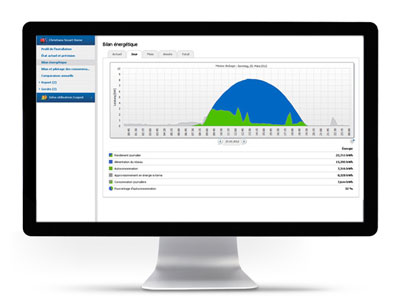 View and control
Thanks to the Sunny Portal interface available with Sunny Home Manager, you have an overview on all household energy flows.
the datas are updated in real time (every 10 sec.) for an accurate monitoring of your production.
In case of failure , you automatically receive an email to notify you of the situation.

The interface display in real time graphical data with the power values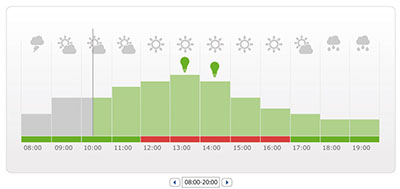 The interface provides an overview of the local weather forecast and the solar power expected. It calculate and display an estimate of future production in the coming hours .
It promotes self-consumption by providing recommended actions, such as the best time to start the washing machine,... or when and how long an apparel can use the power from the system.
Storage application example :

Sunny Home Manager
Communication
Load communication
Bluetooth® via SMA radio-controlled socket / Ethernet
Inverter communication
Bluetooth® / Speedwire
Sunny Portal communication
Ethernet
Connections
Onduleur
Bluetooth® / Speedwire
Ethernet
10 / 100 Mbit, RJ45
Energy meter
Three 2 x 4-pole plugs for connection of S0 cable or
D0 optical probes / SMA Energy Meter via Ethernet
Max. number of connected devices
Total number of SMA devices
16
...of which SMA inverters
up to 12
...of which SMA radio-controlled sockets
up to 10
Smart appliances via Ethernet
up to 32
Max. range for communication
Bluetooth in free-field conditions
Up to 100 m (can be extended with an SMA radio-controlled socket)
Speedwire
100 m
Voltage supply
Voltage supply
External plug-in power supply
Input voltage
100 V to 240 V AC, 50 / 60 Hz
Power consumption
< 6 W (max. 14.3 W)
General data
Dimensions (L / H / P)
170 / 124,5 / 41,5 mm
Weight
0,22 kg
Ambient temperature
–25 °C à +60 °C
Maximum permissible value for relative humidity (non-condensing)
95 %
Mounting
Indoors - DIN rail mounting, wall mounting
Status display
2 DEL
Warranty
5 years
Sunny Home Manager Assistant :
Please download Sunny Home Manager Assistant on SMA website by clicking here (PC SOFTWARE tab)
Inverters compatible Sunny Portal in combination with Sunny Home Manager
Sunny Boy 1300TL-10 / 1600TL-10 / 2100TL-10 (optionnel)
Sunny Mini Central 9000TLRP / 10000TLRP / 11000TLRP (optionnel)
Sunny Boy 2000 HF-30 / 2500HF-30 / 3000HF-30 (standard)
Sunny Boy 2500TLST-21 / 3000TLST-21 (standard)
Sunny Boy 3000TL-21 / 3600TL-21 / 4000TL-21 / 5000TL-21 (standard)
Sunny Tripower 5000 TL-20 / 6000TL-20 / 7000TL-20 / 8000TL-20 / 9000TL-20 (standard)
Sunny Tripower 10000TL-10 / 12000TL-10 / 15000TL-10 / 17000TL-10 (standard)
Sunny Tripower 15000 TLEE-10 / 20000TLEE-10 (standard)