Display all pictures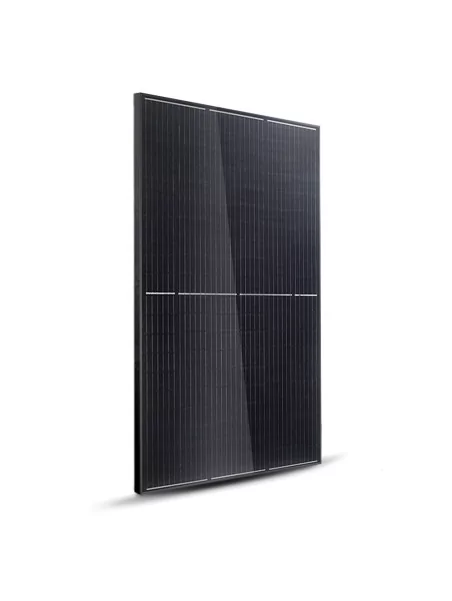 Q.Cells DUO 310Wc mono solar panel black full
Q.Cells
More info
High perfomance and elegant design


The photovoltaic modules Q.PEAK BLK - G5 DUO offer greater returns on smaller surfaces. All this thanks to the association between the new generation of the concept of Q.ANTUM cells, holder of the world record, and the half-cells and six Busbar of the high-tech circuit design. The surface before the DUO BLK - G5 Q.PEAK is completely black and improves the visual appearance of the most exclusive residential system.
Anti-LID of Q CELLS technology removes the degradation induced by light (LID, Light induced degradation), which reduces the performance of the system, or even almost completely. Conventional monocrystalline photovoltaic cells know great loss of performance when exposed to the Sun, which is not the case of Q.PEAK DUO BLK - G5, the technology of anti-LID.
---
WITH DUO TECHNOLOGY Q.ANTUM SOLAR MODULE


The new photovoltaic module Q.PEAK DUO BLK - G5 of Q CELLS will impress you by its visual appearance and its particularly high performance for a small surface, thanks to the innovative Q.ANTUM DUO TECHNOLOGY. The concept of cell Q.ANTUM with a world record is associated with a high-tech circuit, half-cells and six Busbar design, allowing to achieve exceptional performance in the real world, as well with a low solar radiation during clear and warm summer days.
---
ALL THE BENEFITS OF YOUR SOLAR Q.PEAK DUO BLK - G5
LOW COST OF RETURNS OF ELECTRICITY
Q CELLS solar modules allow you to generate a better surface performance and reduce BOS costs thanks to the categories of high performance and efficiency up to 19.3%
LONG LASTING PERFORMANCE
High performance assured long term thanks to the Anti - LID Technology, Anti-PID Technology, the Hot-Spot Protect process and traceability of quality Tra.Q™. Q CELLS solar modules are reliable and durable.
TECHNOLOGY FOR ALL TIME
Optimal performance in any weather thanks to the excellent performance to diffuse light and thermal behaviour. Products Q CELLS reach maximum performance in all weather.
INVESTMENT SECURITY
12 years of 25 years of linear performance guarantee and product warranty.
MODULAR ADVANCED TECHNOLOGY
Q.ANTUM DUO combines cell separation and innovative Q.ANTUM technology wiring.
PERFORMANCE IN EXTREME WEATHER CONDITIONS
Frame aluminum alloy high-tech certified for high loads of snow (5400 Pa) and wind (4000 Pa), in accordance with the IEC standard.
---
Dimensions
---
Features
Q.PEAK DUO BLK - G5 310
Power [W] max
310
Short-circuit current [A]
9,83
Voltage [V] unladen
40,02
Current max [A]
9.36
Voltage [V] max
33,12
Yield [%]
≥ 18.4
ISC temperature coefficient [% / K]
+ 0.04
PMPP temperature coefficient [% / K]
− 0.37
UOC temperature coefficient [% / K]
− 0.28
Normal Module Operating Temperature [° C]
43 ± 3
Maximum voltage of the system [V]
1000
Eligible return current [A]
20
Load maximum load of compression / pulling [Pa]
3600 / 2667
Load from compression test / traction [Pa]
5400 / 4000
Protection class
II
Fire resistance class
C
Admissible temperature of the modules with a maximum sunshine
− 40 ° C to + 85 ° C
Dimensions
1685 mm × 1000 mm × 32 mm (with frame)
Weight
18.7 kg
Front
3.2 mm tempered glass with anti reflection technology
Back side
Composite film
Framework
Black anodized aluminum
Cells
6 × 20 monocrystalline half-cells Q.ANTUM
Junction box
70-85 mm × 50-70 mm × 13-21 mm
Index of protection IP67, with bypass diodes
Cable
Cable solar 4 mm²; (+) ≥ 1100 mm, (−) ≥ 1100 mm
Connector
Contactless MC4, IP68
Specifications
| | |
| --- | --- |
| Weight | 18,7 kg |
| Couleur | Full Black |
| Panel type | High efficiency, Rigids |
| Cells | Monocrystalline |
| Max. Power - Wp | 310 |
Data sheets and documentation