Display all pictures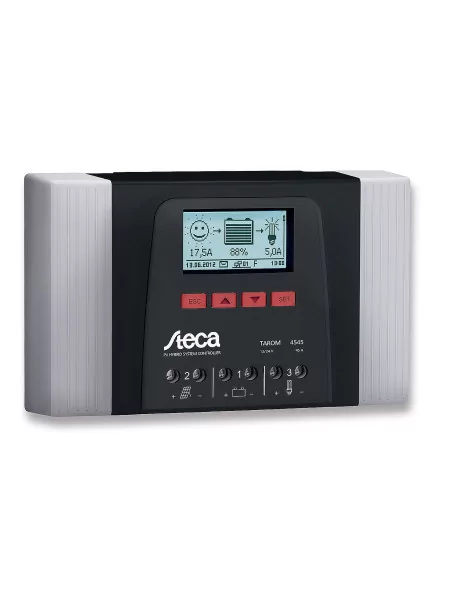 Solar controller Steca Tarom PWM 4545
Steca
More info
" Solar regulator made in Germany "
The new version of the Steca Tarom sets new standards in this power class. A graphical display informs the user of all the important information of the installation, and allows the configuration and adjustment of the regulator to the specific requirements of each installation.
Its many useful features allow the user to adapt the controller to the specific data of his system.
The considerable improvement of the state of charge determining device allows an optimal regulation of the system and the protection of the batteries. The Steca Tarom charge controller is the reference for larger systems with three voltage levels (12 V, 24 V, 48 V).
The integrated data logger stores all the important information of the installation. With the Steca UART open interface, you can access controller data in real time. An external temperature sensor can be optionally installed. Two additional switching contacts can be freely configured as a timer and can be used to manage various functions such as night lighting, generator start-up, or surplus management. A total of six devices can be connected in parallel and communicate via the StecaLink bus.
---
Product Features
Shunt topology with MOSFETs
MicroSD card slot for the data logger of all minute values
Determination of the state of charge (SOC)
Automatic voltage selection
Temperature compensation
Multi-level charging technology
Disconnection of consumers according to the SOC system
Automatic consumer reconnection
PWM Regulation
Possibility of negative grounding of a terminal or positive earthing of several terminals
Real time clock (date, time)
Innovative advanced data logger with energy meter
MicroSD card slot for the data logger of all minute values
Twilight functions, night lighting and aurora
Four freely programmable timers with day of the week display function
Self test
Two configurable auxiliary contacts
Adjustable end of charge voltages
Monthly equalization charge
---
Electronic protection functions
Overload protection
Protection against deep discharges
Reverse polarity protection of solar panels and battery
Automatic electronic fuse
Protection against consumer short circuits and solar panels
Protection against open circuit without battery
Reverse current protection at night
Protection against overtemperature and overload
Disconnection of consumers in case of battery overvoltage
---
Specificities
4545
4545-48
Characterization of the performance of operation
System voltage
12 V (24 V)
12 / 24 / 48 V
Own consumption
30 mA
DC input side
Vacuum voltage of the photovoltaic panel (at the minimum operating temperature)
< 60 V
< 100 V
Panel Current
45 A
Panel Current
Consumer current
45 A
Reclosing reference point (SOC / LVR)
> 50 % / 12,5 V (25 V)
> 50 % / 50 V
Deep discharge protection <30% (SOC / LVD)
< 30 % / 11,7 V (23,4 V)
< 30 % / 46,8 V
Battery side
Final charging voltage
14,1 V (28,2 V)
56,4 V
Fast charging voltage
14,4 V (28,8 V)
57,6 V
Equalization load
15 V (30 V)
60 V
Setting the type of accumulator
liquid (adjustable by the menu)
Working conditions
Ambient temperature
-10 °C … +60 °C
Installation and construction
Termination terminal (fine / single-wire)
25 mm² / 35 mm² - AWG 4 / 2
Degree of protection
IP 31
Dimensions (X x Y x Z)
218 x 134 x 65 mm
Weight
800 g