Display all pictures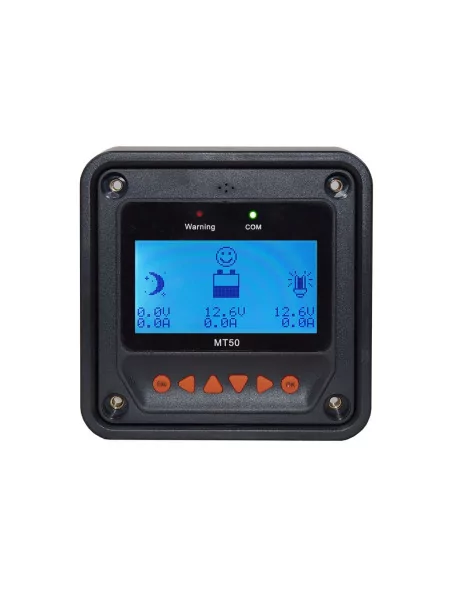 Digital display for Epsolar LS and BN controllers
Epever
More info
" Compatible with epsolar PWM LS-B Serie and MPPT Tracer BN and A Series "
Digital backlight display allowing you to have accurate information about the panels/batteries voltages. Compatible with epsolar PWM LS1024B, LS2024B et LS3024B and MPPT Tracer 1215BN-10A, 2215BN-20A, 3215BN-30A and MPPT Tracer1210A, Tracer2210A, Tracer3210A, Tracer4210A.
Specifications
Backlight digital display allowing you to have the precise information panels / batteries, controller parameters and status tensions, error messages ...

Compatible with the full range of PWM controller Epsolar LS.

View as SOC (state on load)

Displaying all voltages and currents to the terminals of the regulator.

Selects the type of battery and indicates its charge state.

2m cable provided to connect to the controller.

Choice of different control modes 12/24V output: Manual ON / OFF, Light ON / OFF, ON Light + Timer, Time only

Possible amendment of all load voltages

Real-time monitoring of the entire system
Display
Data sheets and documentation
Product Reviews
Number of Reviews : 26
Average Grade : 4.5 /5
A. G
the 11/10/2018
5/5
Super ! Manque la notice en français
D. Benjamin
the 01/09/2018
4/5
conforme
M. Daniel
the 13/04/2018
5/5
ok conforme à ma commande
V. Francis
the 05/04/2018
5/5
Parfait sur toute la ligne.
K. Jean-Jacques
the 03/08/2017
4/5
Déjà utilisé fait fausse manœuvre et au revoir. Donc recommandé en toute confiance.
L. Yves
the 17/08/2016
5/5
très correcte
S. Schirinzi
the 09/07/2016
4/5
Permet de voir le niveau de batterie un peu obligatoire avec le module de base
B. Jacques
the 21/06/2016
4/5
bien
N. Gilbert
the 14/06/2016
4/5
Bon produit ... Mais notice en anglais approximatif et cela est insupportable.
› Comment from Wattuneed the 20/06/2016
Bonjour,Vous trouverez le document en français à cette adressehttp://www.wattuneed.com/fr/index.php?controller=attachment&id_attachment=465Bien à vousMaxime
C. Daniel
the 27/05/2016
5/5
très bien
R. Cédric
the 15/05/2016
5/5
facile d'utilisation
R. Alain
the 06/04/2016
5/5
Pour un lecture facile des infos
C. Denis
the 30/03/2016
5/5
Très bien
C. Giuseppe
the 23/03/2016
5/5
Très bien, conforme à mes attentes, je recommande
L. Christian
the 19/03/2016
4/5
Bon matos
G. Pierre
the 09/12/2015
5/5
très pratique pour visualiser la charge et la consommation
B. Georges
the 18/11/2015
5/5
TRES BIEN
J. Thibaut
the 03/10/2015
5/5
Parfait
D. Patrick
the 12/09/2015
5/5
TRES BIEN POUR SURVEILLER SON INSTALLATION SOLAIRE
H. Christian
the 28/11/2014
4/5
Bien
B. Fabienne
the 28/11/2014
4/5
un peu compliqué a programmer exemple date ?Mais parfait pour le choix du mode de charge
M. Piconto
the 18/10/2014
4/5
bien
P. GINOUX
the 17/10/2014
4/5
Bon produit, indispensable pour paramétrer les régulateurs de charge EpSolar. Prix un peu élevé.
P. BERG
the 17/10/2014
4/5
Très bien. Conforme à ce que j'attendais
L. DAL-CORTIVO
the 17/10/2014
5/5
Outil indispensable pour savoir où vous en êtes !
More reviews...