Display all pictures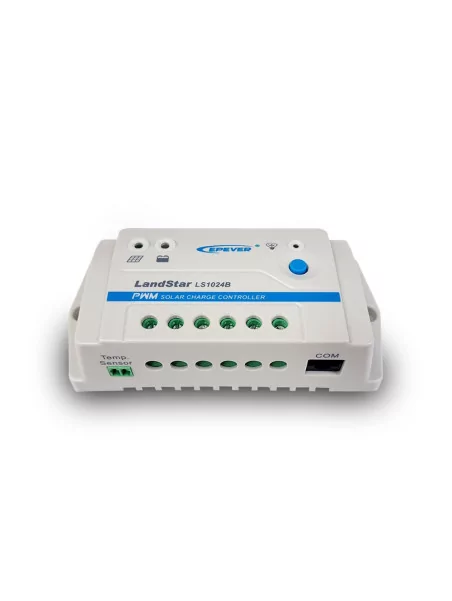 Epsolar PWM LandStar Serie 12V / 24V - 10A
Epever
More info
" LS1024B Solar regulators "
Epsolar's new generation programmable solar charge controller. Adopt aluminum heat sink which enables the reliability in high temperature enviroments.
---
DESCRIPTION
Capacity: 10A
Operating voltage: 12V or 24V
Temperature compensation
Warranty: 2 years
Technology: PWM
---
The theoretical charging of a lead acid battery operates in three phases: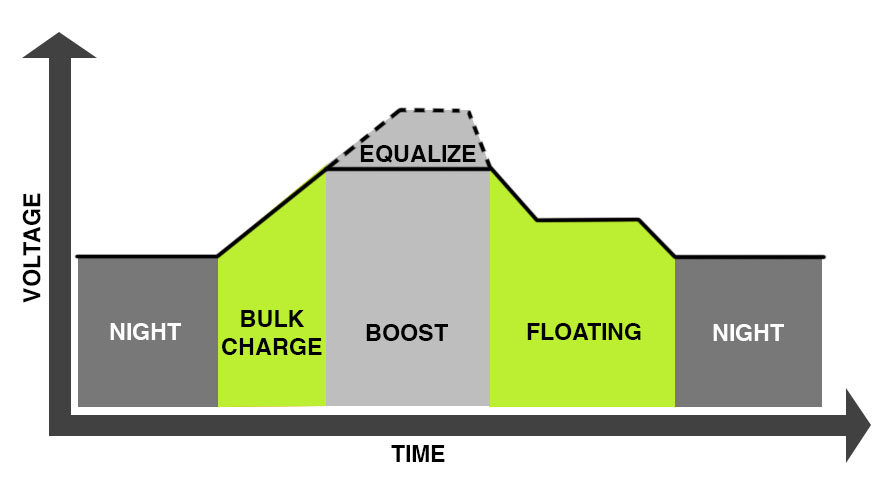 - Phase 1: the current is limited to a rate of about 1/5 of the rated capacity. The voltage increases gradually until it reaches its maximum regulated threshold to 2.35 V / element.

- Phase 2 : the charging voltage is regulated to 2.35 V / element, the charging current then decreases to less than C/100. This phase should last up to 20 hours, the voltage must not stay above 2.26 V longer. The battery is chargedat the end of this phase

- Phase 3: once the battery is charged (after about 20 hours of charging) it switches to trickle charge (Floating) to keep it at 100% load. Then the voltage applied to the battery is around 2.26 V / element.
---
Applications

Solar lighting system

Solar road signals

Solar surveillance

Solar RVs and boats

Small solar power station
---
Features
Three system voltage configuration : 12V, 24V or 12V/24V auto work

High efficiency PWM charging with temperature compensation

3 LEDs shows PV charging, battery and load status

External temperature sensor interface

RS-485 bus communication

Open standard Modbus communication protocol

Software update function
---
Electronic protections
PV array short circuit

Overcharge

Load short circuit

PV reverse polarity

High voltage transients

Over discharge

Load overload

Battery reverse polarity

Overheating
---
Specifications
Model
LS1024B
LS2024B
LS3024B
Nominal system voltage
12/24VDC
Rated battery current
10A
20A
30A
Maximum PV input voltage
50V
Grounding
Common positive
Self-consumption
8.4mA(12V)?7.8mA(24V)
Temp. compensation
-3mV/?/2V?25? ref?
Equalize charging voltage
Sealed: 14.6V, Flooded: 14.8V, User-defined: 9~17V
Boost charging voltage
Gel: 14.2V, Sealed: 14.6V, Flooded: 14.8V, User-defined: 9~17V
Float charging voltage
Gel /Sealed /Flooded: 13.8V, User-defined: 9~17V
Low voltage reconnect voltage
Gel /Sealed /Flooded: 12.6V, User-defined: 9~17V
Low voltage disconnect voltage
Gel /Sealed /Flooded: 11.1V, User-defined: 9~17V
Dimension
138.6x69.3x37mm
159.6x81.4x47.8mm
200.6x101.3x57mm
Mounting holes
126mm
147x50mm
190x70mm
Terminal
4mm2
10mm2
10mm2
Weight
0.13kg
0.3kg
0.5kg
Working temperature
-35?~+55?
Storage temperature
-35?~+80?
Humidity
?95% (NC)
Enclosure
IP30
---
Monitor software
Please, download the last version of the monitor software here
---
Optional
More powerful function via MT50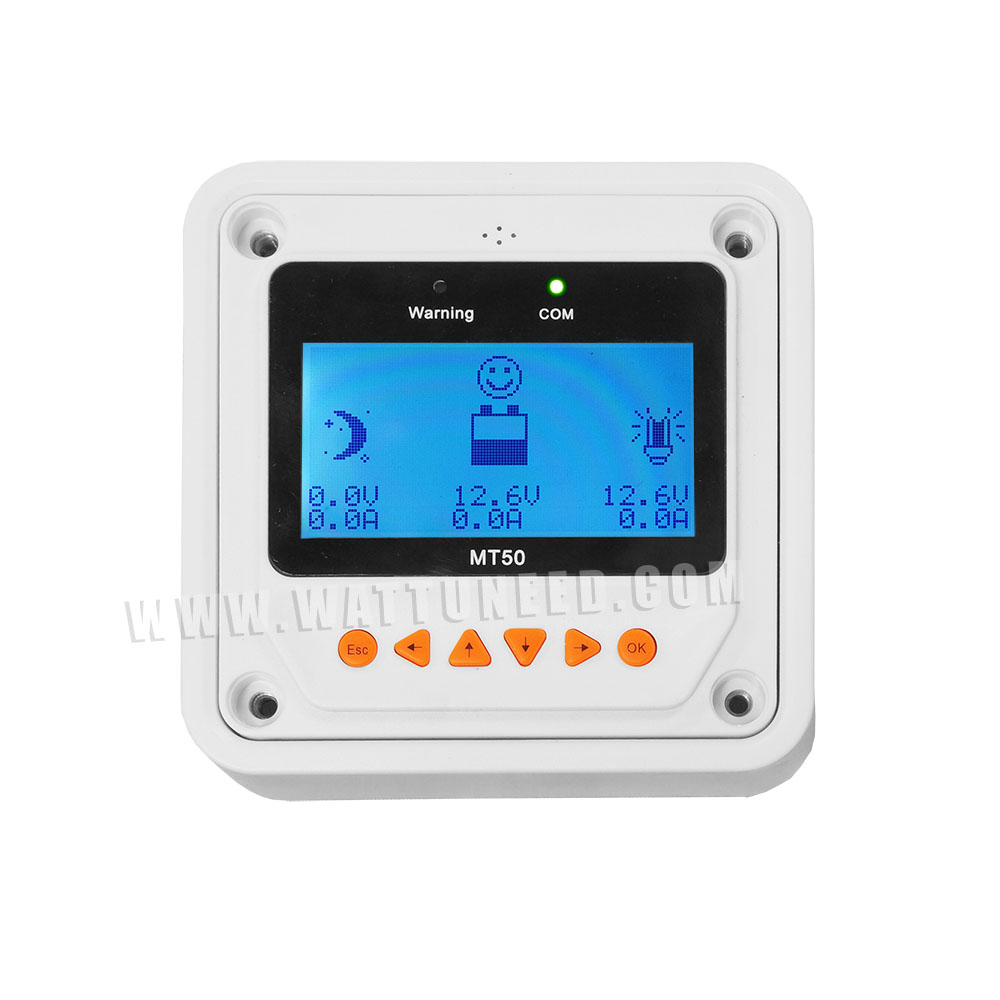 Diversified load control modes : Manual, Light ON/OFF, Light ON+ Timer, Time Control ? Battery type selection: Gel, sealed, flooded and User type
Real-time monitor
Programmable parameters
LVD or SOC load disconnect function
Energy statistics function
Data sheets and documentation
Product Reviews
Number of Reviews : 16
Average Grade : 4.5 /5
A. G
the 11/10/2018
5/5
Impeccable !
A. Laurent
the 07/09/2018
5/5
Top très bien
P. Philippe
the 08/11/2017
4/5
Bien mais il faut le mt50
R. Serge
the 26/08/2016
4/5
produit relativement cher par rapport a certain siteinternet surtout venant de chine.
M. José
the 23/06/2016
4/5
La vous prenez de mon temps.
C. Eric
the 03/06/2016
5/5
cool
Z. Denis
the 14/03/2016
4/5
la récupération des données sur Epever avec ce régulateur, j'y suis pas arrivé...
F. Marie-Michel Patrice
the 18/11/2015
5/5
Prix raisonable pour de la bonne qualite
J. Thibaut
the 03/10/2015
5/5
ParfaitMais j'aurai du prendre un 20A
D. Robert
the 04/03/2015
4/5
Esthétique assez moyen (plastique blanc)
V. Michel
the 30/12/2014
5/5
A 1er vue tout est conforme à mon souhait.
B. Fabienne
the 28/11/2014
5/5
parfait
G. Saubion
the 17/10/2014
5/5
Génial.
P. GINOUX
the 17/10/2014
5/5
Excellent produit mais il n'est pas précisé que pour le paramétrer il faut également commander l'affichage digital pour contrôleur EpSolar LS
J. BELHEURE
the 17/10/2014
4/5
Bon produit notice un succinct
A. BADOUARD
the 17/10/2014
4/5
Simple a raccorder (fiabilité a voir a l'usage).
Specifications
| | |
| --- | --- |
| Charge power | 10A |
| Voltage | 12V / 24V |
| MPPT/PWM | PWM |
| Maximum PV input voltage | 50 V |