Display all pictures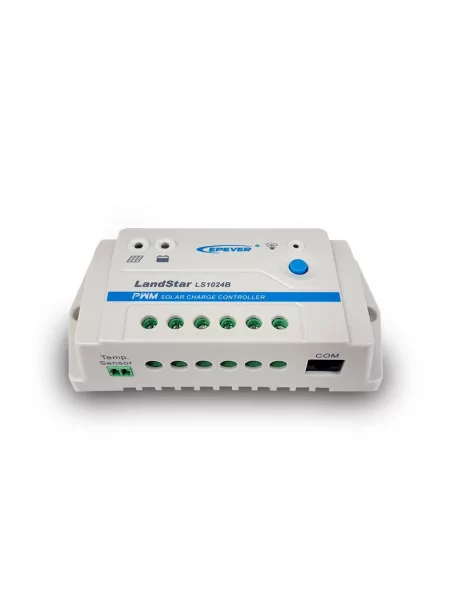 EPEVER LS1024 LANDSTAR PWM 12V / 24V - 10A
Epever
More info
EPEVER LS1024 LANDSTAR PWM 12V / 24V - 10A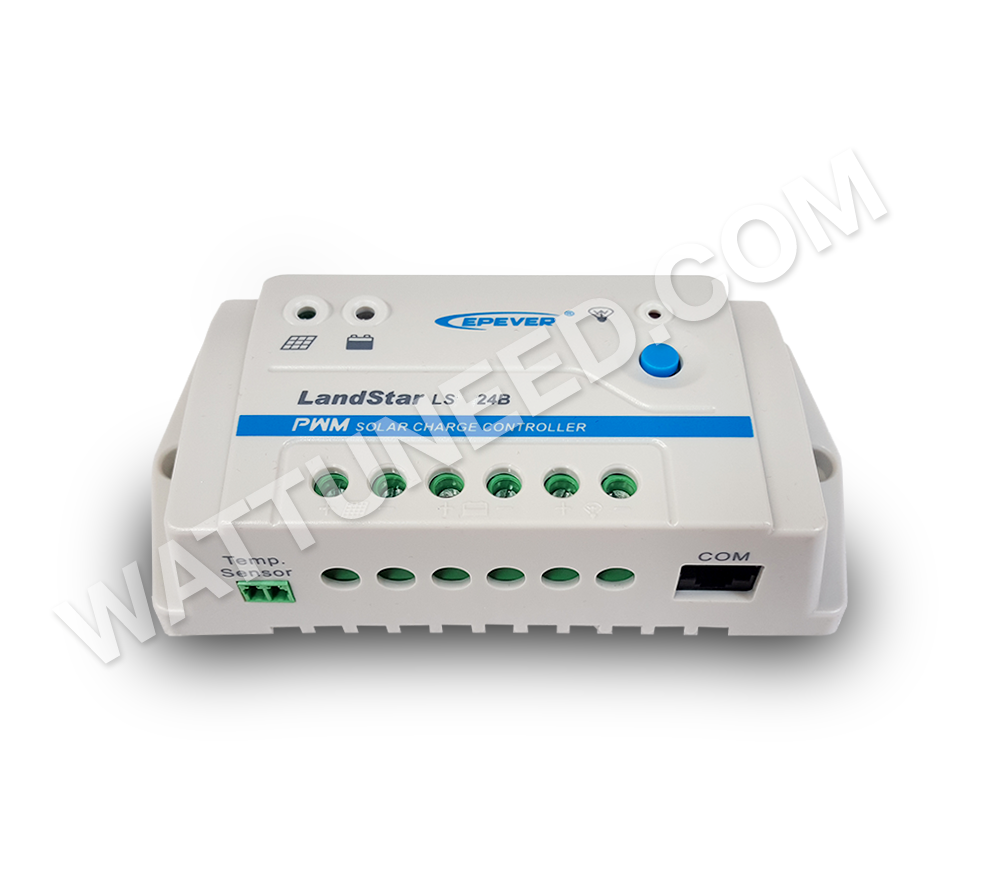 The model 10A (LS1024B) can accommodate up to 250 watts of solar panels *

Capacity: 10, 20 or 30 amps.
Tension: 12v or 24V
Temperature compensation
2-year warranty.
Technology: 'linkpopup id'pwm'.
Fully programmable if used with its display
All load voltages can be changed between 9 and 17V (X2 for 24V), disconnection voltage also.
Programming the consumer output in a day/night or hourly mode.
In a 24V system
---
Many applications
Suitable for many applications: solar system for housing, solar lighting system, solar monitoring system, solar system for boat or motorhome.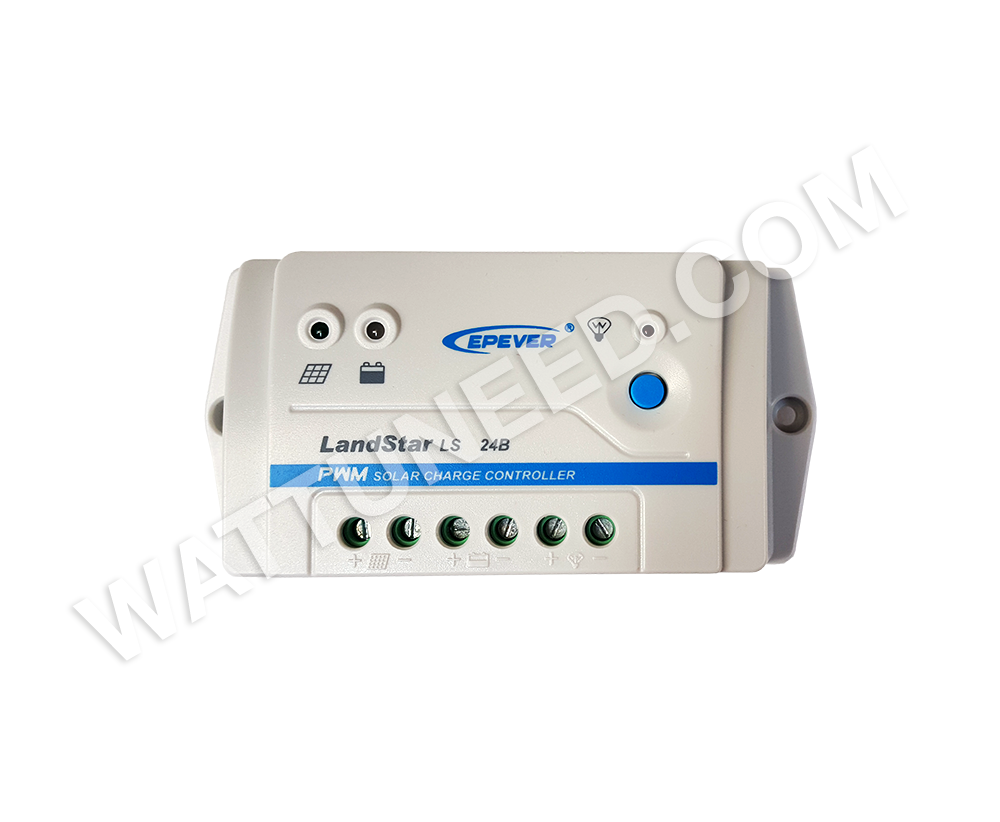 ---
Characteristics
System voltage configuration: 12V/24V automatic
High load efficiency 'linkpopup id'pwm' with temperature compensation
2 LEDs that indicate charging status and battery status
Outdoor temperature probe interface
Communication bus 'linkpopup id'rs485'
Optional external display for accurate device control
Software update function
---
Electronic protections
Short circuit PV
Overload
Short charging circuit
PV Polarity Reversal
Discharge

Battery polarity reversal

Overheating
---
Technical data
Model
LS1024B
LS2024B
LS3024B
Nominal system tension
12/24VDC12/24VDC
Rated battery current
10A

20A

30A

Maximum PV input voltage
40w
Self-sommation
8.4mA (12V)?7.8mA (24V)
Temperature compensation
-3mV/?/2V?25? Ref?
Equalizing load voltage
Sealed: 14.6V, open: 14.8V, User: 9-17V
Increased load voltage
Gel: 14.2V, Sealed: 14.6V, open: 14.8V, User: 9-17V
Floating charge voltage
Freeze /Sealed /open: 13.8V, User: 9-17V
Reconnection tension
Freeze /Sealed /open: 12.6V, User: 9-17V
disconnection tension
Freeze /Sealed /open: 11.1V, User: 9-17V
Size
138.6x69.3x37mm
159.6x81.4x47.8mm
200.6x101.3x57mm
Mounting holes
126mm
147x50mm
190x70mm
Terminal
4mm2
10mm2
10mm2
Weight
0.13kg
0.3kg
0.5kg
Running temperature
-35?
Storage temperature
-35?
Humidity
?95% (NC)
Standard
IP30
---
Download
Please download the latest version of the regulator management software
---
Theoretical charge of a lead battery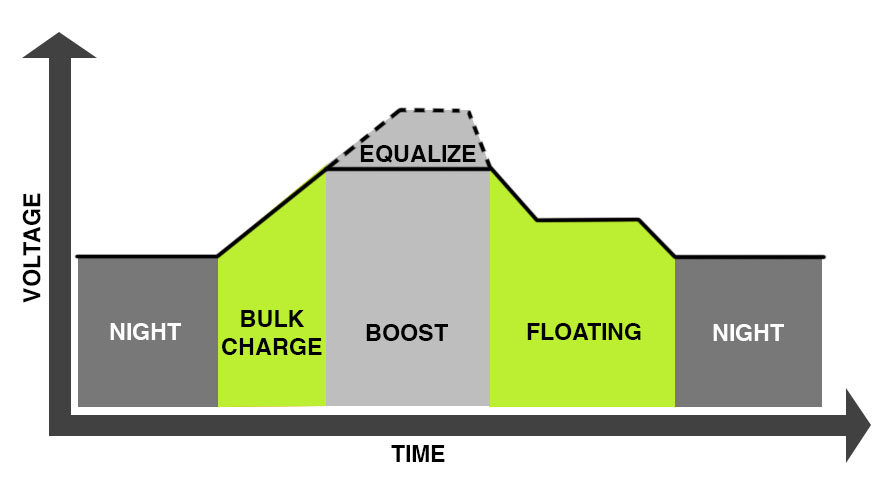 The theoretical charge of a lead battery is done in three phases:
• Phase 1 : Current is limited to a rate of about 1/5 of the nominal capacity. The voltage gradually increases until it reaches its maximum regulated threshold of 2.35V/elements.
• Phase 2 :: The load voltage is regulated at 2.35V/elements, the charge current then decreases until it becomes less than C/100. The battery is charged at the end of this phase
• Phase 3 Once the battery is charged, we switch to maintenance charge mode (Floating) to keep it at 100% charge. The voltage then applied to the battery will be around 2.26V/elements
---
Recommended accessory
More features with MT50 display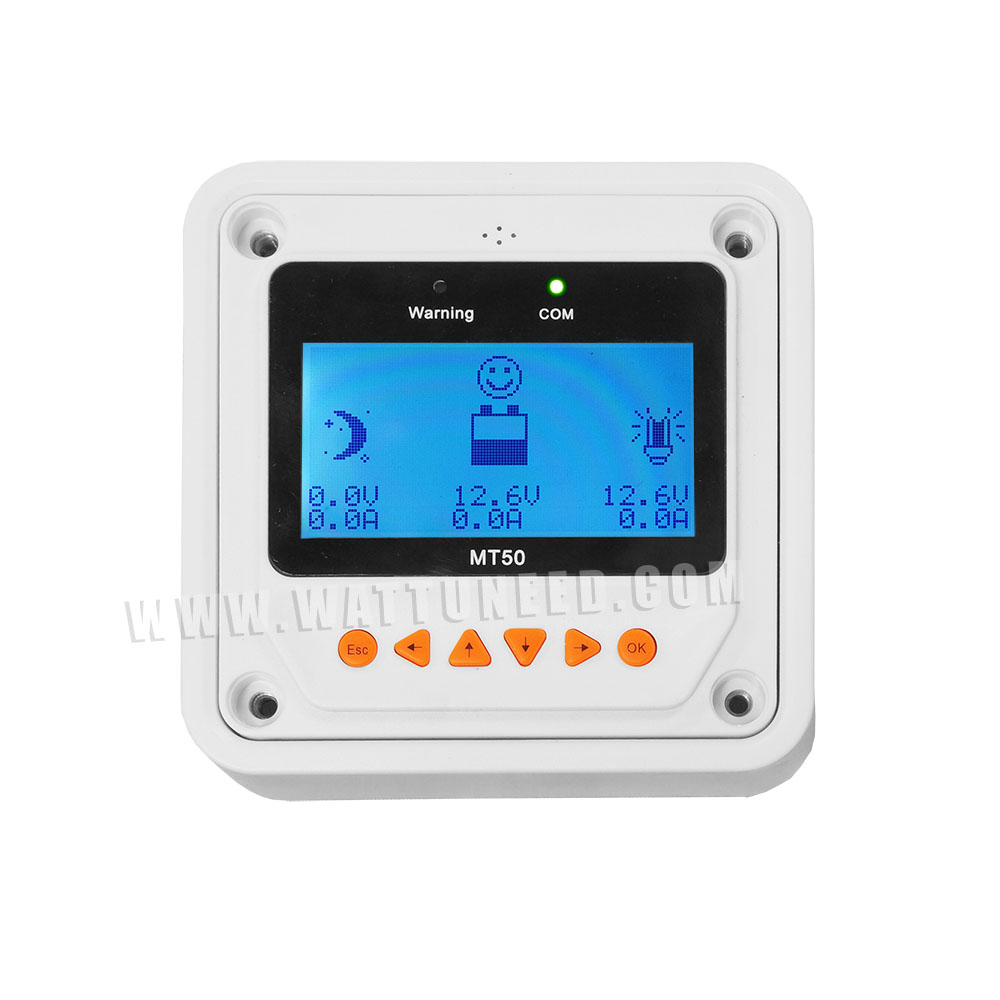 Choosing the different modes of control of the 12/24V output:
- Manual ON/OFF,
- Light ON / OFF,
-ON Light - Timer,
Schedule alone
Selecting the type and capacity of the battery

Possible change of all load voltages
Real-time monitoring of the entire facility



Data sheets and documentation
Product Reviews
Number of Reviews : 17
Average Grade : 4.5 /5
C. Joel
the 16/10/2020
5/5
appareil conforme a mes attentes
A. Anonymous
the 11/10/2018
5/5
Impeccable !
A. Anonymous
the 07/09/2018
5/5
Top très bien
A. Anonymous
the 08/11/2017
4/5
Bien mais il faut le mt50
A. Anonymous
the 26/08/2016
4/5
produit relativement cher par rapport a certain site internet surtout venant de chine.
A. Anonymous
the 23/06/2016
4/5
La vous prenez de mon temps.
A. Anonymous
the 03/06/2016
5/5
cool
A. Anonymous
the 14/03/2016
4/5
la récupération des données sur Epever avec ce régulateur, j'y suis pas arrivé...
A. Anonymous
the 18/11/2015
5/5
Prix raisonable pour de la bonne qualite
A. Anonymous
the 03/10/2015
5/5
Parfait Mais j'aurai du prendre un 20A
A. Anonymous
the 04/03/2015
3/5
Esthétique assez moyen (plastique blanc)
A. Anonymous
the 30/12/2014
5/5
A 1er vue tout est conforme à mon souhait.
A. Anonymous
the 28/11/2014
5/5
parfait
A. Anonymous
the 17/10/2014
5/5
Génial.
A. Anonymous
the 17/10/2014
5/5
Excellent produit mais il n'est pas précisé que pour le paramétrer il faut également commander l'affichage digital pour contrôleur EpSolar LS
A. Anonymous
the 17/10/2014
4/5
Bon produit notice un succinct
A. Anonymous
the 17/10/2014
4/5
Simple a raccorder (fiabilité a voir a l'usage).
Specifications
| | |
| --- | --- |
| Charge power | 10A |
| Voltage | 12V / 24V |
| MPPT/PWM | PWM |
| Maximum PV input voltage | 50 V |