Display all pictures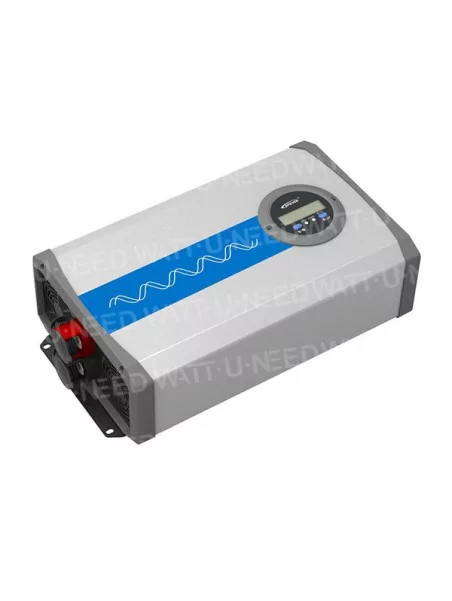 Epever IPowerPlus ip500-12-Plus series 12V 500W
Epever
More info
IPower-Plus IP500-12-Plus 12V 500W
IPower Plus is a new generation of pure sine wave inverter compatible with the lithium battery system.
This new inverter adopts shock current suppression technology to effectively prevent shock current from damaging lithium battery cells and the BMS (Battery Management System). In addition, the adoption of the dual closed-loop voltage and current control algorithm gives the inverter a faster response and better resistance to the impact of the load. The inverter selects key components with high power density and long service life to provide stable and durable operation.
long service life to ensure stable and reliable power supply. Optional communication solutions allow users to monitor status in real time or change settings wherever they are.
Inverter can be widely used in DC to AC domains, such as AC solar power systems, vehicle systems, recreational vehicles, etc. e system, VR power supply, safety monitoring system, emergency lighting system, field power system, home power system, etc. home power system, etc. With an excellent EMC (Electro Magnetic Compatibility) feature, the inverter is also suitable for high-quality power occasions. the inverter is also suitable for situations where energy quality requirements are high.
Characteristics
• Pure sinusoidal output
• Electrical input-output insulation
• Dual closed-loop digital control of voltage and current
• Input surge current suppression for lithium battery systems
• Input surge current suppression technology to support lithium battery system
• Output power factor up to 1
• Simple system wiring and 180-degree rotating LCD display
• Input protection: reverse polarity, low voltage, overvoltage
• Output protection: overload, short circuit, overheating
• Phone and PC remote control via RS485 port
• Additional external switch port
• Safety (EN/IEC62109) and EMC approved by international standards
Technical characteristics
| | |
| --- | --- |
| Parameters | IP500-12-Plus |
| Continuous output power | 500W |
| Surge power | 1000W@5S |
| Surge current when powering on | <50A |
| Output voltage | 220 VAC (±3%); 230VAC(-7%~+3%) |
| Output frequency | 50/60Hz±0.2% |
| Output wave | |
| THD output distortion | |
| Charging power factor | 0.2-1 (VA load ≤ continuous output power) |
| Nominal input voltage | 12 VDC |
| Input voltage range | |
| Rated output efficiency | > 89.5% |
| Max. output efficiency | |
| No-load current | <0.9A |
| USB output | 5VDC/Max.1A |
| communication RS485. Port | 5VDC/200mA |
| Dimension (WxWxH) | |
| Mount dimensions | Φ5mm |
| Net weight | 2.2 kg |
| Operating temperature range | '-20°C~+60°C(Refer to the downgrade curve) |
| Relative humidity | < 95% (NC) |
| Enclosure | IP20 |
Data sheets and documentation
Product Reviews
Number of Reviews : 1
Average Grade : 5 /5
Q. Tomasz
the 30/12/2022
5/5
très bien pour les batteries LiFePO4
Specifications
| | |
| --- | --- |
| Length | 286 mm |
| Voltage | 12V |
| Weight | 2,2 kg |
| Width | 163,5 mm |
| Height | 78 mm |