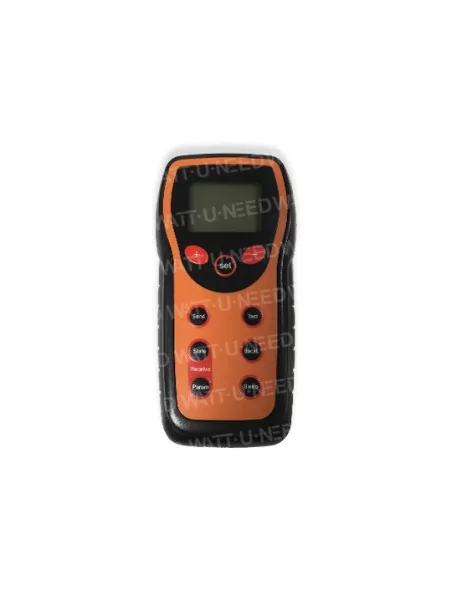 CU-ALL2 SRNE remote control
SRNE
More info
CU-ALL2 SRNE remote control
Main features
Two remote control modes - infrared and wireless - are available, and the distance from the wireless remote control is adjustable.
Wireless remote control signals have excellent penetration and anti-interference capability.
Data communication adopts a multi-time handshake protocol and a data compression algorithm, allowing for accurate and fast data transmission.
Powered by two AA batteries.
Includes an LCD screen that displays settings and other information.
Automatically goes into sleep mode after 65 seconds of inactivity, and wakes up awakened by the press of a key.
Power consumption in standby mode is ultra low, with a current as low as 0.2uA.
Wake up quickly from sleep mode.
Displays the battery level.
Designed with ergonomics in mind and suitable for manual use.
---
Characteristics
| | |
| --- | --- |
| Batteries | AA x 2 |
| Supply voltage | 3.0V |
| Effective scope | 8m (infrared remote control) - 15m (wireless remote control) |
| Standby power consumption | < 0.2uA |
| Normal power consumption | 5mA |
| Transient power consumption at the transmission point | < 50mA |
| Power consumption of the backlight | < 15mA |
| Size | 122 x 61.5 x 22 mm |
| Weight | 60g (without batteries) |
| Non-working time before automatic power off | 65s |
| Backlight duration | 10s |
| Number of batteries 2000mAH installed | 50000 (backlight and light completely off) |
| Operating temperature | From -25 to 55°C |
Data sheets and documentation