Display all pictures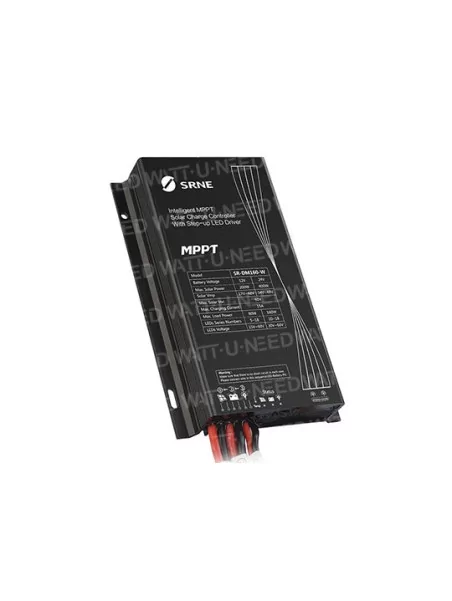 SRNE MPPT Gen4 DM160 Solar Charge Controller
SRNE
More info
SRNE MPPT Gen4 DM160 Solar Charge Controller
Its strengths
With MPPT technology, the controller has a higher response speed and tracking efficiency, which significantly improves the efficiency of using the energy of solar panels.
Works with GEL (lead) and lithium battery; the operating parameters can be adjusted by remote control.
Temperature compensation function and multi-level constant voltage charging for lead-acid battery.
Control of charging power and time.
Protection and adjustment of the charging and discharging temperature of the battery.
Smart Power Mode: Charging power can be adjusted automatically based on battery level.
High precision digital control algorithm of elevation voltage and constant current: ensures high efficiency and high accuracy of constant current.
Protection against reversal of battery/PV electrodes, protection against short circuits, open circuits and limited power of LEDs, etc.
Infrared remote control: allows setting of parameters and checking of status.
With a metal outer shell and IP67 waterproof rating, the product can work properly in various difficult situations.
---
Characteristics
Articles
Securities
Adjustable
Defect
Controller Type
-R: infrared remote control; W: 2.4G wireless remote control
System voltage
12V / 24V
Lead-acid
Static power consumption
-Type R: ≤6mA/12V; 4mA/24V
Type -W: ≤18mA/12V; 13mA/24V
Standby power consumption
≤1 mA
Charging current

50mA~5600mA

√
330mA
Charging voltage

15V~60V

Maximum charging power
80W/12V; 160W/24V
Load conversion efficiency
85%-96% (typical efficiency 95%)
Charging current accuracy
≤3%±30mA
Intelligent power
High, Moderate, Low, Auto, USE, No
√
Medium
Period of work of the load
9-Period + lighting before dawn
Period adjustment range
1min / 10min
Power adjustment range
1% / 10%
Maximum solar input power
200W/12V; 400W/24V
Maximum charging current
15 A
Maximum solar input voltage
≤ 60V
Effectiveness of MPPT follow-up

>99%

Load conversion efficiency

85%-98%(Typical efficiency97%)

Overvoltage
PB-16.0V; overload voltage LI +2V; × 2, 24V system.
16.0V
Limited charging voltage
PB-15.5V; Overload voltage LI +1V; × 2, 24V system
15.5V
Equalization load voltage
PB-14.6V; LI-No; ×2, 24V system
14.6V
Load equalization interval
30 days
30D
Supercharging charge voltage (lead-acid)
Charging voltage (lithium)

8.5V~17.0V;×2.24V system


√

14.4V
Floating charge voltage (lead-acid)
Charge return voltage (lithium)

8.5V~17.0V;×2.24V system


√

13.8V
Discharge voltage

8.5V~17.0V;×2.24V system

√
11.0V
Discharge return voltage

8.5V~17.0V;×2.24V system

√
12.5V
Temperature compensation coefficient
PB: -3.0mV/°C/2V; lithium battery: no compensation.
Light control voltage

3V~11V;×2.24V system

√
5V
Delay in light control

0S~60S/2min~60min

√
10S
High temperature charging

+40°C~+90°C

√
65°C
Low temperature charging

0°C ~ -35°C

√
-35°C
Operating temperature

-35°C ~ +65°C

IP Rating
IP67
Protections
Protection against reverse polarity of the battery,
protection against reverse polarity of the solar panel,
protection against overvoltage of the solar panel,
protection against overcharging and overcharging of the lithium battery,
protection against overheating by detection of lithium battery overload by the BMS,
Protection against open circuits and short circuits of the load.
Weight
510 g
Controller dimensions
142 x 82.3 x 24.5 mm
Controller mount dimensions
82.3 x 102 mm
Mounting hole diameter
Φ 3.5 mm
Data sheets and documentation