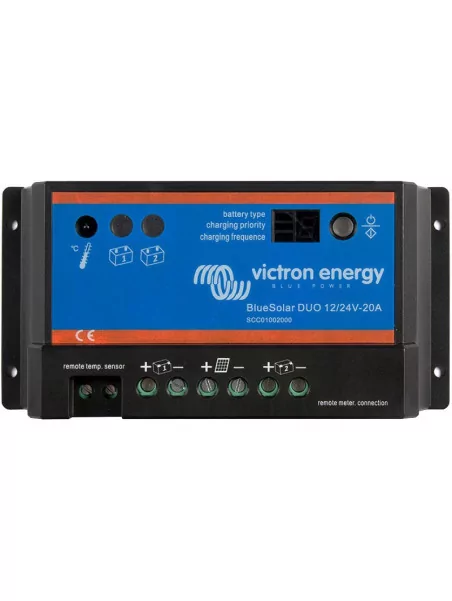 Solar controller Victron BlueSolar DUO 12/24V 20A
Victron energy
More info
Series pass Pulse Width Modulation (PWM) charge voltage control combined with a multistage charge control algorithm leads to superior charging and enhanced battery performance. The filtered PWM power control system uses highly efficient and reliable power MOSFET transistors. Fully automatic temperature compensation of charge voltage is available to further improve charge control and battery performance. The optional battery temperature sensor is built for long term reliability.
The Bluesolar DUO PWM is a 3-speed charge regulator that recharges two battery packs. The controller is equipped with a Solar connection and two battery outputs.
Its features
PWM controller.
Charges two separate batteries. For example the starter battery and the service battery of a boat or mobile home.
Programmable charge current ratio (standard setting: equal current to both batteries).
Charge voltage settings for three battery types.
Internal temperature sensor and optional remote temperature sensor.
Protected against over current.
Protected against short circuit.
Protected against reverse polarity connection of the solar panels and/or battery.
Data sheets and documentation