Display all pictures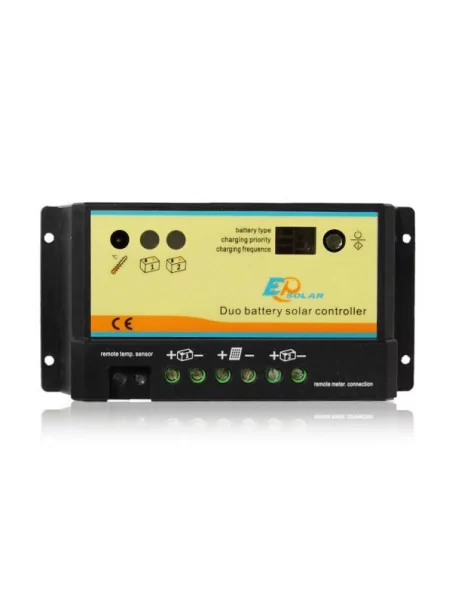 Epsolar Duo Battery PWM 12V / 24V 10A
Epever
More info
" Dual battery solar controller for RVs, Motorhomes, Caravans, and Boats etc "
Description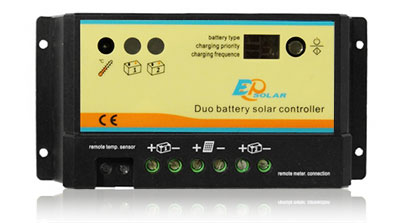 Solar charge controller (PWM) 10A for 2 separate batteries. For example, a starter battery and a service battery from a boat or mobile home.
It is possible to set the charging current for each battery (standard configuration: equal current for both batteries).
The device operates with a voltage of 12V or 24V. The charging voltage settings can be made according to the type of batteries used: GEL, AGM and liquid electrolyte.
This regulator effectively protects your solar batteries against deep discharge, overcharging and short-circuiting to ensure a longer battery life.
The device is equipped with electronic protection against backflow of charge, incorrect polarity of the panel or battery, overcurrent,... and an internal temperature sensor is included.
---
Characteristics
• Low battery warning.
• PWM technology, improved battery charging (faster and more efficient charging).
• Protection against overcharging of the batteries by switching off the solar module when the battery is full.
---
Protections
• Overheating
• Deep discharging
• Overload
• Polarity inversion prtection (modules)
• Polarity inversion prtection (battery)
---
DuoBattery 10A and 20A - Technical features
Model
DuoBattery 10A
DuoBattery 20A
TSystem Voltage
12v - 24V
Rated battery current
10 A
20 A
Maximum Battery Voltage
32V
Consumption
< 4mA
Communication
8 pin RJ45
Low Voltage disconnect
11.1 V; X2/24V
Temperature Compensation
-30mV/°C/12V
Dimensions
153 x 76 x 37mm
Working Temperature
-35°C - +55°C
Data sheets and documentation
Product Reviews
Number of Reviews : 5
Average Grade : 4.6 /5
A. Anonymous
the 24/07/2019
4/5
Manque Juste une notice papier en français
A. Anonymous
the 17/10/2014
5/5
Je suis très satisfait de ce régulateur, il est facile à programmer et donne des indications de charge très visibles. Faible encombrement et facile à fixer.
A. Anonymous
the 17/10/2014
5/5
C'est exactement ce que je désirais.
A. Anonymous
the 17/10/2014
4/5
nickel
A. Anonymous
the 17/10/2014
5/5
Bien. Simple à installer
Specifications
| | |
| --- | --- |
| Voltage | 12V / 24V |
| MPPT/PWM | PWM |
| Maximum PV input voltage | 32 V |
| Max. current | 10 A |