Display all pictures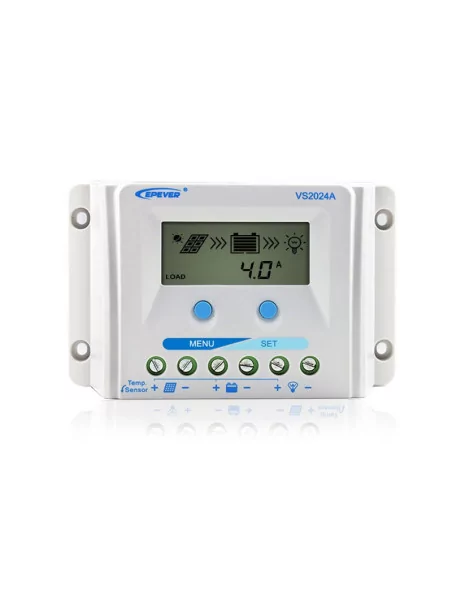 Epsolar VS-A Serie with Digital Display PWM 12V / 24V- 10A
Epever
More info
" A small controller fully configurable with a digital display "
DESCRIPTION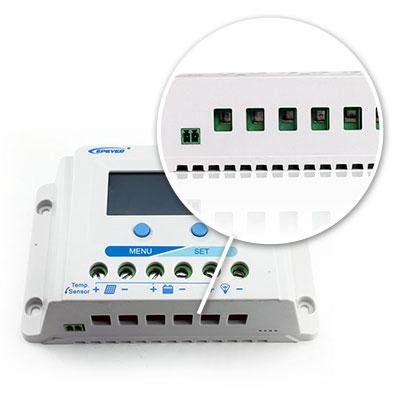 View Star Serie regulator
VS1024 A with a 10A battery capacity.
This controller can accommodate up to 240 watts of solar panels.
---
Charactéristiques
Big LCD display
Low battery warning
PWM technology: battery charging improvement
secondary 12V (or 24V) output to connect your consummers directly (20A).
This output has a deep battery discharge protection (automatically consumers turn off)
Capacity: 10A
Operating voltage: 12V or 24V
Temperature compensation
Warranty: 2 years
---
Protections
Overheating
Deep discharging
Overload
Polarity inversion protection (modules)
Polarity inversion protection (battery)
---
The theoretical charging of a lead acid battery operates in three phases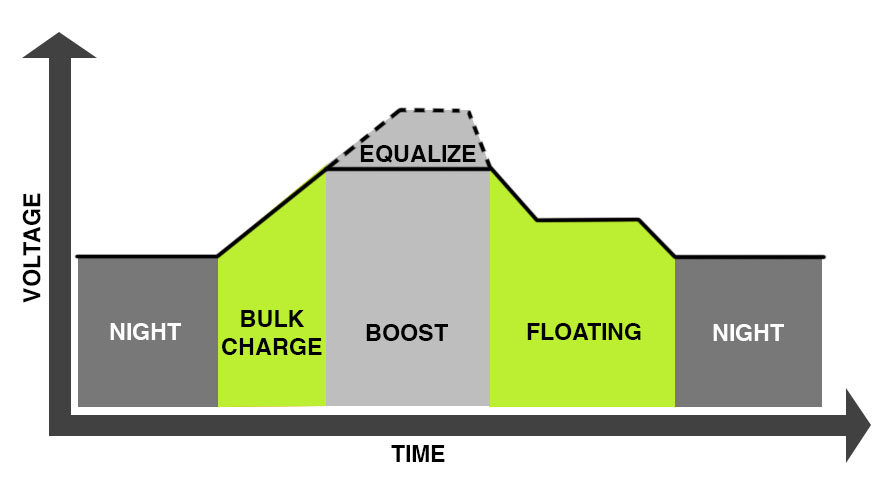 - Phase 1: the current is limited to a rate of about 1/5 of the rated capacity. The voltage increases gradually until it reaches its maximum regulated threshold to 2.35 V / element.

- Phase 2 : the charging voltage is regulated to 2.35 V / element, the charging current then decreases to less than C/100. This phase should last up to 20 hours, the voltage must not stay above 2.26 V longer. The battery is chargedat the end of this phase

- Phase 3: once the battery is charged (after about 20 hours of charging) it switches to trickle charge (Floating) to keep it at 100% load. Then the voltage applied to the battery is around 2.26 V / element.
---
Technical characteristics
| | |
| --- | --- |
| Model | VS1024 N |
| Operating voltage | 12v - 24V |
| Max intensity load. | 10 A |
| Max battery voltage | 32V |
| Consumption | < 18mA |
| Communication | 8 pin RJ45 |
| Deep discharge tur noff | 11.1 V; X2/24V |
| Operating temperature | -30mV/°C/12V |
| t° de fonctionnement | -35°C - +55°C |
---
MPPT connexion - Diagram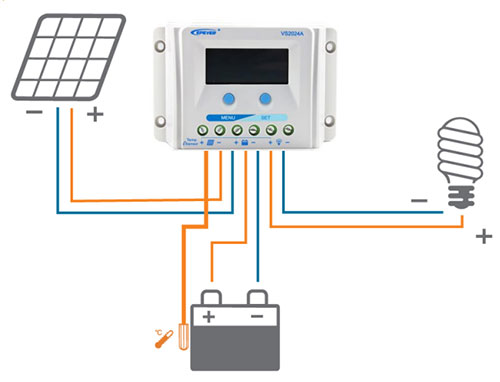 Data sheets and documentation
Specifications
| | |
| --- | --- |
| Charge power | 10A |
| Voltage | 12V / 24V |
| MPPT/PWM | PWM |
| Maximum PV input voltage | 50 V |