Display all pictures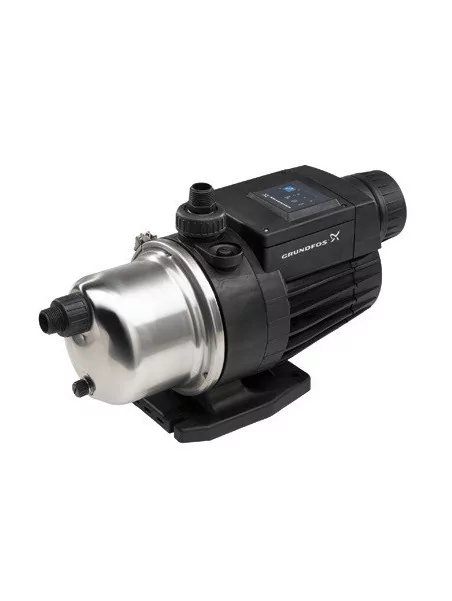 MQ-35 Grundfos booster pump
Grundfos
More info
The MQ booster is a complete system including pump, motor, tank, pressure and flow sensor, regulator and non-return valve. The pump starts automatically when flow is requested and stops automatically when the demand is zero. The pump is protected in the event of a fault.
Characteristics
Installation
Because of its compactness, the MQ pump is easy to install. No need for space around this one.
---
Simple operation
The MQ pump is equipped with a user-friendly control panel with on / off button and pump status lights.
---

Maintenance
The MQ does not require any maintenance.
---

Built-in protection functions
In case of dry running or excessive temperature, the pump stops automatically.
---

Low noise level
Thanks to its internal cooling system, the MQ has a low noise level. This allows you to install it both indoors and outdoors.
---

Automatic Reset
After a fault, the pump will attempt to restart every thirty minutes over a 24-hour period. This function can be disabled.
---

Pressurized tank
The built-in pressure tank reduces the number of starts / stops in the event of a leak, which reduces the wear of the pump.
---
Self-priming pump
The MQ pump is self-priming, so it can draw water up to a depth of 7m in less than five minutes after being filled. This facilitates installation and startup and prevents the risk of running dry when there is leakage on the suction pipe.
---
Technical data
| | |
| --- | --- |
| | MQ3-35 A-O-A-BVBP |
| Liquid | |
| Pumped liquid | Water |
| Range liquid temperature | 0 ... 35 °C |
| Liquid temperature during operation | 20 °C |
| Density | 998.2 kg/m³ |
| Kinematic viscosity | 1 mm²/s |
| Technical | |
| Actual calculated flow | 1 m³/h |
| Actual operating point of the pump | 30.15 m |
| Primary mechanical seal | BVBP |
| Certifications on the nameplate | CE,WEEE |
| Curve tolerance | ISO9906:2012 3B |
| Materials | |
| Pump body | POM + 25% fiberglass |
| Mobile wheel | PPO + 20% fiberglass-PTFE |
| Installation | |
| Ambient temperature range | 0 ... 45 °C |
| Maximum operating pressure | 7.5 bar |
| Pipe connection | G1 |
| Electrical data | |
| Power consumption - P1 | 850 W |
| Power frequency | 50 Hz |
| Rated voltage | 1 x 220-240 V |
| Rated current | 4 A |
| Degree of protection (IEC 34-5) | IP54 |
| Insulation class (IEC 85) | B |
| Cable length | 2 m |
| Cable plug type | SCHUKO |
| Others | |
| Net weight | 13.1 kg |
| Gross weight | 15.3 kg |
Data sheets and documentation