Inverter Steca Coolconcept 3000W
Steca
More info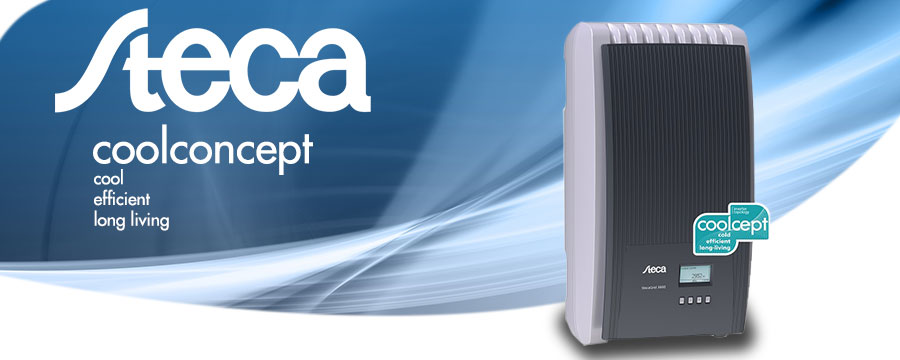 " Design, efficient and long living "
Maximum efficiency and longevity
The high efficiency of the inverters results in a peak efficiency rate of 98.6% and a European efficiency rate of 98.2%, which leads to a decrease in power dissipation and a reduction in heat in the environment. These figures summarize your performance benefits. In addition, a unique new cooling concept ensures uniform heat distribution in the interior and thus a maximum longevity of the appliances.
Design and visualization
The StecaGrid UPS has an LCD graphic display which allows you to visualize the energy efficiency values, the current powers as well as the operating parameters of the installation. An innovative menu offers you the possibility to select the different measured values ​​according to your needs. A preset and pre-programmed menu allows you to complete the final commissioning of the device without any problems.
Mounting
With a weight of only 9 kg / 9.5 kg, the wall mounting of the inverters is both safe and easy. The supplied wall brackets and practical handles, suitable for both right and left-handed users, also contribute to high mounting comfort. It is also not necessary to open the device during installation. All fittings and the DC disconnect switch are accessible from the outside.
Product Features
Maximum Rate of Return
Simple installation
Integrated Data Logger
Firmware update possible
Lower case temperatures at full load
Functional and environmentally friendly plastic housing
Minimum clean consumption
Built-in DC switch
Total insulation according to protection class II
Maximum lifetime
A Droop-Mode function for integration in hybrid systems (please contact us for further information)
A fixed voltage mode for other sources of energy
A service menu for parameter adaptation
7-year warranty after registration
Views
Multi-function LCD graphic display with backlight
Animated Performance Performance
Command
Single menu navigation control
Menu navigation in several languages
Options
Possibility to connect a StecaGrid Vision display unit or a large screen
Specifications
StecaGrid 3000
DC input side (photovoltaic generator)
Maximum input voltage
845 V
Minimum Input Voltage for Injection
350 V
MPP voltage for rated power
350 V ... 700 V
Maximum Input Current
12 A
Maximum input power at maximum output power
3 060 W
Recommended maximum PV power
3 800 Wc
AC output side (connection to the grid)
Grid voltage
185 V ... 276 V (depending on the regional settings)
Rated voltage
230 V
Maximum output current
16 A
Maximum active power (cos phi = 1)
3 000 W
Maximum active power (cos phi = 0,95)
3 000 W
Maximum apparent power (cos phi = 0,95)
3 130 VA
Rated Power
3 000 W
Rated frequency
50 Hz & 60 Hz
Frequency
45 Hz ... 65 Hz (en fonction des paramètres régionaux)
Loss of night power
< 0,7 W
Power Phases
Single phase
Coefficient of harmonic distortion (cos phi = 1)
< 2 %
Power factor cos phi
0.95 capacitance ... 0.95 inductive
Characterization of operating performance
Maximum efficiency
98,6 %
European efficiency
98,3 %
California Efficiency
98,4 %
Efficiency MPP
> 99,7 % (statique), > 99 % (dynamique)
Power consumption
< 4 W
Power reduction at full power
from 50 ° C (Tamb)
Security
Separation principle
no galvanic separation, without transformer
Network monitoring
yes, integrated
Fault current monitoring
yes, integrated
Working conditions
Milieu d'installation
climatisé en intérieur, non climatisé en intérieur
Ambient temperature
-15 °C ... +60 °C
Storage temperature
-30 °C ... +80 °C
Relative humidity
0 % ... 95 %, non-condensing
Noise emission (typical)
26 dBA
Installation and construction
Degree of protection
IP 21 (housing: IP 51, display: IP 21)
Overvoltage category
III (AC), II (DC)
DC input connection
MultiContact MC 4 (1 pair)
Connection on the AC
output side Wieland connector RST25i3, connector included
Dimensions (X x Y x Z)
340 x 608 x 222 mm
Weight
9 kg
communication interface
RS485; 2 female RJ45 sockets; connection to StecaGrid Vision, Meteocontrol WEB'log or Solar-Log ™ Ethernet interface
Integrated DC disconnect switch
yes, according to DIN VDE 0100-712
Cooling principle
temperature controlled fan, variable speed, inside (protected against dust)
Certificate of inspection
CE marking, VDE AR ​​N 4105, G83,
UTE C 15-712-1, AS4777, IEC 0-21
Data sheets and documentation