Display all pictures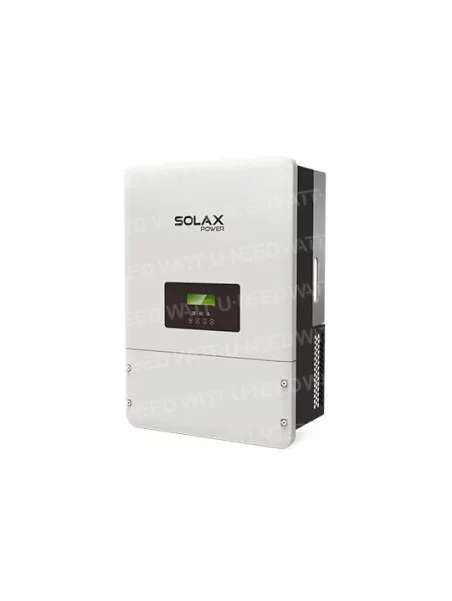 SolaX X3 hybrid hybrid 5.0T to 10.0T
Solax
More info
SolaX Hybrid Triphasé - High Tension
The X-Hybrid Triphésed commercial battery storage inverter. The three-phase includes inverters ranging in size from 5 to 10 kW, and with the ability to install multiple inverters in parallel, scalable battery storage for commercial applications is now a reality. The inverter is equipped with an integrated EPS (Emergency Power Supply), has several communication options and can be controlled remotely.
Generate solar energy during the day for home use, when the background charge is met, charge your batteries with clean and free solar energy. Unload your stored energy in the evening when the sun goes down, recharge your batteries at night at a cheaper rate.

Commercial solar storage solution
Our X-Hybrid Triphasé is the perfect storage solution for three-phase commercial properties looking to switch to solar storage. The X-Hybrid Triphasé can be installed in parallel, allowing up to 100 kW and more than 250 kWh of storage if installed with the 6.3 kWh Triple Power.

Never lose power
With the SolaX X-Hybrid, you can make sure you never get without electricity, even during a power outage. A backup power supply or an "EPS" switch (only available on "E" models) allows the X-Hybrid to run completely off-grid, meaning that all the energy you have stored on your batteries will now be used in the event of a power outage.

Control X-Hybrid export
With the X-Hybrid, you can easily set your energy export limits based on local requirements. The X-Hybrid comes with built-in export control, allowing you to manage the power you generate exactly the way you want it.
---
Characteristics
models
X3-Hybrid-5.0T
X3-Hybrid-6.0T
X3-Hybrid-8.0T
X3-Hybrid-10.0T
ENTREE (DC)
Recommended Maximum DC Power [W]
6000
8000
10000
13000
Max. ENTRY DC voltage [V]
1000
1000
1000
1000
Normal DC service voltage[V]
720
Entry current max.[A]
11-- 11
20—11
Current short-circuit max.
14--14
23—14
MPPT[V] voltage range
230-800
280-800
370-800
330-800
Number of MPP trackers
2
Channels by tracker MPP
1
2—1
EXIT AC
Normal AC Power[VA]
5000
6000
8000
10000
Max. AC Food[VA]
5000
6000
8000
10000
Nominal network voltage (alternative voltage range)[V][V]
400 (from 360 to 440)
Assigned frequency of network[Hz]
50/60
Normal alternating current[A]
07/06/21
9
12/02/21
15
Max. Alternative Current[A]
08/05/21
10
13/05/21
16
Moving power factor
0.8 Leading the way ... 0.8 insulation
Total harmonic distortion (THD, rated power)[%].
<2
Running in parallel
Yes
Load control
Yes (optional)
DC OUTPUT (DRUMS)
Battery voltage range[V]
170-500
Recommended Battery Tension[V] Recommended Battery Tension[V
200
240
320
400
Maximum charge/discharge power[W]
6000
8000
10000
Maximum charge/discharge current[A].
25
Communication interfaces
CAN/RS485
Protection from polarity inversions
No
EPS OUTPUT (WITH DRUMS)
EpS's nominal power[VA]
5000
6000
8000
10000
Nominal voltage EPS[V], Frequency[Hz].
400/380, 50/60
Current rated EPS[A]
07/06/21
9
12/02/21
15
SAEU[W];D s peak power
10000 ,60
12000,6
16000,6
Switch time[s]
<0.5
Total harmonic distortion (THD, linear load)[%].
<2
Running in parallel
yes
efficiency
Efficiency of MPPT[%]
99.90
Euro yield[%]
97.00
Switch time[s]
97.60
Battery charge/discharge efficiency[%].
96.00
energy consumption
Consumption in sleep mode (night)[W]
<7
Sleep mode
Yes
norm
security
IEC62109-1-2 / IEC62040/ AS3100
Emc
EN61000-6-1/EN61000-6-2/EN61000-6-3
certificate
VDE0126-1-1 A1:2012/VDE-AR-N4105/G59-3/AS4777/EN50438/CEI 0-21/IEC62040/IEC62619/ISO13849-2/SN29500/IEC615086
ENVIRONMENTAL LIMIT
Protective class
IP65
Operating temperature range [C]
-25 up to $60 (downgrade to $45)
Altitude[m]
<000
Storage temperature[C]
-20 up to $60
Sound emission (typical)[dB]
<30
Surge category
III (power side), II (PV side)
DIMENSIONS AND WEIGHT
Dimensions (LxHxP)[mm]
655*456*208
Weight[kg]
40
Cooling concept
Forced cooling
topology
No transformer
communication
Ethernet, Counter, WIFI (optional), RF (optional), DRM, USB, ISO alarm, parallel operation
LCD
20-4-character backlight
Standard warranty[years]
5
Data sheets and documentation
Specifications
| | |
| --- | --- |
| MPPT/PWM | MPPT |
| Monophasé / Triphasé | Triphasé |
| Nombre de MPPT | 2 MPPT |
| Inverter power | 10000VA |