Display all pictures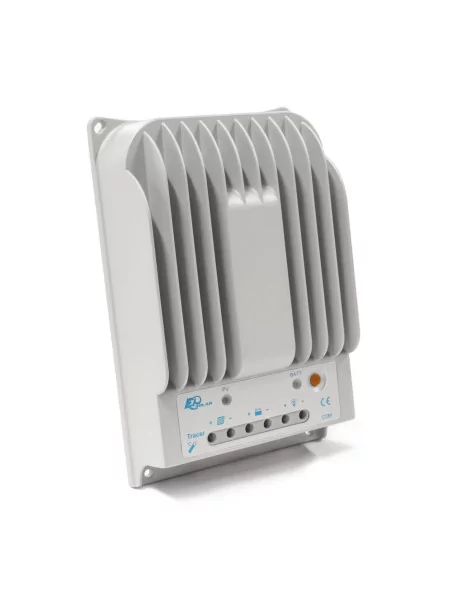 Epsolar MPPT Tracer BN Serie
Epever
More info
" Solar charge regulator with MPPT function "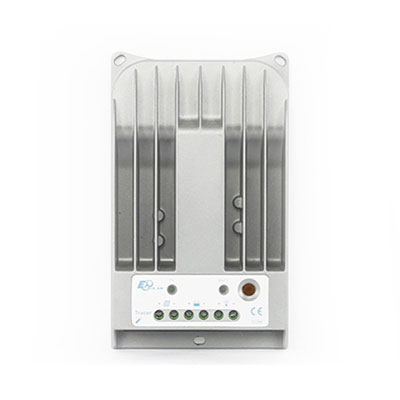 It is suitable for all current solar technologies and is perfect for solar systems with solar modules voltages higher than the ones from the battery. This MPPT is especially suitable to use with solar panels normally provided for on grid systems. The sophisticated algorithm of the "MPP Tracking" can constantly have the maximum power output of the solar module. Thanks to its advanced technology, this MPPT ensures maximum power in all operating conditions, a professional battery protection and modern design.
---
Product Specifications
Tracking device of the maximum power point (MPP tracker)
Voltage and current control
MLI control
Disconnect consumers according to the current
Automatically reconnect
Temperature compensation
Monthly maintenance charge
---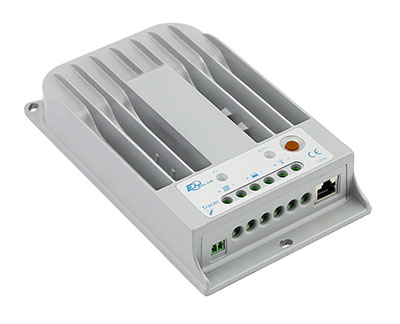 Electronic protection functions
Overload protection
Deep discharge protection
Solar modules, battery and consumer reverse polarity protection
Reverse polarity by internal fuse protection
Automatic electronic fuse
Short circuits protection
Overvoltage at the input of the solar module
Open circuit without battery protection
Reverse current at night protection
Overtemperature and overload protection
Disconnect when battery overvoltage
---

Displays
Multifunction LED display
Multicolor LED
---
Certificates
Comforms to European Standards (CE)
Comforms to RoHS Directive
Manufactured according to ISO 9001 and ISO 14001
---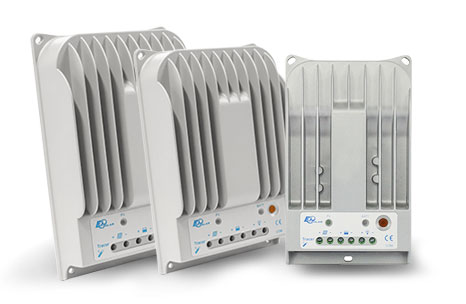 Tracer BN Serie : 3 model available
This controller is available in 3 versions to suit perfectly to your system.

> Tracer 1215BN - battery capacity : 10A .
This controller can accommodate up to 260 watts of solar panels *

> Tracer 2215BN - battery capacity : 20A .
This controller can accommodate up to 520 watts of solar panels *
> Tracer 3215BN - battery capacity : 30A .
This controller can accommodate up to 780 watts of solar panels *
* in a 24Volts System
---
Technical characteristics
Model
1215BN
2215BN
3215BN
Nominal system voltage
12V/24V
Rated battery current
10A
20A
30A
Rated load current
20A
20A
30A
Max. battery voltage
32V
Max. PV open circuit voltage
150VDC
Max. PV input power

12V 130W

24V 260W

12V 260W

24V 520W

12V 390W

24V 780W

Self-consumption
≤50mA(12V) ≤27mA(24V)
Temp. compensation
-3mV/°C/2V
Working temperature
-35°C à 55°C
Température de stockage
-35°C à 80°C
Dimensions
196x117.8x36 mm
217x143x56 mm
281x160x60 mm
Weight
0,9 kg
1,5 kg


2,3 kg
---
The theoretical charging of a lead acid battery operates in three phases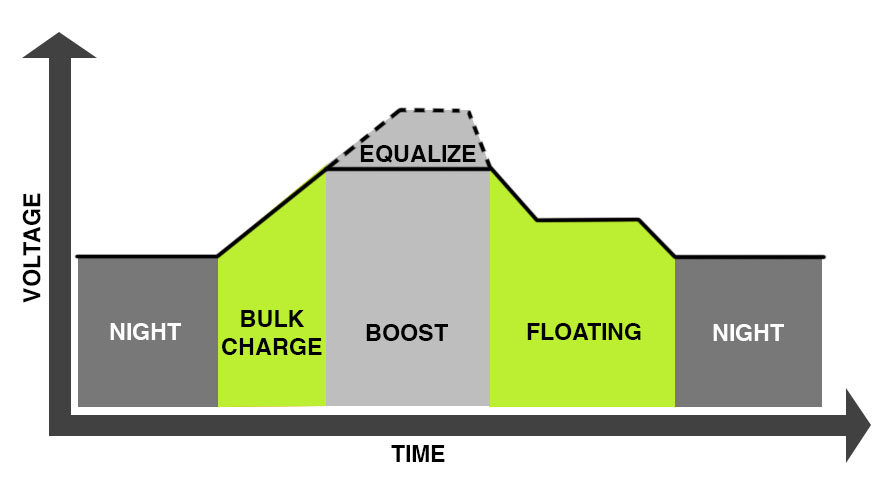 - Phase 1: the current is limited to a rate of about 1/5 of the rated capacity. The voltage increases gradually until it reaches its maximum regulated threshold to 2.35 V / element.

- Phase 2 : the charging voltage is regulated to 2.35 V / element, the charging current then decreases to less than C/100. This phase should last up to 20 hours, the voltage must not stay above 2.26 V longer. The battery is chargedat the end of this phase

- Phase 3: once the battery is charged (after about 20 hours of charging) it switches to trickle charge (Floating) to keep it at 100% load. Then the voltage applied to the battery is around 2.26 V / element.
---
Mounting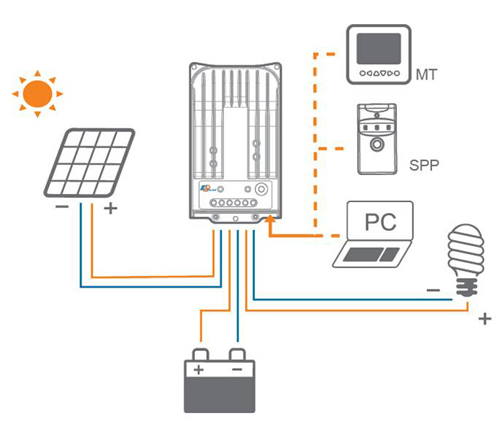 ---
Monitor software
Please, download the last version of the monitor software here
Data sheets and documentation
Product Reviews
Number of Reviews : 1
Average Grade : 5 /5
C. Olivier
the 29/05/2018
5/5
Très bien emballé, reste plus qu'a le poser et le tester.
Specifications
| | |
| --- | --- |
| Charge power | 30A |
| Voltage | 12V / 24V |
| MPPT/PWM | MPPT |
| Maximum PV input voltage | 150 V |
| Max. current | 10 A |