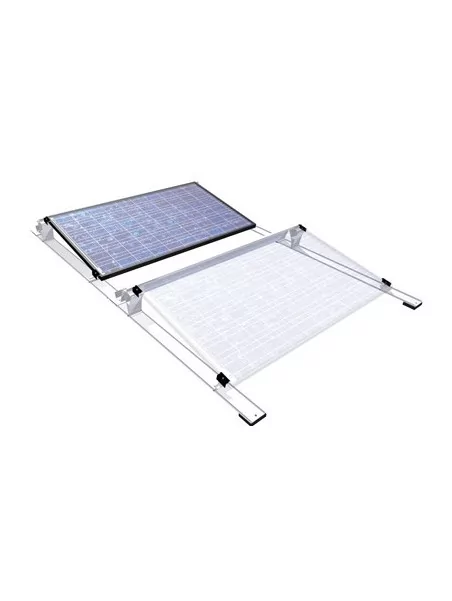 Flat roof racking system for PV panels - from 20 panels
More info
" Flat roof racking system for photovoltaic panels "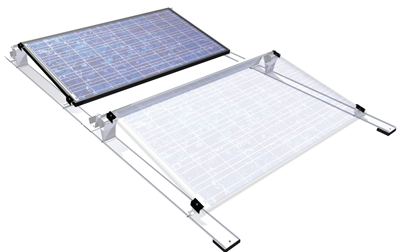 Low system costs
Highly flexible and compact mounting system for all conventional flat roofs. The sophisticated system convinces with low material use, easy assembly and short rail lengths facilitating handling. This reduces costs and increases profitability.
The material-optimized, intelligent design cuts costs in three ways: the use of materials, during transport and during installation.
Very fast installation
The simple system reduces the installation time considerably: Setting up a mounting system for 1 kW requires no more than 3 - 4 minutes..
Highly flexible
Two systems for southern mounting : 10° or 18° inclination. (Also available for east-west orientation - on request).
The flexible, pluggable and segmental design is selfaligning, adapts to all substrates and surfaces and also forgives uneven roofing.
Lightweight design
Thanks to the low ballast the additional roof load is reduced.
Building protection mats are only required to cover the rail ends.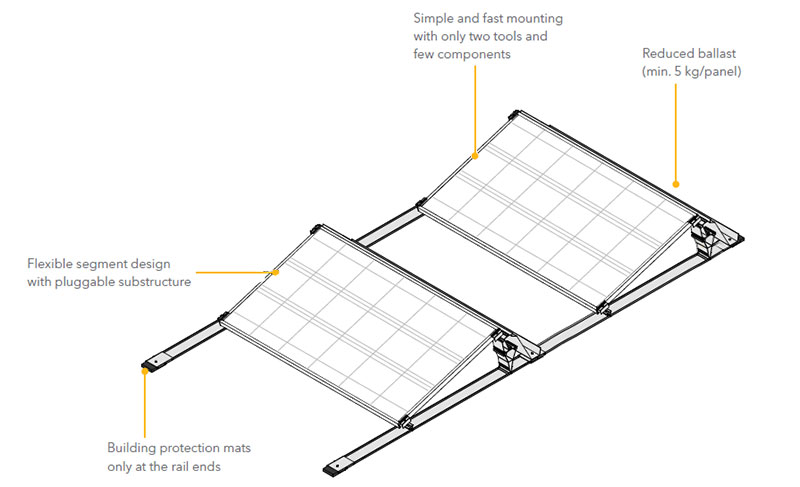 Flat Roof Racking System Technical Data
| | |
| --- | --- |
| Application | Flat roofs with little excess load tolerance or roof penetration impossible/undesirable |
| Panel orientation | Pitch south 10° or 18° ; (pitch east/west 10°; vertical; on request only) for practically all common framed panels |
| Ballast | Normal roof zone min. 5 kg/panel; corner-/edge zones min. 20 kg/panel |
| Structural roof load | Min. 12 kg/m² |
| Material | Aluminium and stainless steel |
Data sheets and documentation
Specifications
| | |
| --- | --- |
| Type fixation | Toiture plâte |