Display all pictures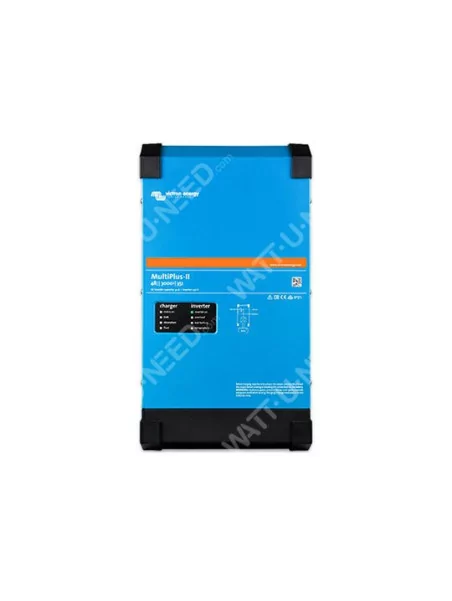 Victron MultiPlus-II 48 V 3000 and 5000VA
Victron energy
More info

New 48V converter/charger
PowerAssist - Improved network or generator capacity
It is possible to set up a maximum current for the generator or network. The MultiPlus-II then takes into account the other
CA loads and it will only use the excess for the load, thus avoiding any overload of the network power or generator (PowerControl function).
The PowerAssist function gives an extra dimension to the PowerControl principle if a high demand for power from the MultiPlus-II will compensate for the lack of power in the generator, wharf or power from the battery. And when demand decreases, the excess power will be used to recharge Batteries.
---
Uninterrupted CA Power (UPS Function)
In the event of a power outage or disconnection from the dock or generator, the Multi converter automatically activates and resumes powering the connected loads.
This transfer is so fast (less than 20 milliseconds) that the operation of computers or other electronic equipment will not be disrupted.
---
Remote monitoring and control
Monitor and control your Multi system or systems locally (LAN) or remotely across the Internet, from anywhere in the world, using the free VRM app and the free VRM portal website.
You can access it from a phone, tablet, laptop or PC with different operating systems.
Thanks to the required Color Control GX or Venus GX, the control possibilities are limitless: whether it's to adjust your Multi or to automatically start a backup generator, and much more...
---
A MultiPlus with ESS (Energy Storage System) feature
The MultiPlus-II is a multifunctional converter/charger with all the features of the MultiPlus, and a power probe
which increases PowerControl and PowerAssist to 50 A and 100 A respectively.
The MultiPlus-II is ideal for professional marine installations, with sailboats, vehicles and off-grid systems Land.
It is also equipped with an island-fighting system and has a long list of certifications for many countries that do not continues to increase for the ESS application. Several system configurations are possible. For more information, see the ESS System Design and Installation Manual.
---
Two CA releases

The main output has an uninterrupted power function. In the event of a network failure or disconnection of the power of the multi-dock or generator, the MultiPlus-II takes over the power of connected loads. This transfer is so fast (less than 20 milliseconds) that the operation of connected computers or other sensitive electronic equipment will not be Disturbed.
The second output is only powered when CA power is available on the MultiPlus-II input. Charges that don't would not discharge the battery, such as a water heater for example, can be connected to this output.
---
Increased power thanks to parallel and three-phase operation

Up to 6 Multi can run in parallel to get more power output. For example, six units 48/5000/70 will provide 25 kW/30 kVA output and 420 Amps of load capacity.
In addition to the parallel connection, three units of the same model can be configured for a three-phase output. But this is not the case not all: up to 6 sets of 3 units can be connected in parallel for a 75 kW /90 kVA converter and more than 1200 A load capacity.
---
Setting up, tracking and monitoring the system on site

The settings can be changed in minutes with VEConfigure software (a desktop or laptop computer and a MK3-USB interface are needed).
Several control and monitoring options are available: Color Control GX, Venus GX, Octo GX, CANvu GX, Bluetooth (with an EV electronic key. Optional Smart Bus), Battery Controller, Control Table Multi Control.
---
Remote configuration and supervision

Install a Color Control GX or other GX product for Internet connection.
Operating data can be stored and posted on our free VRM (Victron Remote Management) website.
If systems are connected by Ethernet, it is possible to access them and change their configuration.
---
Characteristics
Multiplus-II
48/300/35-32
48/5000/70-50
PowerControl/PowerAssist
Yes
Transfer switch
32A
50A
Maximum CA entry current
32A
50A
Converter
CC Power Tension Range
35-66V
Output
Exit tensions: 230VCA - 2% Entry frequency: 50Hz - 0 .1%
Continuous output power at 25oC
3000VA
5000VA
Continuous output power at 25oC
2400W
4000W
Continuous output power at 40oC
2200W
3700W
Continuous output power at 65oC
1700W
3000W
Then. Maximum referral. Alleged
2500VA
4000VA
Peak power
5500W
9000W
Maximum efficiency
95,00%
96,00%
Empty consumption
11w
18w
Empty consumption in AES mode
7w
224
Zero charge power in Search mode
2w
2w
Charger
CA Entry
Power voltage range: 187-265 VCA Entry frequency: 45-65Hz
"Absorption" charge tension
57.6V
"Float" charge voltage
55.2V
Storage mode
52.8V
Maximum battery charge current
35A
70A
Battery temperature probe
Yes
General
Out of the way
Yes (32A)
External CA power probe (optional)
50A
100A
Programmable relay
Yes
Protection
A-g
Port of communication VE Bus
For parallel or three-phase operation, remote control and system integration
Universal com. port
Yes, 2X
Remote ignition/stop (on/off)
Yes
Operating temperature range
-40 to 65 degrees Celsius (cooling per fan)
Humidity (no condensation)
Maxi 95%
Box
Material and colour
Steel, blue ral 5012
Degree of protection
Ip22
Battery connection
M8 Bolt
Connection 230VCA
Screw stations 13 mm2 (6 AWG)
Weight
18 kg
29kg
Dimensions (HxLxP)
506X275X147 mm
565x323x148mm
Data sheets and documentation
Specifications
| | |
| --- | --- |
| Inverter power | - de 1000VA |