Display all pictures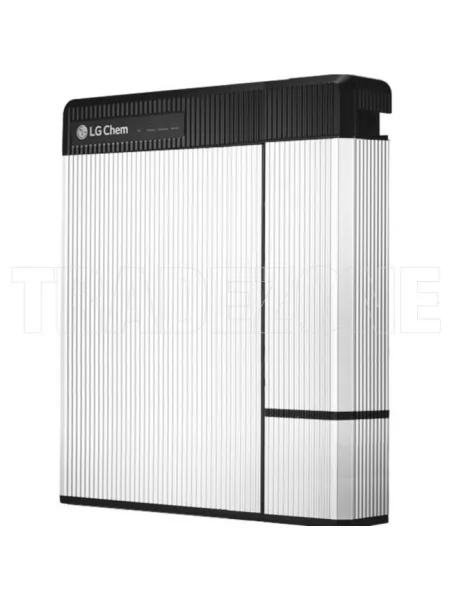 Lithium battery LG RESU10H 400V - 10 kWh
LG
More info

Battery LG RESU LI-IO - 10 kWh - 400V
Optimized solution for high-quality power and energy savings
Compatible with SolarEdge and SMA inverters and interface
Savings on electricity bills
Off-peak charging
Peak discharge
Self-consumption
Store the solar energy produced by photovoltaic panels for future uses
Backup power carrier
Discharge during a power outage, works as backup power
Compact dimensions and easy installation
The compact and lightweight nature of the RESU battery is among the best in the world. It is designed to allow easy installation, attached to the wall for indoor and outdoor functions. INVERTER connections have also been simplified, reducing installation time and costs.
Powerful performance
The new ESSR series features the continued power of the cutting-edge industry and dc round-trip efficiency (95%). LG Chem L&S battery technology provides resistance ensuring 80% capacity retention after 10 years.
Proven security
LG Chem pays its utmost attention to safety and uses the same technology as for its ESS products whose safety is certified in the field of automotive batteries. All products are fully certified to the appropriate global standards.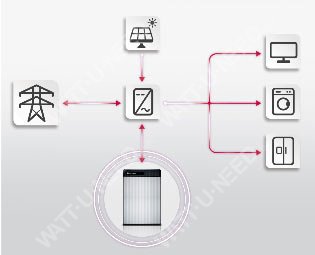 ---
---
Technical specifications and dimensions
---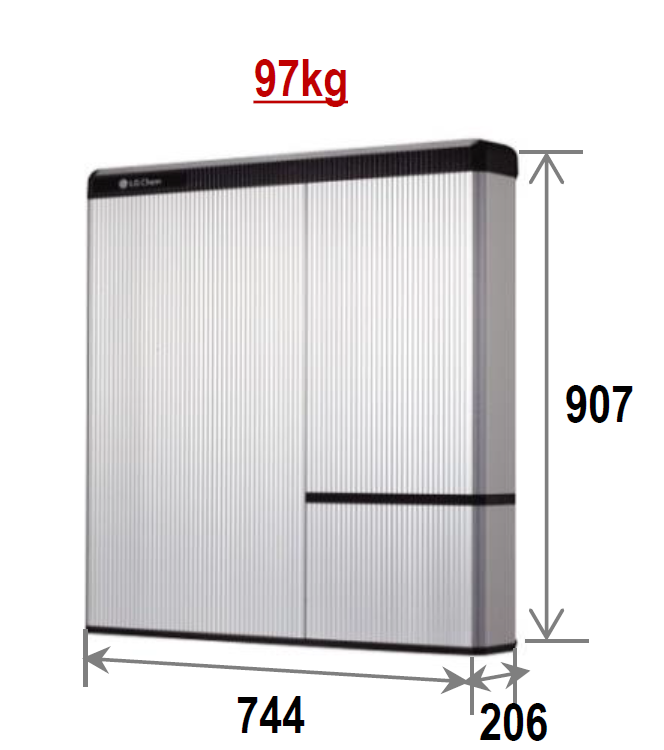 Category
RESU7H
Electrical characteristics
Total energy capacity (battery)
9.8 kWh
Usable energy capacity (battery)
9.3 kWh
Battery capacity
63 Ah
Dimmer interface voltage range
350~450V DC
Direct charge/discharge current
11.9A@420V / 14.3A@350V
Peak charging/discharging current
18.9A@370V for 10 sec.
Max charging/discharging power
5kW
Peak power
kW for 10 sec.
Round-trip battery efficiency
> 90% (under specific conditions)
Communication interface
RS485
DC Disconnection
Circuit breaker (600V, 25A)
Operating conditions

Place of installation
Interior / exterior (wall)
Operating temperature
-10~45°C
Operating temperature (recommended)
15~30°C
Storage temperature
-30~55°C
Cooling strategy
Natural convection
Reliability / Certificates
Security Cell
UL1642
Battery Safety
TUV (IEC 62619) / CE / UL1973
Classification of dangerous goods
Class 9
transport
UN38.3 (UNDOT)
Protection index
IP55 (NEMA 3R)
Mechanical data

weight
75kg
height
692mm
length
744mm
depth
206mm
Data sheets and documentation