Display all pictures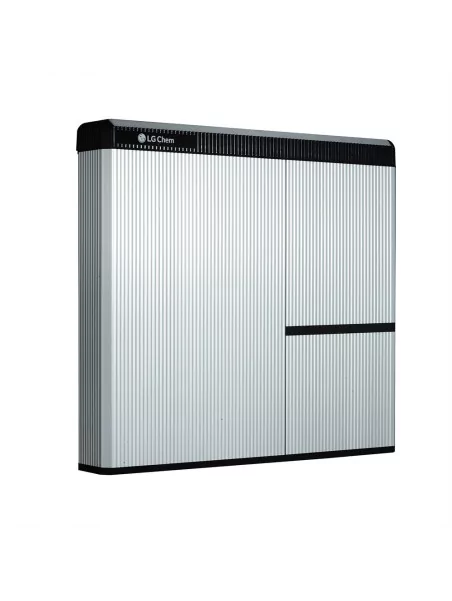 LG lithium battery RESU7H 400V - 7 kWh
LG
More info

" LG Chem Lithium RESU Battery - 7 kWh - 400V "
Optimized Solution for Energy Saving & High-quality Power
Compatble with the inverters and the interface of SolarEdge
Electricity Bill Saving
Charge during off-peak times
Discharge during peak times
Self-consumption
Store solar energy generated from photovoltaic panels for the future use
Emergency Power Back-up
Discharge during a black-out, functioning as back-up power
Compact Size & Easy Installation
The compact and lightweight nature of the RESU is world-class. It is designed to allow easy wall-mounted orfloor-standing installation for both indoor and outdoor applications. The inverter connections have also been simplified, reducing installation time and costs.
Powerful Performance
The new RESU series features industry-leading continuous power (4.2kW for RESU6.5) and DC round-tripefficiency (95%). LG Chem's L&S (Lamination & Stacking) technology provides durability ensuring 80% of capacity retention after 10 years.
Proven Safety
LG Chem places the highest priority on safety and utilizes the same technology for its ESS products that has a proven safety record in its automotive battery. All products are fully certified in relevant global standards.
---
---
Technical specifications and dimensions
---
Category
RESU7H
Electrical characteristics
Total energy capacity (battery)
7.0 kWh
Usable energy capacity (battery)
6.6 kWh
Battery capacity
63 Ah
Inverter interface voltage Range
350 ~450V DC
Charge/discharge current continuous
8.5A@420V / 10A@350V
Charge/discharge current peak
13.5A@370V for 5 sec.
Max. charge/discharge power
3.5kW
Peak power
5kW for 5 sec.
Battery pack round-trip efficiency
> 90% (under specific condition)
Communication interface
RS485
DC Disconnect
Circuit breaker (600V, 25A)
Operating conditions
Installation location
Indoor / outdoor (wall mounted)
Operating temperature
-10 ~ 45°C
Operating temperature (recommended)
15 ~ 30°C
Storage temperature
-30 ~ 55°C
Cooling strategy
Natural convection
Reliability / Certification
Safety Cell
UL1642
Safety Battery pack
TUV (IEC 62619) / CE / UL1973
Hazardous materials classification
Class 9
Transportation
UN38.3 (UNDOT)
Ingress rating
IP55 (NEMA 3R)
Mechanical data
Weight
75kg
Height
692mm
Length
744mm
Depth
206mm