Display all pictures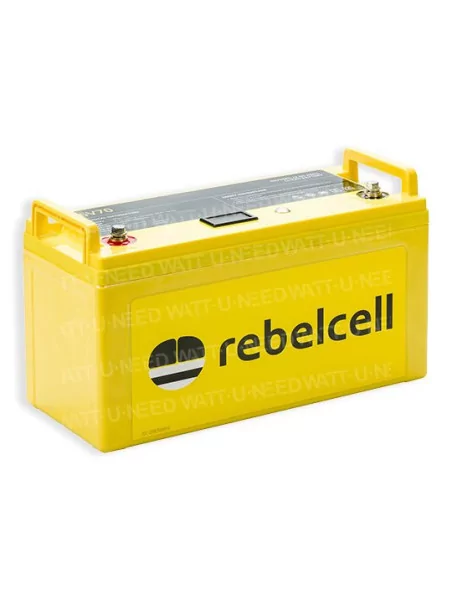 RebelCell Lithium Battery 36V70Ah - 70AV
Rebelcell
More info
36V70 LI-ION BATTERY
36V70Ah (2.69 kWh) lithium battery with built-in state of charge indicator. Specially developed for use in predatory fishing boats with 36V electric motor. Compatible with traditional 36V carbon brushed motors (e.g. Minn Kota Ultrex, Ulterra and Riptide) and brushless motors. (for example Lowrance Ghost, Garmin Force). Replaces lead-top batteries up to ~3 x 12V130Ah with a weight gain of up to 100 kg.
benefits
power : 36V - 70 amps - 2.69 kWh
application : Electric outboard motors from 36V to 120 Lbs.
Ease of use : loaded within 4-5 hours, deep discharge up to 100%. Replaces the lead-top battery up to ~3 x 12V130Ah with a weight gain of up to 100kg.
Duration of autonomy : depending on the weather conditions, currents, weight and load of the vessel and the possible use of a coal brush or brushless brushless engine. Indicative duration: 1 to 2 days of full fishing.
---
Main features
COMPACT AND LIGHTWEIGHT : the battery weighs 16.16 kg and is up to 70% more compact than an equivalent pack (3 x 12V130A lead-top batteries).
GREAT EASE OF USE : light and compact, it can be recharged quickly and between two charges ((full recharge in 4-5 hours with the corresponding 20A waterproof charger). Digital indicator of the state of charge (voltage / %).
LOW BATTERY COSTS : up to 50% less per year than a lead-down battery.
PEAK PERFORMANCE : slow discharge (up to 100%) without adverse effects on the performance or lifetime of the cycle.
RELIABLE AND DURABLE : built-in protection against misuse (slow discharges, power surges, high temperatures, etc.) thanks to GTB and service life up to 10 years.
guarantee : two years.
---
Characteristics
TECHNICAL SPECIFICATIONS
chemistry
Lithium-Ion
tension
37 V
Capacity (C1-C20)
70 Ah
EqPb (comparable lead-to-lead battery)
Up to 3 x 12V 130Ah
Nominal energy
2.69 kWh
Maximum continuous discharge
100A
Peak flow (10 sec)
120 A
Lifetime (@80% DoD)
1500
Lifetime (@100% DoD)
1000
size
407 x 173 x 233 m
weight
16.6 kg
Energy density
180 Wh / KG
ELECTRONICS & GTB
Bandwidth voltage
30V – 42V
Charging temperature
0°C – 45°C
Discharge temperature
-20°C - 60°C
Storage temperature
0°C – 45°C
Maximum load current
50 A
State of charge indicator
Yes, digital
Integrated cell balancing
Yes
Temperature protection
Yes
Maximum discharge current protection
Yes
Overvoltage protection
Yes
Protection against under-stress
Yes
PROTECTION AND CERTIFICATION
Safety class (IEC 529)
IP54
CE certificate
Yes
guarantee
2 years
---
Specifications
| | |
| --- | --- |
| Voltage | 36V |
| Technology | Lithium |
| Battery capacity | 70 Ah |