Display all pictures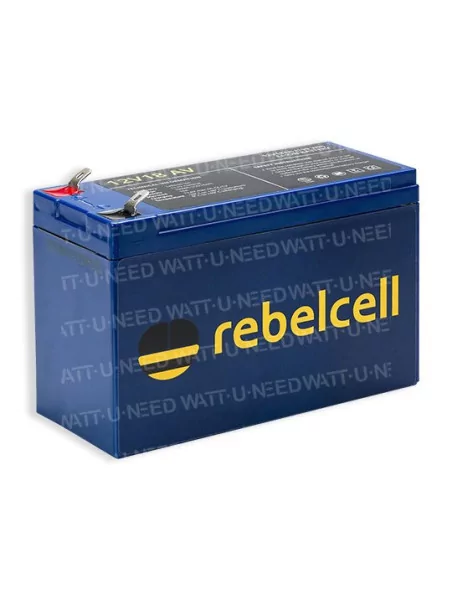 RebelCell Battery Lithium 12V 7Ah - 7AV
Rebelcell
More info
BATTERY 12V07 AV
Powerful and lightweight 12V07 AV lithium battery (87 Wh) for use with, for example, small echoso possible (4-5 inches) and bait boats.
Ideal for carp fishing, float-tube fishing, kayaking, ice fishing, etc.
Complies with IATA guidelines and is permitted (under certain conditions) in carry-on baggage when travelling by air.
---
Key features
COMPACT AND LIGHTWEIGHT : the battery weighs only 0.75 kg, with the same dimensions as a standard 9A lead battery.
GREAT USABILITY : Light and compact, it can be recharged quickly and between charges (full charge in 2.5-3 hours with a 3A charger).
LOW BATTERY COSTS : up to 50% less per year than a lead battery.
PEAK PERFORMANCE Slow discharge (up to 100%) without adverse effects on cycle performance or lifespan.
RELIABLE AND DURABLE Built-in protection against misuse (slow discharges, surges, high temperatures, etc.) thanks to the GTB and lifespan of up to 10 years.
guaranteeTwo years.
---
Characteristics
TECHNICAL FEATURES
chemistry
Lithium-Ion
tension
11.1 V
Capacity (C1-C20)
7 Ah
EqPb (comparable lead battery)
9 Ah
Nominal energy
87 Wh
Maximum continuous discharge
10 A
Peak flow (10 sec)
15 A
Lifespan (up 80% DoD)
1500
Lifespan (up 100% DoD)
1000
size
151 x 65 x 95 mm
weight
0.75 kg
Energy density
104 Wh / KG
ELECTRONICS - GTB
Bandwidth voltage
9.0 V - 12.6V
Charge temperature
0C - 45C
Discharge temperature
-20C - 60C
Storage temperature
0C - 45C
Maximum charge current
4 A
Built-in cell balance
Yes
Temperature protection
Yes
Protection against maximum discharge current
Yes
Surge protection
Yes
Protection from under-voltages
Yes
PROTECTION AND CERTIFICATION
Safety class (IEC 529)
IP54
CE Certificate
Yes
guarantee
2 years
Data sheets and documentation
Specifications
| | |
| --- | --- |
| Voltage | 12V |
| Technology | Lithium |
| Battery capacity | 7Ah |