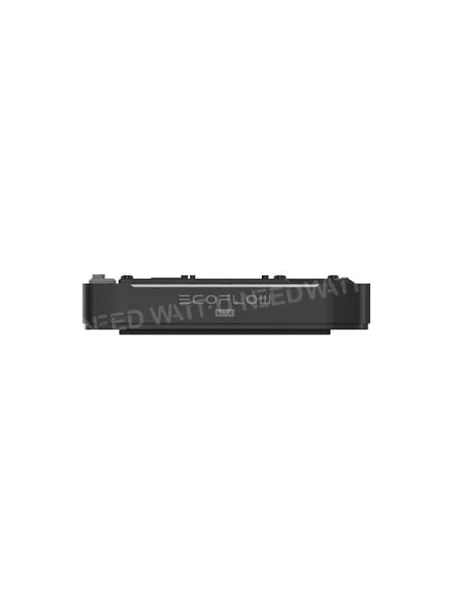 Additional battery EcoFlow RIVER
EcoFlow
More info
Additional battery EcoFlow RIVER
DOUBLE CAPACITE FROM 288Wh to 576Wh The additional EcoFlow RIVER battery is designed to integrate with EcoFlow RIVER to increase the unit's energy capacity. You can easily double the capacity of the EcoFlow RIVER from 288Wh to 576Wh by attaching the EcoFlow RIVER Extra Battery to the main model. The EcoFlow RIVER Extra Battery cannot be used alone. You will need to install the module on RIVER to use it.
EcoFlow RIVER - EXTRA BATTERY - EcoFlow RIVER MAX After integrating the additional battery into RIVER, you will get the RIVER Bundle which is controlled and managed as a whole by the BMS of the main model. It's a cost-effective way to upgrade your RIVER in terms of storage. With a capacity of 576Wh, the RIVER provides enough power to operate essential devices for hours.
0% TO 80% RECHARGING IN 1 HOUR With EcoFlow's patented X-Stream technology, the smart inverter allows for a fast charge that takes less than an hour to go from 0% to 80%, and it recharges completely in 1.6 hours. You can move to a quieter charging state by activating the "Silent Charge" state on the APP.
COMPATIBLE WITH 80% HOME APPLIANCES The advanced integrated algorithm of X-Boost technology allows most heavy kitchen appliances and tools to work. With X-Boost, EcoFlow RIVER Max can power 80% of home appliances and essential devices, especially those under 1200W for better use. Discharge rates and X-Boost mode can be monitored and controlled with the EcoFlow APP.
How do I install the additional EcoFlow RIVER battery?
Step 1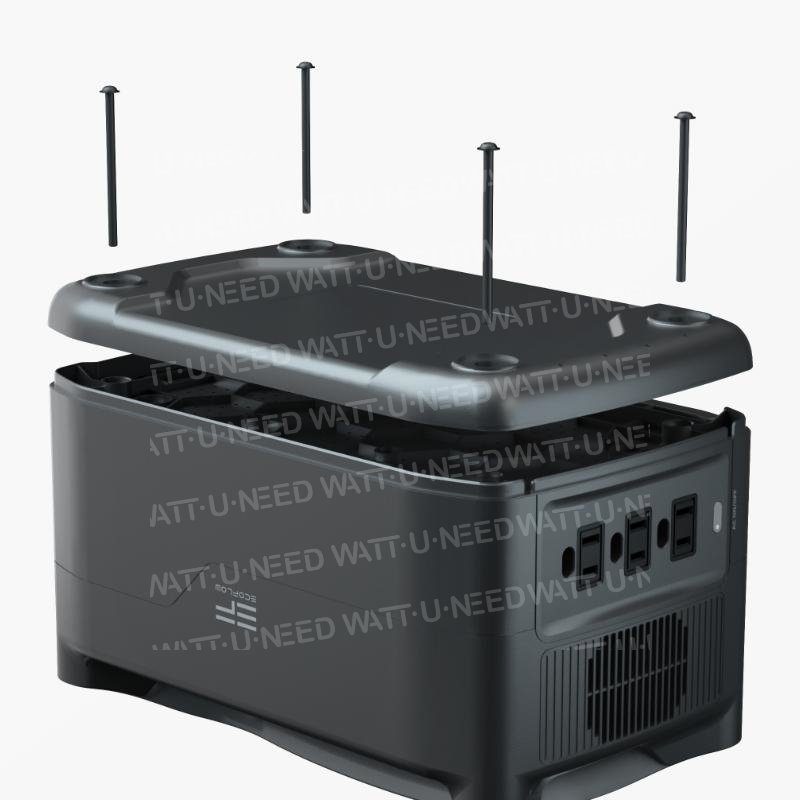 1. Please ensure that the EcoFlow River is extinguished. Take the screwdriver out of the extra battery module kit and spot the four screws on the bottom of the lid.
Note: Please be careful to avoid static electricity during the installation process.
Step 2 and 3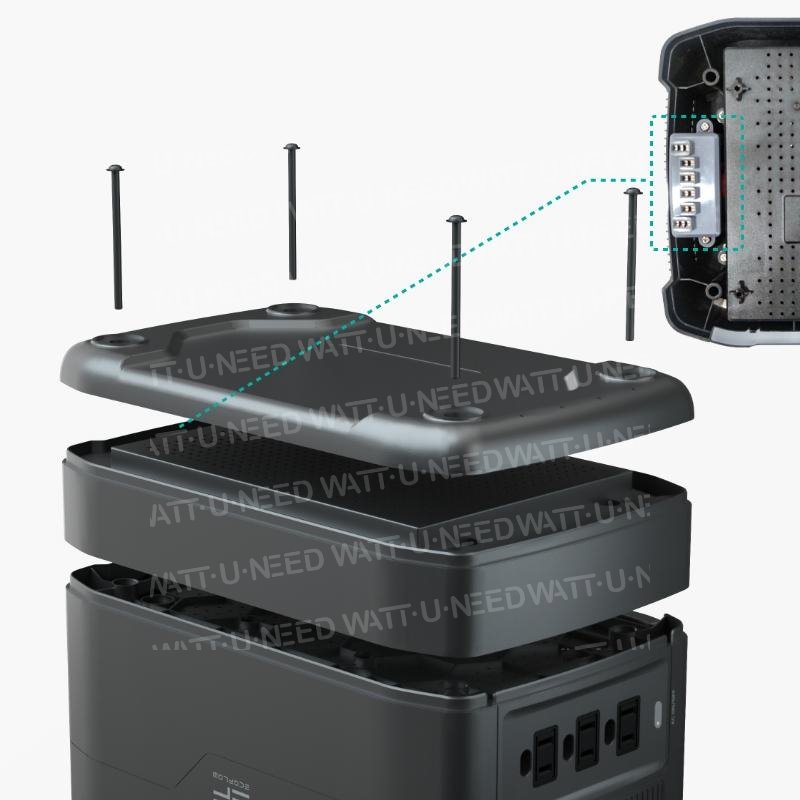 2. Please remove the 4 screws and the bottom lid. The additional battery module must be positioned as shown on the figure.
3. Line up the male and female battery sockets and connect them. Close the bottom lid. Take the four long screws from the kit and screw them over the screw mouth.
Step 4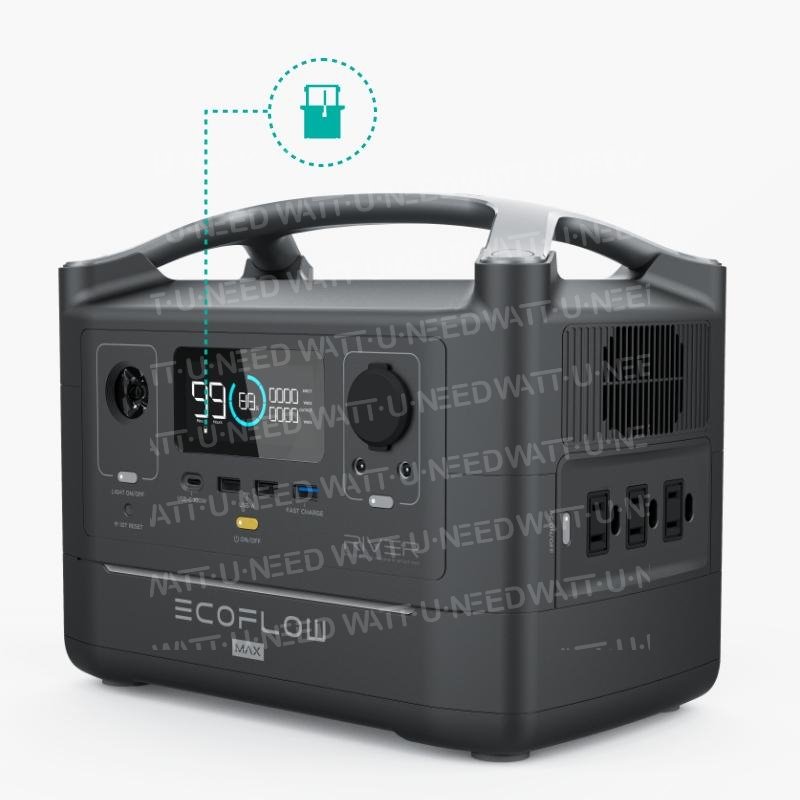 4. Put the EcoFlow RIVER upright and turn it on. The ambient light from the additional battery will come on. If the additional battery module light appears on the EcoFlow RIVER screen, it is successfully activated.
If the ambient light or the additional battery module light is not activated, repeat the installation steps and then check the connection.
---
Content in the box

---
What can EcoFlow RIVER MAX power?
Saving the house

Light 10 W 50 hours (DC) - 5 p.m. (AC)

Refrigerator 150 W 3 to 6 hours
Television 110 W 4 to 8 hours

Hairdryer 1600 W 0.8 to 1.6 hours

600 W coffee machine 21 to 25 cups
Off-grid life

Telephone 11 Wh 42 times

Laptop 49.9 W 10 times

Camera (GoPro) 7.7 Wh 66 times

Nintendo Switch 16 Wh 30 times

Drone 60 Wh : More than 6 times

Electric cooking 1500 W 0.8 hours
---
Characteristics
| | |
| --- | --- |
| Net weight | 2.5 kg |
| Dimension | 285 x 180 x 59 mm |
| Charge temperature | 0-45 degrees Celsius - 3 degrees Fahrenheit |
| Discharge temperature | -20-60 degrees Fahrenheit - 3 degrees Fahrenheit |
| Color | Black |
| Warranty | 24 months |
| Ability | 288 Wh (28.8V) |
| Cellular Chemistry | Lithium-ion |
| Preservation time | 1 year (after full charge) |
| Lifespan | 500 Cycles (80% plus) |
| Testing and certification | UL CE FCC RoHS PSE |
Data sheets and documentation
Product Reviews
Number of Reviews : 1
Average Grade : 5 /5
P. Raymond
the 19/05/2021
5/5
commandé pour différentes utilisations, entre autres gonflage du auvent de ma caravane sans avoir besoin de brancher mon gonfleur sur secteur ou batterie de ma voiture
Specifications
| | |
| --- | --- |
| Voltage | 12V |
| Battery capacity | 288 Wh |
| Weight | 2,4 kg |
| Width | 280 mm |
| Height | 194 mm |
| Thickness | 185 mm |