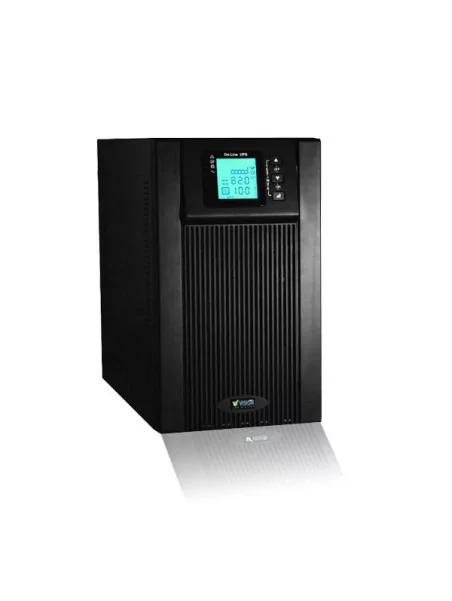 UPS 1600W Pure Sine convertor-charger
UPS vision
More info
The Marathon converter-charger provides power to any electrical appliance with its Pure Sine technology.
Ideal for powering sensitive electronic equipment such as televisions, computers or any other electronic device.
On line type (also called double conversion )
This UPS operates a double conversion

- In normal mode, the UPS inverter is placed between the network and the load. The power supplied to the consumers goes constantly through the UPS which carries a double conversion AC / DC and DC / AC .

- In standalone mode , the battery supplies power to the inverter and the inverter supplies power to the load. This configuration is the most expensive but also the most comprehensive in terms of the protection of the load. The inverter converts continuously the voltage of the grid, allowing precise control of the voltage and frequency of the output . Given the isolation of consumers over the electric grid, power system disturbances are eliminated at the UPS output
Furthermore, the transition from normal mode to autonomous mode is instant without any swapping delay . The UPS directs the load to the network using a static bypass contactor in caseof a failure or battery discharge. The UPS is synchronized with the grid, the transfer is carried out without break. This UPS is the best protection against interference and micro-breaks for sensitive equipment.
---
Principle of operation :
In this type of installation, the battery is charged by solar modules. When the battery is charged, it powers the inverter which supplies 230AC output voltage.
---
Technical characteristics :
Fully controlled by microprocessor
Short-circuits and overloads protection
7A AC charger integrated
Output pure sine wave output 230V + / - 3%
Can supply any type of inductive load
Multi-function: solar énnergie or domestic use
2 years warranty
---
Others :
Power : 1600W
DC Input voltage : 48V
Switching time : < 4ms
Yield : 87-90%
AC load current : 7A
Communication : USB port
Weight : 10Kg
Dimensions : 191 x 428 x 337