WKS Plus 3kVA 48V hybrid inverter
View full size
Display all pictures
WKS Plus 3kVA 48V Inverter
WKS hybrid inverters are the ideal solution for supplying a home with self-consumption or making an isolated site autonomous
This inverter provides power to consumers up to 3000W
The built-in MPPT 60A load controller allows up to 3000Wc of panels
Possibility to connect it in the input to the public grid or a generator to recharge the batteries
Fully configurable via the LCD screen of the inverter
After Sales Service insured internlly, spare parts available

stock quantity : 7
More info
By buying this product you can collect up to 67 loyalty points. Your cart will total 67 points that can be converted into a voucher of 20,10 €.
360° View
More info
" Hybrid inverter / Solar charger/ Battery charger / UPS "
Designed for hybrid power system that combines solar array with other renewable energy sources such as wind turbine, generator or utility.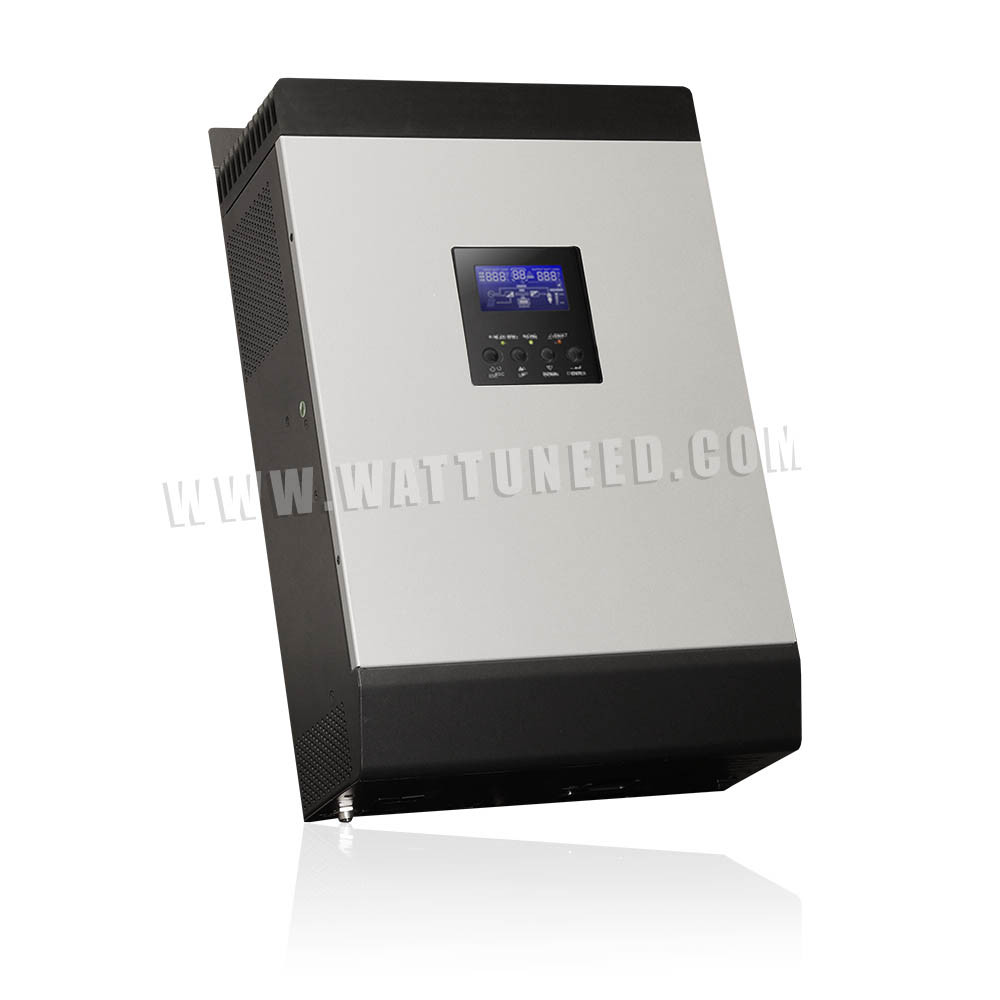 Desciption
With its pure sine wave output, this compact hybrid inverter fully assures that modern electronics like computers and audio/visual equipment, or any other sensitive load, will be correctly and interruption-free powered. The electricity from these pure sine wave inverters is of a higher quality than grid power.
Applications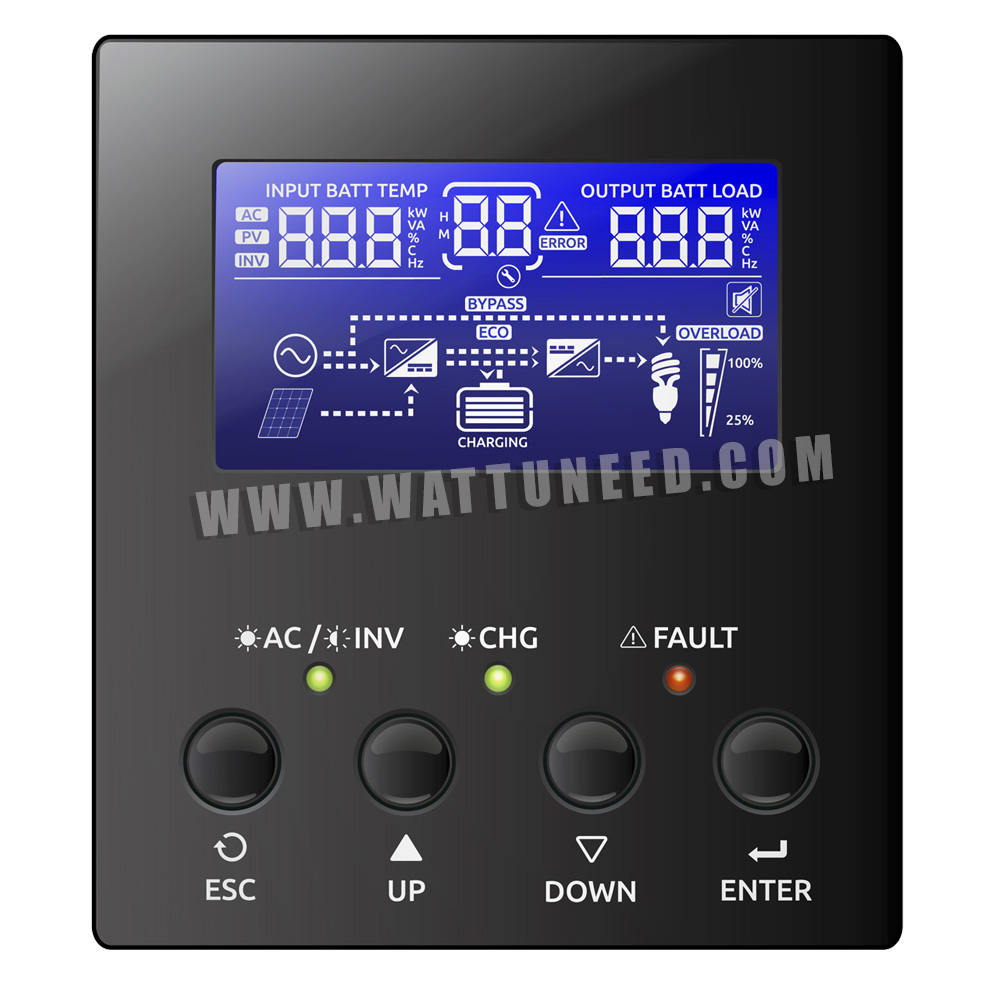 Residential and commercial, Telecommunication

Areas with unstable electricity supply

Areas without connection to the public electricity grid
Features
Pure sine wave inverter
Built-in MPPT solar charge controller
Selectable input voltage range for home appliances and personal computers
Selectable charging current based on applications
Configurable AC/Solar input priority via LCD setting
Compatible to mains voltage or generator power
Auto restart while AC is recovering
Overload and short circuit protection
Smart battery charger design for optimized battery performance
Cold start function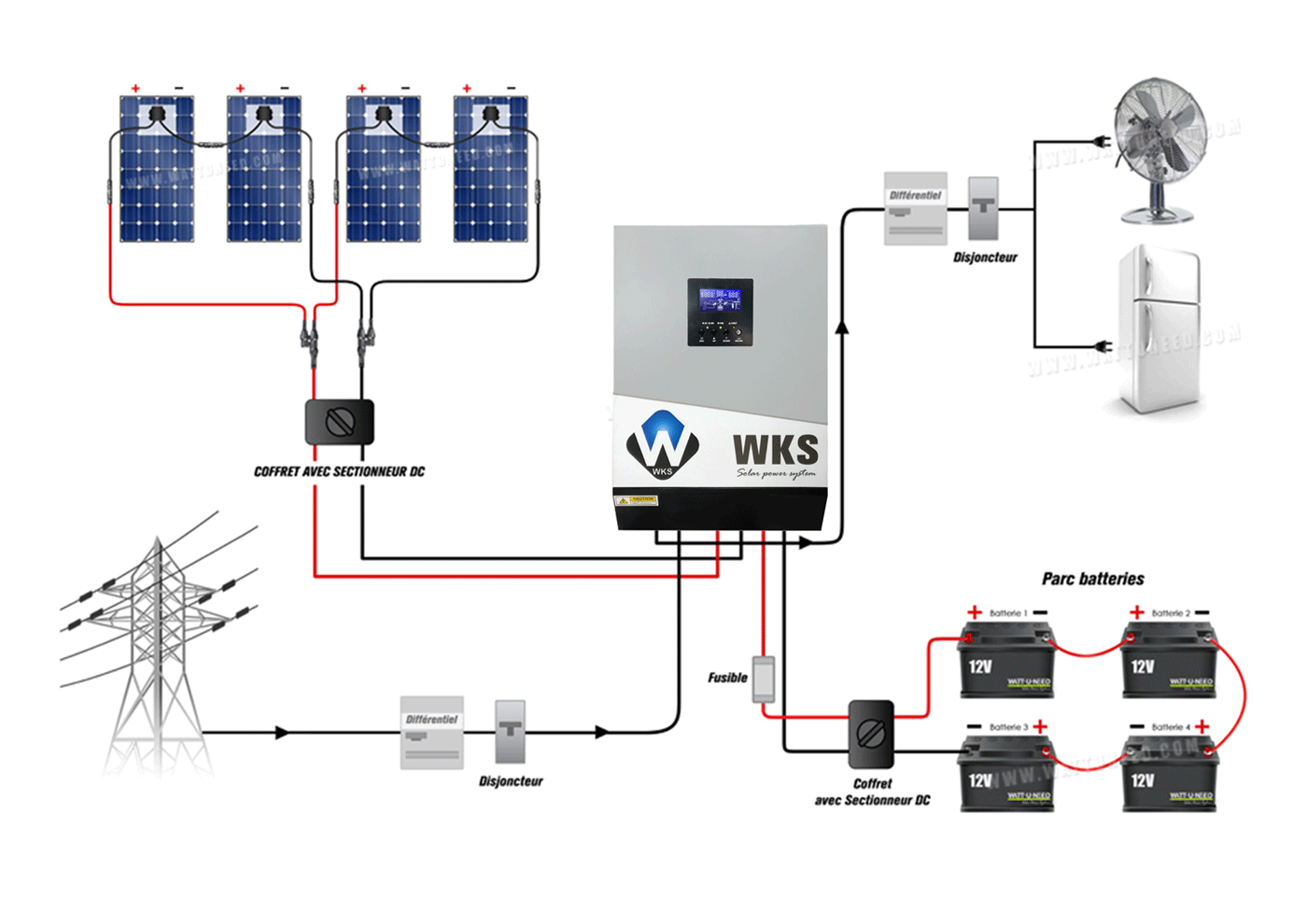 3 modes of operation
solar Priority

relief

Solar

Network



-

Setting the

current

battery charge




-

Ability to limit

or prohibit the

load

over the network




-

Input

from 90 to

280V

(useful for

fluctuating

networks

) Voltage


-

Economy mode

(limitation

of self

consumption)




-

Fine tune

the characteristics

of the batteries




- Automatic

Restarting

overload

and

overtemperature




-

Ability to limit

the battery

discharge

to preserve their

life




- Tension

adjustable

back in

battery mode




-

Bypass

overload

(

allow

to pass

on the network

at times of peak

consumption

)


- Safety

of

low battery
- USB port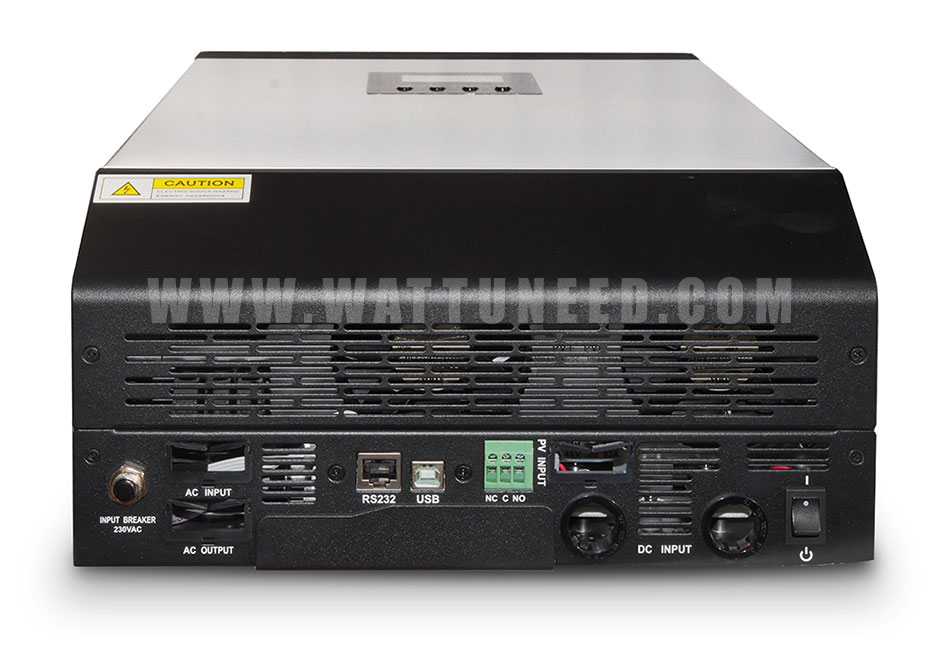 Incompatible with remote display.
Specifications
RATED POWER
3000VA/2400W
INPUT
Voltage
120 VAC or 230 VAC
Selectable Voltage Range
95-140 VAC or 170-280 VAC (For Personal Computers)
65-140 VAC or 90-280 VAC (For Home Appliances)
Frequency Range
50 Hz/60 Hz (Auto sensing)
OUTPUT
AC Voltage Regulation (Batt. Mode)
110/120 VAC ± 5% (User selectable) or 230VAC ± 5%
Surge Power
6000VA
Efficiency (Peak)
90% - 93%
Transfer Time
10 ms (For Personal Computers) ; 20 ms (For Home Appliances)
Waveform
Pure sine wave
BATTERY & AC CHARGER
Battery Voltage
48 VDC
Floating Charge Voltage
54 VDC
Overcharge Protection
62 VDC
Maximum Charge Current
10 A or 10 A / 15 A*
SOLAR CHARGER
Maximum PV Array Power
3000 W
MPPT Range @ Operating Voltage
30 ~ 115 VDC
Maximum PV Array Open Circuit Voltage
145 VDC
Maximum Charging Current
60A
Maximum Efficiency
98%
Standby Power Consumption
2 W
PHYSICAL
Dimension, D x W x H (mm)
140 x 295 x 479
Net Weight (kgs)
11.5
OPERATING ENVIRONMENT
Humidity
5% to 95% Relative Humidity(Non-condensing)
Operating Temperature
-10°C - 50°C
Storage Temperature
-15°C - 60°C
Logiciels
WatchPower 1.13
Specifications
| | |
| --- | --- |
| Voltage | 48V |
| Power | 3000 VA |
| Monophasé / Triphasé | Monophasé |
| Inverter power | 3000VA |
Product Reviews
Number of Reviews : 9
Average Grade : 4.6 /5
B. Raymond
the 23/05/2018
4/5
Fonctionne correctement. Le chargement du logiciel n'a pas marché mais je ne sais pas si c'est indispensable puisque l'onduleur, tel qu'il est livré, fonctionne normalement, y compris les commandes, paramètrages et visualisation.
C. Nicolas
the 11/07/2017
4/5
L'onduleur est à la hauteur de mes espérances actuellement : Look agréable, poids raisonnable, Installation facile, branchement aisé, montage mural simple et en plus il tient ses promesses ( la puissance générée avec 8 PV (1 KW) réduira mes factures de l'ordre de 35%, c'est pour le moment significatif.,Plus tard je passerai au modèle supérieur (l'ONDULEUR HYBRIDE MONOPHASÉ MULTISOLAR PLUS 5 KVA 12 PV BENQ (330W) et je serai ravi de ne plus payer de factures ;p.PS :4 étoiles seulement car le bruit généré par ses 2 ventilateurs et un peu gênant sinon pour le reste il est impeccable.
M. Ymade
the 15/04/2016
5/5
Fonctionnel et ras
R. Jean-Richard
the 05/02/2016
5/5
La solution au délestage et rentabiliser ces projets!
Y. Nebnoma Maxime
the 12/11/2015
5/5
Très bon produit ! pas de déception. Seulement il fait un peu de bruit. Il est mieux a être installé dehors et pas dans le salon ou dans la chambre.
G. Hoareau
the 17/10/2014
5/5
Super
M. Girard
the 17/10/2014
5/5
SAV formidable un coup de fil et on est servi bravo !!!A conseiller aux amis
D. Cheruy
the 17/10/2014
4/5
Bon mais j'ai l'impression de perdre du courant la nuit. Je ne suis pas branché sur le réseau et mon indicateur de charge baisse pdt la nuit. Normal?
› Comment from Wattuneed the 03/11/2014
Bonjour,Il peut être utile d'activer le mode économie d'énergie (paramètre 4)Contactez-nous si vous n'y parveniez pas !
G. Mondy
the 17/10/2014
4/5
L'onduleur fonctionne correctement mais lorsque le réseau coupe, il y a une certaine latence et l'onduleur met - 1 seconde pour réalimenter le circuit. Cela ne pose pas de problème pour les appareils ménagers et éclairage mais par contre, c'est gênant pour y brancher du matériel informatique. Reste que pour ce prix, je ne peux pas non plus me montrer trop difficile. L'appareil est assez bruyant en charge et sera installé dans un local technique de préférence. Je suis bien conscient qu'il existe des onduleurs pour réseau autonomes de meilleur qualité mais je n'était pas prêt à mettre 3x le prix pour un sma par exemple. L'appareil chez moi rempli le rôle attendu.
› Comment from G. Mondy the 03/12/2014
J'ai refait un test et effectivement, l'onduleur a repris le relai instantanément, je mets donc 5 étoiles.
Show exchanges
Hide exchanges