Display all pictures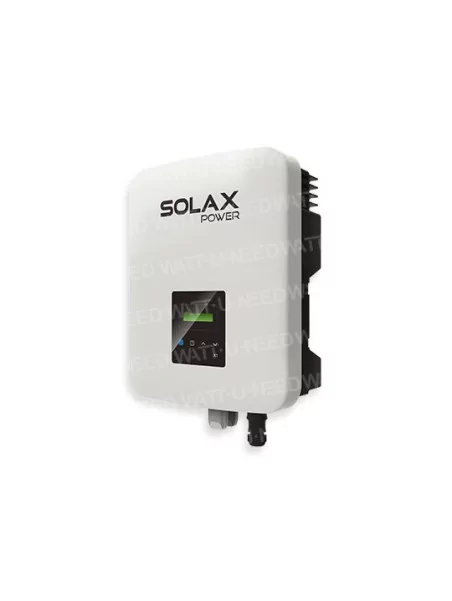 SolaX X1 Boost 4.2T single-phase inverter
Solax
More info
SolaX single-phase X1 BOOST
SolaX has developed an industry-unfazed inverter range unmatched for quality, reliability and efficiency. SolaX single-phase inverters offer a wide range of MPPT voltage to allow for better energy recovery and have a maximum input voltage of 600V, with a maximum efficiency of 98%. In addition, SolaX single-phase inverters are IP66 compliant, do not have an internal fan, and come with the optional "Plug-Play" Wi-Fi.
Perfect for residential photovoltaic panels
The X1 Boost is the ultimate residential solar inverter, perfectly designed for homes with solar panels on different sides of the roof. With two MPPT trackers, the X1 Boost can be connected to two separate panel arrays, our X1 Boost is also rated IP66, which means it can be installed outdoors.

Simple, Reliable, Efficient
The SolaX X1 Boost is one of the most efficient residential solar inverters available on the market today, offering a massive efficiency of 98% and with a maximum CC voltage of 600V, you can make sure you get the most out of your solar energy.
Install indoors or outdoors
The X1 Boost is rated IP66, which means it can be installed indoors or outdoors, giving you the option to choose where to install the system.
---
Characteristics
entrance

Maximum power of photovoltaic panels (Wc)

6300

Maximum CC Power. Recommended (W)

A: 3300B: 3300

Maximum CC tension (V)

600

Nominal CC service voltage (V)

360

Maximum entry current (A)

12/12

Short-circuit current max. (A)

14/14

MPPT voltage range (V)

70-580

Start-up service voltage (V)

100

MPP/MPPT/MPP follow-up number

2(1/1)

EXIT AC

Rated AC Power (VA)

4200

Maximum AC Power (VA)

4620

Nominal voltage of the power grid (AC voltage range) (V)

220/230/240; 180-280

Frequency/Nominal Range of The Power Grid (Hz)

50/60; ±5

Current AC nominal (A)

18,3

Current AC max. (A)

20,1

Moving power factor

0.8 capacitive - 0.8 inductive

THDi, rated power (%)

<2

yield

MPPT return (%)

99,9

European return (%)

97

Maximum return (%)

97,8

ABSORBED POWER

Sleep consumption (night) (W)

<0.5

Standards

Surge protection

Yes

Protection from over-intensities

Yes

Monitoring of isolated resistance CC

Yes

Monitoring the fault current to the earth

Yes

Monitoring CC injection

Yes

Differential circuit breaker protection

Yes

security

IEC 62109-1/-2

Emc

IN 61000-6-1, 61000-6-2, 61000-6-3

certification

G98, G99, AS 4777, VDE4105, 50549, IEC 0-21

ENVIRONMENTAL LIMITS

Degree of protection (according to IEC 60529)

IP65

Range of service temperatures (C)

-25 to 60 (downgrade to 45)

Maximum operating altitude (m)

<000

Humidity (%)

0 to 100 (condensation)

Storage temperature (C)

-25 ~ 60

Typical sound level (dB)

25

DIMENSIONS AND WEIGHT

Dimensions (L x l x P) (mm)

430 x 341.5 x 143

Weight (kg)

14,5

Cooling type

natural

topology

Not isolated

Communication interfaces

Pocket Wi-Fi (optional)
Local pocket network (optional)
Pocket GPRS (optional)
Counter (optional)
RS485
DRM
USB for update

LCD

Yes

Standard warranty (years)

5 - 10 years old
Specifications
| | |
| --- | --- |
| MPPT/PWM | MPPT |
| Monophasé / Triphasé | Monophasé |
| Nombre de MPPT | 2 MPPT |
| Inverter power | 4000VA |