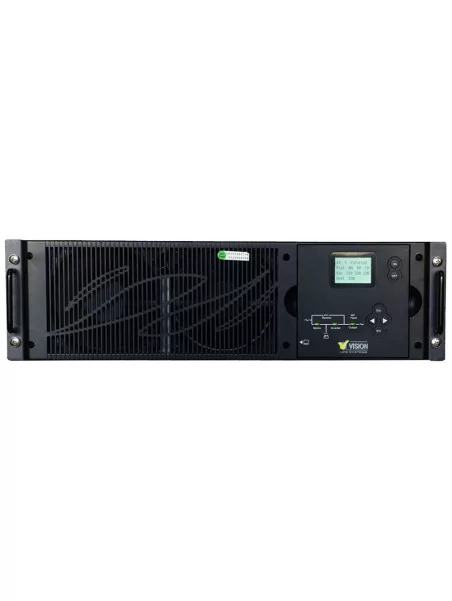 UPS Vision MOD online 10Kva inverter
More info
UPS 10000VA (8000W) ready to be mounted in a rack cabinet 19 "
On line type (also called double conversion )
This UPS operates a double conversion


- In normal mode, the UPS inverter is placed between the network and the load. The power supplied to the consumers goes constantly through the UPS which carries a double conversion AC / DC and DC / AC .

- In standalone mode , the battery supplies power to the inverter and the inverter supplies power to the load. This configuration is the most expensive but also the most comprehensive in terms of the protection of the load. The inverter converts continuously the voltage of the grid, allowing precise control of the voltage and frequency of the output . Given the isolation of consumers over the electric grid, power system disturbances are eliminated at the UPS output
Furthermore, the transition from normal mode to autonomous mode is instant without any swapping delay . The UPS directs the load to the network using a static bypass contactor in caseof a failure or battery discharge. The UPS is synchronized with the grid, the transfer is carried out without break. This UPS is the best protection against interference and micro-breaks for sensitive equipment.
---
Performance and productivity
Technology supply on-line double conversion, constantly regulates voltage and frequency.
Up to 98% efficiency in economy mode.
Continuously, the inverter outputs a sinusoidal current "clean" to the connected equipment.
---
Flexibility
Its graphical display provides clear and detailed information on the UPS status
Its can measure power consumption and display via the LCD screen.
To double the power, he can be connected in parallel with another UPS Vision MOD 10kva.
---
Specifications
Input
Nominal capacity
6kva / 4,8kW
Rated voltage
380/400VAC or 220/230VAC
Voltage range
208-478VAC (3/1) or 120-276VAC (1/1)
Frequency
40-70Hz
Input power factor
>0,99
Current THDi
<5%
Output
Voltage
220/230VAC +- 2% with pure sine wave
Frequency
50/60Hz
Harmonic distortion
<2% (linar load) / <5% (non-linear load)
Crest factor
3:1
Efficiency
ECO-mode >98% / Normal-mode > 90%
Battery
Type
VRLA
Voltage

Optional battery quantity: 192/216/240V (16-20 batteries)

Maximum charging current

6A per module (can be set according to battery capacity installed)

Internal batteries for short backup time or external battery cabinet for long backup
Protection
Input / Output
Overload, Overheating, Short Circuit, Battery Low, Noise and Spike Suppression
Overload AC-Mode
?110% - 60min / ?125% - 10min / ?150% - 1min
Overload Battery Mode
?110% - 30sec / ?125% - 1sec / ?150% - 200msec
Overload Bypass Mode
Alarms - Indication
Audible alarm
Beeping sound for Line Failure, Battery Low, Bypass - Overload Status, Fault Status
LED-Alarm
Line - Backup - Eco Mode, Bypass, Battery Low/Bad/Disconnect, Overload, Fault

Big touchscreen display 5"

Bypass
Type
Internal static (automatic) and manual bypass / External bypass optional
Bypass voltage range
Max.voltage: +15%(optional +5/10/25% ) / Min. voltage: -45% (optional -20/30%) Frequency protection range: ±10%
Standards
Certificates

CE, EN62040-1-1 (ESD), EN62040-2 (EMI)

Working temperature: 0 - 40°C / Storage temperature: -25 - 55°C

0-95% non condensing / < 1500m

<50dB /1m according to EN62040-2

RS232 / RS485 / 2 free slots / dry contacts / EPO - software included

25kg (without batteries 13,5kg)
Specifications
| | |
| --- | --- |
| Power | 10000 VA |
| Monophasé / Triphasé | Monophasé |