Display all pictures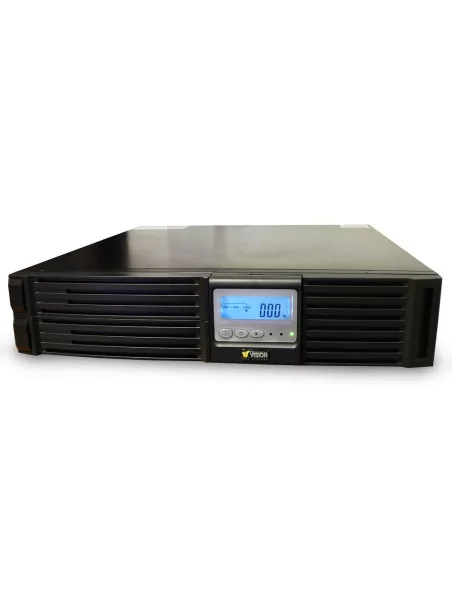 UPS Vision Jupiter XL inverter 1,5 to 4Kva
UPS vision
More info
" 1500 - 4000 VA "
Line interactive type

This UPS interacts with the network


- In normal mode, the load is powered by the grid. The inverter, in reverse operation, charges the battery using the grid.


- In standalone mode, the inverter and battery supply power the load.
The power contactor cuts the grid input to avoid a backfeed from the inverter. This inverter provides some regulation of output voltage but it is less effective than an "on-line" UPS (doubleconversion). There is no real insulation between the load and the power supply and no real control of the output frequency. This UPS doesn't protect demanding applications such as computer servers against harmful micro-cuts.
---
Description
Line-interactive technology (VI) with pure sine wave

Automatic Voltage Regulator (AVR,Boost and Trim)
Transfer to battery at under and over voltage
Hot swappable battery replacement
Optional additional backup time
User-friendly LCD display
Pure sinewave output
4A charger
Battery (DC) cold start
Large backup time
Input voltage range from 150-320V
Rack and tower - 2 in 1 design
---
Protections
RJ11 / 45 phone / network protection
Overload and short circuit protection
---
Options
SNMP - Relay - AS400 card
Audible and visible alarm
---
Warranty
---
Specifications
Nominal capacity VA
1500
2000
3000
4000
Power W
900
1350
1980
2700
Input voltage range
165 - 300VAC
Voltage stabilizer AVR
Boost & Trim
Input frequency range
50/60Hz
Output voltage (battery mode)
220/230/240VAC (3%) - pure sine wave
Output voltage (line mode)
220/230VAC (9%)
Output frequency (batery mode)
50/60Hz
Battery (capacity x amount)
7Ah x4
9Ah x 4
7Ah x 8
9Ah x 8
Backup time
> 10 minutes at 100% load
IEC outlets (amount)
6 (optional : 19' module with 4 IEC and 2 schuko outlets)
Interface
RS232 -USB - EPO
RJ11 / RJ45 protection
yes
Dimensions HxWxD (weight kg)

88x440x485

(23,7kg)

88x440x690

(26,2kg)

88x440x690

(42kg)

88x440x690

(46kg)

Overload protection
yes
Short circuit protection
yes
Noise suppression
yes
Warranty
2 years (electronics)
Software (UPSilin 2000)
windows, Mac, Linux
Specifications
| | |
| --- | --- |
| Power | 1500 VA à 4000 VA |
| Monophasé / Triphasé | Monophasé |