Display all pictures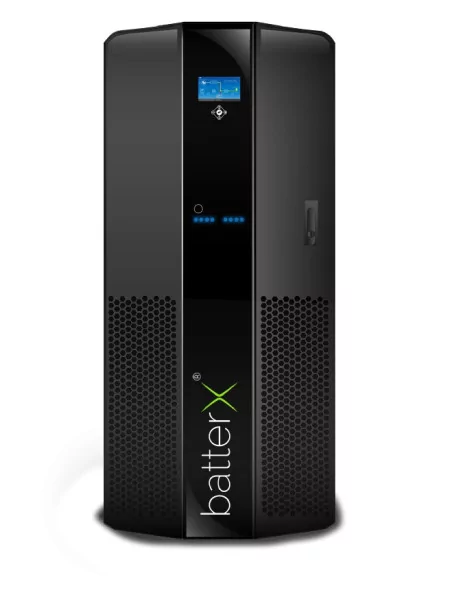 Hybrid Inverter BatterX BAT250X
BatterX
More info

" Hybrid inverter batterX : the solar intelligence "
The energy supply
Hybrid function with scalable OFF Grid MPPT controller
UPS, ON-Line "double conversion" technology (VFI)
Controllable input current management
Split / double bypass input
Output power factor 0.9
Up to 8 units in parallel
High efficiency > 94%
Backfeed protection
---
The brain :
Energy storage with batteries "Made in Germany"
UPS (Uninterruptible Power Supply) / Voltage Frequency independent
Controllable energy-mix of different energy sources
Free choice of energy supplier (100% green electricity)
Cost reduction by peak load elimination
Future-proof thanks to


Open source
Community
Apps
Add-ons
Plug-ins
Updates and upgrades ...

Up to 18 programmable interfaces IN/OUT
Remote diagnosis and Remote Monitoring
---
Power
Highest output range : 10kVA to 4MVA
Battery storage : 5kWh to > 1MWh
---
Operating
---
Solar energy
In combination with a PV installation the solar energy is the primary energy source to supply the load with stable and uninterruptible power. It also charges your batteries.
---
Grid & generator supply
The grid only supplies the load when the solar and/or battery energy is not strong or not available. Partial grid supply is managed by the Energy Flow Manager (EFM)
---
Battery storage
With this unique and modular technology, it is able to provide very big storage capacities. In combination with solar energy, it can power and protect you during many hours or days.
---
BatterX
BAT
10X
BAT
15X
BAT
20X
BAT
30X
BAT
40X
BAT
60X
BAT
80X
BAT
100X
BAT
120X
BAT
160X
BAT
200X
BAT
250X
BAT
300X
BAT
400/500X
Power (kVA)
10
15
20
30
40
60
80
100
120
160
200
250
300
400/500
Input
Voltage
380/400/415Vac 3 phase +N, +/-20% (415Vac +15% - 25%)
Frequency range
50/60Hz selectable, +/- 10Hz
Power factor
0.99
Harmonic distortion (THDI)
<3%
Additional bypass input
Yes
Bypass voltage range
380/400/415 Vac 3 phase +N, +/-10%
Solar charge controller
Yes - hybrid function
Output
Power factor
0.9
Power (kVA)
9
13.5
18
27
36
54
72
90
108
144
180
225
270
360/400
Voltage regulation
380/400/415 Vac 3 phase +N, +/-1% (220/230/240 Vac for 10-30kVA)
Frequency
50/60Hz adjustable
Frequency regulation
Line synchronizedu +/- 2% battery mode +/-0.1% adjustable
Efficiency
Up to 94%
Crest factor
3:1
Overload protection
100-125% 10 min, 125-150% 60 sec
Additional protection
Short-circuit, voltage and current range
Harmonic distortion (THD)
<3% à 100% linear load
Battery
Type
VRLA AGM/GEL or other types
Nominal voltage
+/- 360Vdc (2x30-12Vdc)
Float or end of discharge DC voltage
+/- 405Vdc, +/- 300Vdc
Battery
Internal
Externam
Protection
Overcharging, battery duses, temperature compensation
Automatic test
Daily, weekly (adjustable)
Hybrid Off Grid Controller
Power
10 and 40kW (up to 8 units in parallel)
MPPT input
260-640Vdc (40kW TBA)
Input min/max Voc
200Vdc / 800Vdc (40kW TBA)
Efficiency
≥97%
Communication
RS232, 4 dry contacts, EPO, multi language graphical LCD
Dimensions H x D x W / weight
10kW : 3Ux500x440mm / 17kg (40kW TBA)
General
Standard & certificates
EMC/LVD/EMI - EN62040-1/2, EN60950, CE
UPS interface
Multi language graphical LCD
Communication ports - UPS
2x RS232 ports, 4 dry contact (in option 8 dry contacts)
Communication ports - Raspberry PI
4 USB, HDMI, Ethernet, Micro SD card
Communication ports - Controller card
18 programmables IN/OUT interfaces, RS232, RS485
Input
Generator contact and emergency power off
Genset kit
User programmable
Software
Management software
Alarm
200 events (time and date) / in option 500 events
Protection
Over-temperature, over-current, over-temperature alarm
Temperature range
0°C - 40°C
Protection degree
IP20 (IP54 in option)
Humidity / altitude
90% max without condensation / < 1000m
Audible noise at 1m
≤ 56dB
≤ 61dB
≤ 64dB
≤ 67dB
≤ 72dB
Weight (kg)
86
86
92
98
175
182
196
218
218
259
480
560
650
770
Dimensions (mm) H x W x D
1037 x 398 x 812
1437 x 513 x 852
1797 x 882 x 763
1797 x 1246 x 763
Data sheets and documentation