Display all pictures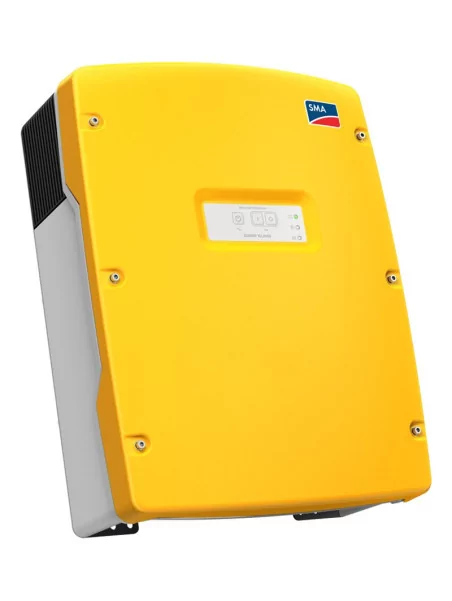 SMA Sunny Island SI4.4M-13/SI6.0H-13/SI8.0H-13
SMA
More info
Even more economical

With the new generation of devices, installing the proven Sunny Island charger inverter is even simpler and more economical. Whether within your own home or for industrial applications. On the public power grid or in areas far from the grid.
Sunny Island has already been installed more than 120,000 times worldwide. With the new generation, installers and plant operators benefit from an even more user-friendly charger inverter.
• Lower system costs due to fewer components
• Faster installation and commissioning thanks to a simple user interface
• Extended warranty period: 10 years
---

Interactive in all areas

Thanks to the integrated web interface and standard WLAN and Ethernet interfaces, the Sunny Island is now easy to configure and monitor from a smartphone or tablet.
• Use of standard Ethernet and WLAN interfaces
• Webconnect for quick and easy installation monitoring via Sunny Portal/Sunny Places
• Local monitoring via web interface
• Optimized data logging for maximum transparency, even without permanent online access
---
Flexible implementation in residential and business

Sunny Island is particularly flexible, whether used in remote areas of the grid or for energy management in the private or industrial sector. It offers planners maximum freedom in terms of system size and type, battery and energy production mode. For self-consumption systems, backup power systems and networks in isolated sites.
• Possibility of subsequent equipment and modular extension for single-phase and three-phase systems from 1 to 30 kilowatts
• For all lead-acid batteries and more than 20 different lithium-ion batteries
• Scalable with SMA's multicluster technology for systems from 20 to 300 kilowatts
---
Reliable energy supply at all times

• Sunny Island operates reliably even in the most extreme conditions, without loss of profitability.
• Extremely high overload capacity ensures energy supply even in critical situations
• IP54 for operation even in extreme conditions
---
Characteristics


Models
Sunny Island 4.4M
Sunny Island 6.0H
Operation with public network or generator
Rated network voltage / AC voltage range
230 V / 172.5 V to 264.5 V
Assigned network frequency / allowed frequency range
50 Hz / 40 Hz to 70 Hz
Maximum alternating current for the optimization of self-consumption (network management)
14.5 A
20 A
26 A6)
Maximum apparent AC power for self-consumption optimization (network management)
3.3 kVA
4.6 kVA
6 kVA6)
Maximum AC input current
50 A
Maximum AC input power
11500 W
Adjustable phase shift factor
0.8 inductive to 0.8 capacitive
Isolated site operation mode or backup mode
Rated network voltage / AC voltage range
230 V / 202 V to 253 V
Rated Frequency / Frequency Range (Adjustable)
50 Hz/45 Hz to 65 Hz
Rated power (for Unom, fnom / 25 °C / cos φ = 1)
3300 W
4600 W
6000 W
AC power at 25°C for 30 min / 5 min / 3 s
4400 W / 4600 W / 5500 W
W 6000 W / 6800 W / 11000 W

8000 W / 9100 W / 11000 W

AC power at 45°C
3000 W
3700 W
5430 W
Rated current / Maximum output current (peak)
14.5 A / 60 A
20 A / 120 A
26 A / 120 A
Harmonic distortion rate output voltage / Power factor at rated power
< 5% / −1 to +1
< 1.5% / −1 to +1
DC battery input
Rated Input Voltage / DC Voltage Range
48 V / 41 V to 63 V
Maximum battery charging current / DC rated charging current / DC rated discharge current
75 A / 63 A / 75 A
110 A/90 A/103 A
Battery type / Battery capacity (range
Li-Ion1), FLA, VRLA /
100 Ah to 10000 Ah (lead)
50 Ah to 10000 Ah (Li-Ion)
Load control
IUoU charging method with full load and automatic equalization load
Yield / Self-consumption of the device
Maximum yield
95,5 %
95,8 %
95,8 %
Open Circuit Power / Standby Mode
18 W / 6.8 W
25.8 W / 6.5 W
25.8 W / 6.5 W
Protective device (apparatus)
AC Short Circuit / AC Overload
● / ●
DC Reverse Polarity Protection / DC Fuse
− / −
Overtemperature / Excessive battery discharge
● / ●
Surge category according to IEC 60664-1
III
General characteristics
Dimensions (L/H/D)
467 mm / 612 mm / 242 mm
(18.4 inches / 21.1 inches / 9.5 inches)
Weight
44 kg (97 lb)
63 kg (138.9 lb)
63 kg (138.9 lb)
Operating temperature range
−25 °C to +60 °C (−13 °F to +140 °F)
Protection class according to IEC 62103
I
Climate class according to IEC 60721
3K6
Protection rating according to IEC 60529
IP54
In accordance with RoHS-III
●
Equipment / Function
WLAN, Speedwire / Webconnect / SI-SYSCAN (Multicluster)
● / ● / −
● / ● / ○
● / ● / ○
Direct connection to the Sunny Portal via Webconnect
●
Sunny Portal powered by ennexOS via Data Manager M or L
●
Micro SD memory card for extended data recording
○
Display via smartphone, tablet, laptop/multifunction relay
● / 2
Three-phase systems (with rotating field)2) / Emergency current function
● / ●
Calculation of state of charge / Full load / Equalization load
● / ● / ●
Battery Temperature Sensor / Communication Cables
○ / ●
Certificates and approvals
www/ADM-France.com
Lid color yellow / aluminum white
○ / ○
Warranty: 5 / 10 years
● / ●³)
For isolated site installations
Switching time in backup mode (unswitching or MC-Box)4)
−
0 ms (large ohmic value) / 20 ms (their ohmic value)
Automatic detection of rotating fields / Generator support
● / ●
Parallel mounting / Multicluster
− / −
● / ●
● / ●
Integrated soft start
●
● Standard equipment ○ Optional equipment — Not available; All specifications – Version: 09/2020
1) See "List of Approved Batteries" on www.SMA-Solar.com 2) 3 x Sunny Island 3) In case of registration in Sunny Portal 4) See "Switchovertime-TI-en-11| Version 1.1" on www.SMA-Solar.com
5) Provisioning through an external supplier 6) different limitation depending on the parameterized regional dataset (e.g. VDE-AR-N 4105:2018= 4.6 kVA and 20 A)