Display all pictures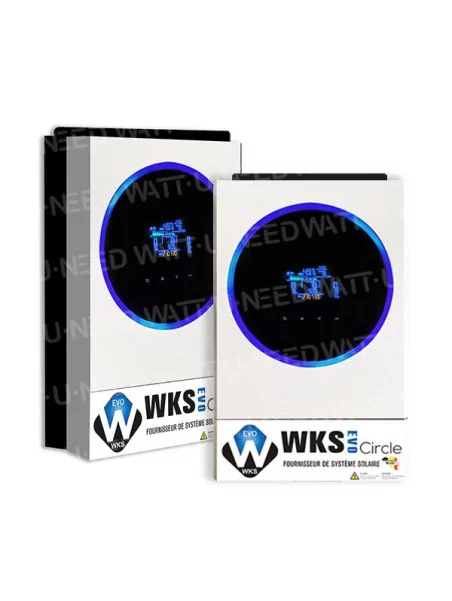 Hybrid inverters WKS Evo Circle 11.2kVA 48V + 2 communication kits
WKS
More info
The pack contains:
2 hybrid inverters WKS EVO 5 kVA - 48V
2 communication kits: parallelization
The pack allows you to connect 2 WKS EVO in parallel.
---
Composition
2x Hybrid inverter WKS Evo Circle 5.6 kVA 48V
The WKS EVO Circle is equipped with an MPPT solar charge controller that maximizes and regulates the DC power of the solar panel to charge your battery park.
Transformerless design enables reliable power conversion in a compact form factor. The new generation of WKS has a built-in Wi-Fi function, mobile monitoring can be done through mobile apps. The data can be viewed and saved in the inverter, which is convenient for tracking the operating status of the inverter. It also supports USB On-The Go feature for easy rewriting of internal settings, data downloads, and software updates.
• Pure Sine Wave MPPT Solar Inverter
• Customizable status LED ring with RGB lights
• Touch button with 4.3" color LCD screen
• Wide DC input range
• Log events of data stored in the UPS
• Built-in Wi-Fi for mobile monitoring (app available)
• Reserved communication port for BMS
• Parallel operation with up to 9 units
• Possibility of choosing the mode of operation via timer
• Output of 27 Amperes
Characteristics
Model
Rated power
5600VA/5600W
Entrance
AC input voltage
170-280 VAC (for personal computers)
Selectable voltage range
90-280 VAC (for household appliances)
Frequency range
50Hz/60Hz (automatic detection)
Exit
AC voltage regulation (Batt. mode)
230 VAC +/- 5
Overload capacity
5s@>/=150% charge;10s@110%~150% charge; 100ms @ >/=200% charge
Yield (peak)
93%
Transfer time
10 ms (for personal computers); 20 ms (for household appliances)
Waveform
Pure sine wave
AC output voltage
24.3A
Battery
Battery voltage
48 VDC
Floating charging voltage
54 VDC
Overload protection
66 VDC
Solar charger and AC charger
Type of solar charger
MPPT
Maximum power of the PV generator
6000W
MPPT range at operating voltage
120~430VDC
Maximum voltage of the open circuit of the PV
450VDC
Maximum solar charging current
120A
Maximum AC charging current
120A
Physics
Dimension, D x W x H (mm)
140x295x468
Net weight (kgs)
11.0 12.0
Communication interface
USB/RS232/RS485/Wifi/Dry Contact
Usage environment
Humidity
5% to 95%a Relative humidity (non-condensing)
Operating temperature
From -10°C to 50°C
Storage temperature
From -15°C to 60°C
---
Microprocessor management directs energy according to production, consumption needs and the state of charge of the batteries.
It is possible to carry out real-time monitoring locally or remotely. The WKS inverter does not re-inject current into the power grid.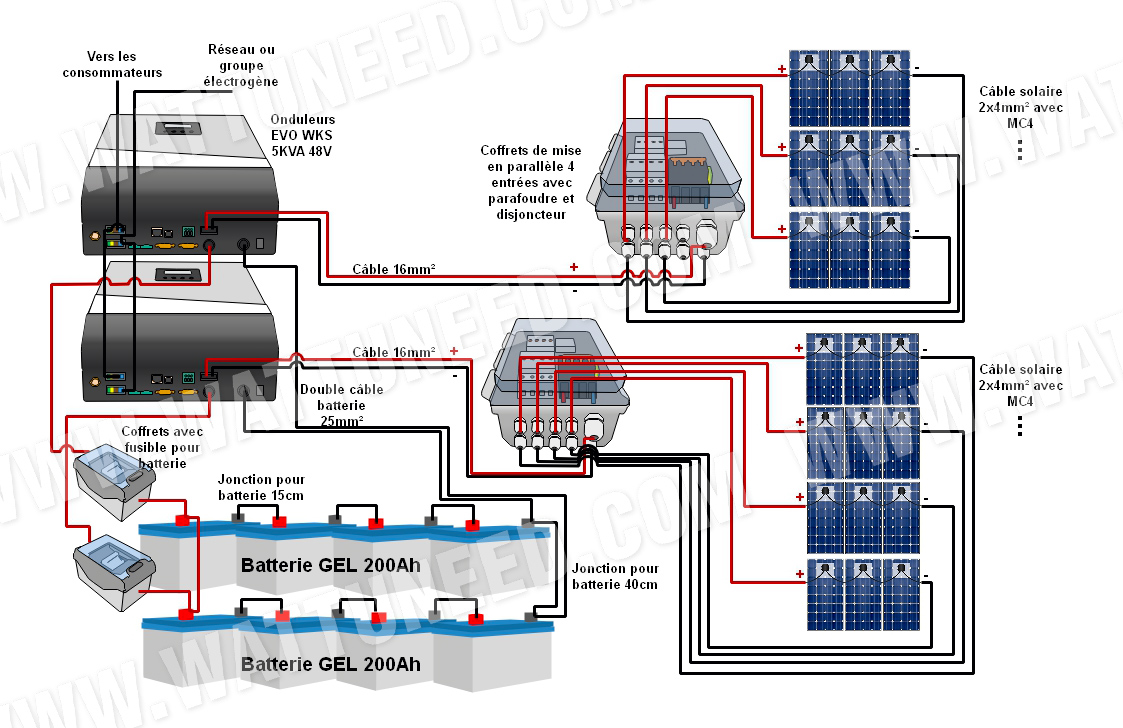 ---

2x Communication Kit - Parallelization
The WKS EVO 5KVA can be connected in parallel thanks to this communication kit, and this in different ways:
Up to 20 KVA in single phase
Several devices (max4) can be connected in series, allowing to make systems with up to 20 KVA in output power.
The kit includes the board, a power cable for it and a communication cable.
---
Option
Optionally, we offer pre-configuration by us at 70 €
---
Software
WatchPower 1.14
Product Reviews
Number of Reviews : 1
Average Grade : 5 /5
V. Eugy
the 08/06/2022
5/5
This WKS Evo Circle duo works as a Swiss clockwork. Basic setup is easy, the color ring setup is pretty confussing.
Specifications
| | |
| --- | --- |
| Voltage | 48V |
| Power | 10000 VA |
| Monophasé / Triphasé | Monophasé |
| Inverter power | 10000VA |