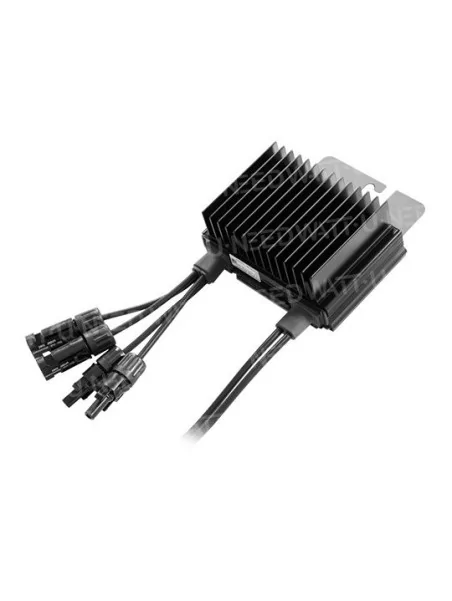 SolarEdge power optimizer P800p
SolarEdge
More info
Power optimizer 96 5''' cells, 2 in parallel
The SolarEdge power optimizer is a DC/DC converter that is connected by installers to each PV module, transforming them into smart modules or smart modules. SolarEdge power optimizers increase the energy production of PV systems by constantly tracking the maximum power point (MPPT) of each module individually. In addition, power optimizers monitor the performance of each module and communicate performance data to the SolarEdge monitoring platform for better maintenance. Each power optimizer is equipped with the patented SafeDC™ function, which is designed to automatically reduce the continuous voltage of the modules to a safe level every time the inverter or network is shut down (unless it is connected to a StorEdge inverter with back-up solution).
MPPT at module level
The module-specific MPPT allows for a flexible installation design with multiple orientations, inclinations and module types in the same chain. When operating with SolarEdge inverters, power optimizers automatically maintain fixed chain voltage, allowing installers to benefit from greater flexibility with longer chains and different lengths to design optimal PV systems. SolarEdge power optimizers are compatible with thin-film, strong-current c-Si modules and have a 25-year warranty.
Key features:
In case of odd number of modules in the chain), seal the unused input connectors with the pair of pliers provided. Module-based MPPT (Maximum Power Point Tracking), with MPPT for two modules using commercial power optimizers
Higher efficiency (99.5% maximum efficiency, 98.8% weighted efficiency)
Mitigates all types of module matching loss, from manufacturing tolerance to partial shading and aging
Designed for extreme environmental conditions
Reliability and 25-year warranty
Advanced, real-time performance measurement
Automatic shutdown of the continuous voltage of the module for the safety of the installer and firefighters
Connected by installers to c-Si modules, thin-film and high current (including two-facial)
Available frame mounted in advance, for faster installation
---
Characteristics
Optimizer model
(compatibility with current modules)
P800p
(for 2 x 72 cell PV modules)
Entry
DC Rated Entry Power
800 W
Connection method
Double entry for independent connection
Absolute maximum input voltage
83 Vdc
MPPT operating range
12.5 - 83 Vdc
Maximum short-circuit current (Isc)
7 Adc
Maximum return
99,50%
Weighted return
98,60%
Surge category
Ⅱ
OUTPUT (POWER OPTIMIZER CONNECTS TO A SOLAREDGE INVERTER IN OPERATION)
Maximum current output
18 Adc
Maximum output voltage
80 Vdc
SLEEP OUTPUT VOLTAGE (CONNECTED POWER OPTIMIZER OF SOLAREDGE INVERTER OR SOLAREDGE INVERTER OFF)
Power-optimizer security output voltage
1 ± 0.1 Vdc
COMPLIANCE WITH STANDARDS
Emc
FCC Part15 Class B, IEC61000-6-2, IEC61000-6-3
Security
IEC62109-1 (Class II security)
Rohs
Yes
Fire safety
VDE-AR-E 2100 - 712:2013-05
INSTALLATION SPECIFICATIONS
SolarEdge-compatible inverters
SE16K and superior three-phase inverter
Maximum voltage allowed in the system
1000 Vdc
Dimensions (L x P x H)
129 x 168 x 59 mm
Weight
1.06g
Entry connector
Type MC4
Length of entry cable
0.16m / 0.90m
Exit connector
Type MC4
Length of cable PV output
1.2 m portrait orientation
1.8 m landscape orientation
Temperature range in operation
- 40 - 85 degrees Fahrenheit
Nominal protection features
IP68
Relative humidity
0 – 100 %