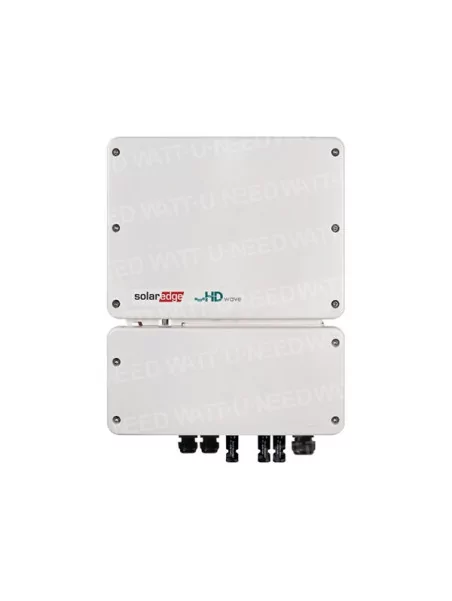 StorEdge HD-Wave HD-Wave RWS SE2200 to SE6000H SETAPP
SolarEdge
More info

StorEdge single-phase inverter equipped with HD-Wave technology
A single inverter unit directly connected to LG CHEM RESU high voltage batteries. Equipped with only a few components to simplify installations, the HD-Wave-powered inverter manages solar power generation and consumption, battery power, and smart energy management applications. The system achieves a weighted efficiency of 99% and includes a standard 12-year warranty that you can extend for up to 25 years.
Suitable for indoor or outdoor installations, inverters are available in 2.2 kW to 6 kW models.
The innovative topology of SolarEdge inverters

Because THE MPPT and voltage management are managed separately for each module, the inverter only handles the DC/AC conversion. This makes it a simpler, more economical and more reliable solar inverter. Fixed chain voltage ensures optimal operation at all times, regardless of the length and temperature of the chain.
In addition to its DC-optimized inverter functionality, the single-phase inverter also manages battery and system energy as part of SolarEdge's StorEdge solution.
---
HD-Wave technology: A new era for PV inverters

SolarEdge's latest generation of single-phase inverters is designed to use a new power conversion technology based on distributed switching and powerful DSP processing. The single-phase inverter is capable of synthesising a clean sine wave that leads to a dramatic reduction in magnetic components and heavy cooling elements. Therefore, one person is enough to install this compact, lightweight inverter that also allows for simplified transport and storage. The record 99% return on energy production provides a better return on investment.
---
Easy start-up with SetApp

SolarEdge single-phase inverters now have a new intelligent commissioning method. The inverter is put into service directly via a smartphone using the intuitive SetApp mobile app. Switch to the new standard for commissioning your inverters.
---
Inverter features

• Solar inverters specially designed to work with SolarEdge power optimizers
• Range of inverters from 2.2 kW to 6 kW
• 99% weighted efficiency (33% - 50% less than the market standard)
• Small, light and easy to install
• Up to 155% oversize allowed
• Advanced security features including arc defect protection
• Standard 12-year warranty (extendable to 20 or 25 years)
• Integrated supervisory receiver at module level
• Internet communication via an Ethernet or wireless connection (using Wi-Fi, ZigBee® or cellular plug-ins as an option)
• Manages PV production, battery storage and smart energy products
• IP65 - Outdoor and indoor installation
---
Characteristics
Model
SE2200H
SE3000H
SE3500H
SE3680H
SE4000H
SE5000H
SE6000H
Value
Output
AC Rated Output Power
2200
3000
3500
3680
4000
5000
6000
Will
Maximum AC output power
2200
3000
3500
3680
4000
5000
6000
Will
AC output voltage (nominal)
220/230
V CA
AC output voltage range
184 to 264.5
V CA
Ac frequency (nominal)
50/60 - 5
Hz
Maximum continuous output intensity
10
14
16
16
18,5
23
27,5
Has
Harmonic distortion rate (THD)
<3
%
Power factor
1, adaptable from -0.9 to 0.9

Site supervision, islet protection, configurable power factor, country-based thresholds

Yes

Battery charging from AC

Yes
Entry
Maximum DC power
4400
6000
7000
7360
8000
10000
12000
W
No transformer, no grounding
Yes
Maximum input voltage
480
V CC
Nominal DC input voltage
380
V CC
Maximum input current.
6,5
9
10
10,5
11,5
13,5
16,5
A CC
Protection against reverse polarity
Yes
Detection of defect insulation to the ground
Sensitivity of 600 k
Maximum return. From the inverter
99,2
%
Weighted European yield
98,3
98,8
99
%
Nocturnal electricity consumption
<2.5
W
Additional features
Supported communication interfaces
RS485, Ethernet, Wi-Fi (optional), cellular (optional), Zigbee (optional)
Smart Energy Management
Export limitation, smart energy management
Commissioning of the inverter
With the SetApp mobile app and a built-in Wi-Fi hotspot for local connection
Electric arx detection
Integrated, user-configured (according to UL1699B)
Compliance with standards
Security
IEC-62109-1/2, AS-3100
Network connection standards
IEC61727, IEC62116, EN 50438, VDE-AR-N-4105, VDE 0126-1-1, UTE_C_15-712, G83/2, G59/3, CEI-021, NNORM, TF3.2.1, C10-11, NRS 097-2-1
Emissions
CEI61000-6-2, CEI61000-6-3, CEI61000-3-11, CEI61000-3-12, FCC Part 15 Class B
Installation specification
AC Output - Supported Cable Diameter
9 – 16
Mr
AC - Cable Support Section
1 – 13
Mm ²
DC Entrance
1 x MC4
2 x MC4 pair
Battery entry
1 x MC4
Dimensions (HxLxP)
450 x 370 x 174
Mr
Weight
10
11,4
11,9
Kg
Noise
< 25
Dba
Cooling
Natural convection
Operating temperature range
-40 to 60
℃
Protection index
IP65 - Indoors and outdoors
Specifications
| | |
| --- | --- |
| Weight | 11,9 kg |
| Monophasé / Triphasé | Monophasé |
| Width | 450 mm |
| Width | 450 mm |
| Height | 370 mm |
| Height | 370 mm |
| Thickness | 174 mm |