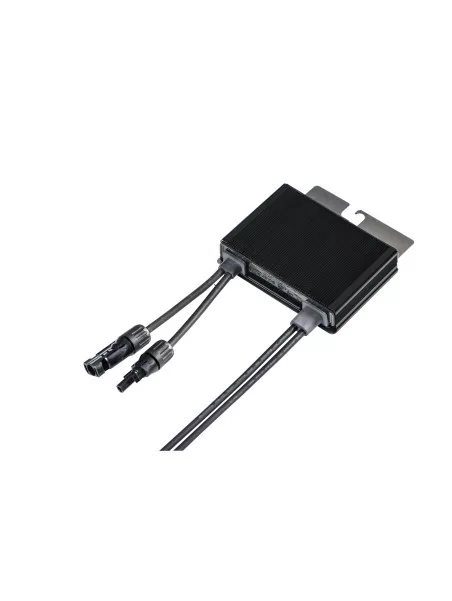 SolarEdge power optimizer 370W
SolarEdge
More info
SolarEdge power optimizers are integrated converters in each solar module and increase their power output by up to 25%.

The power optimizers follow the maximum power point of each module (MPP), thus minimizing power losses to the disparity arising from the inherent variance, partial shading and aging of the modules.

Power optimizers also monitor the performance of each module for fast and easy troubleshooting and maintenance.
Its features
Up to 25% more energy
Superior efficiency (99.5%)
Mitigates all types of modules mismatch-loss, from manufacturing tolerance to partial shading
Flexible system design for maximum space utilization
Fast installation with a single bolt
Next generation maintenance with module level monitoring
Module-level voltage shutdown for installer and firefighter safety
P370 (for high-power 60-cell modules and 72-cell modules)
INPUT
Rated Input DC Power*
W
370
Absolute Maximum Input Voltage (Voc at lowest temperature)
Vdc
60
MPPT Operating Range
Vdc
8 - 60
Maximum Continuous Input Current (Isc)
Adc
11
Maximum Efficiency
%
99.5
Weighted Efficiency
%
98.8
Overvoltage Category
II
OUTPUT DURING OPERATION (POWER OPTIMIZER CONNECTED TO OPERATING SOLAREDGE INVERTER)
Maximum Output Current
Adc
15
Maximum Output Voltage
Vdc
60
OUTPUT DURING STANDBY (POWER OPTIMIZER DISCONNECTED FROM SOLAREDGE INVERTER OR SOLAREDGE INVERTER OFF)
Safety Output Voltage per Power Optimizer
Vdc
1
STANDARD COMPLIANCE
EMC
FCC Part15 Class B, IEC61000-6-2, IEC61000-6-3
Safety
IEC62109-1 (class II safety), UL1741
RoHS
Yes
Fire Safety
VDE-AR-E 2100-712:2013-05
INSTALLATION SPECIFICATIONS
Maximum Allowed System Voltage
Vdc
1000
Dimensions (W x L x H)
mm
128 x 152 x 28
Weight (including cables)
gr
665
Input Connector
MC4**
Output Connector
MC4
Output Wire Length
m
1.2
Operating Temperature Range
°C
-40 - +85
Protection Rating
IP68 / NEMA6P
Relative Humidity
%
0-100
*Rated STC power of the module. Module of up to +5% power tolerance allowed.
**For other connector types please contact SolarEdge.
PV SYSTEM DESIGN USING A SOLAREDGE INVERTER ****
SINGLE PHASE HD-WAVE
SINGLE PHASE
THREE PHASE
Minimum String Length (Power Optimizers)
8
16
Maximum String Length (Power Optimizers)
25
50
Maximum Power per String
W
5700
5250
11250
Parallel Strings of Different Lengths or Orientations
Oui
****It is not allowed to mix P404/P405 with P300/P350/P500/P600/P700 in one string.
Data sheets and documentation