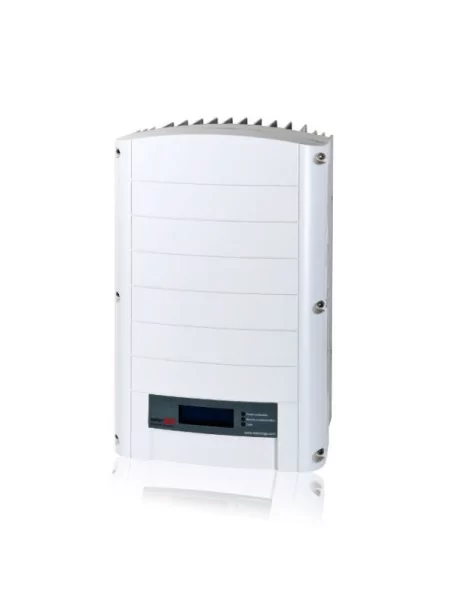 SolarEdge SE4K
SolarEdge
More info
Up to 25% more energy
Created in 2006, as a private company by a group of professionals with extensive experience in the solar, SolarEdge provides a full solution to today's photovoltaic problems. The Solaredge system increases the performance of the PV system from 5 to 25% thanks to a centralized inverter and the individual "PowerBox" for each Panel.
Increase in energy efficiency & ROI faster with a MPPT at the module level
-No loss of energy at the level of the module
-No loss due to shading part. No loss due to dirt
-No loss due to aging
Free design of coercion
Maximum use of space with a time minimum design
-Modules on different directions and angles in the same chain
-Different types of modules on a single string
-Chains of different lengths that are connected to the same inverter
-Longer strings - up to 50 modules per string
Low cost maintenance
Full visibility of the system's performance and repair of failures remotely
-The performance data to the module level
-Presentation of the entire system on a virtual map of the site
-Automatic alerts when problems on the system
-Easy access via the web browser from a PC or SmartPhone
SafeDC - DC Protection
Protection during installation, maintenance, in case of fire or other emergency
-Installation: voltage secure on the string while the inverter and AC power supply are powered
-Maintenance: voltage secure automatic channel once the UPS turns off
-Emergencies: voltage secure on line - automatic after disconnecting the grid
Technical data
SE4K
SE5K
SE6K
SE7K
SE8K
SE9K
SE10K
SE12.5K
OUTPUT
Nominal AC output power
GOING
4000
5000
6000
7000
8000
9000
10000
12500
Maximum AC output power
GOING
4000
5000
6000
7000
8000
9000
10000
12500
Output AC - phase to phase voltage / phase to neutral (nominal)
VAC
380 / 220; 400 / 230
Output AC - Beach phase to neutral voltage
VAC
184 - 264,5
Frequency AC
Hz
50/60 ± 5
Continuous maximum current (per phase)
A
6.5
8
10
11.5
13
14.5
16
20
Current detector residual / current gradual detector residual
My
300 / 30
Network support - three-phase
V
3 / N / PE (with neutral)
Utility monitoring, protection of Islanding, configurable power factor, configurable thresholds by country
Yes
ENTRY
(STC Module) maximum DC power
W
5400
6750
8100
9450
10800
12150
13500
16850
Without power, without ground
Yes
Maximum input voltage
VDC
900
Nominal DC input voltage
VDC
750
Maximum input intensity
ADC
7
8.5
10
12
13.5
15
16.5
21
Protection against polarity reversal
Yes
Ground fault detection
Sensitivity of 1MΩ
Maximum efficiency of the inverter
%
98
European weighted performance
%
97.3
97.3
97.3
97.3
97.5
97.5
97.6
97.7
Night use
W
< 2.5
ADDITIONAL FEATURES
Supported Communication interfaces
RS485, Ethernet, Zigbee (optionally), Wi - Fi (optional) built-in GSM (optionally)
COMPLIANCE WITH THE STANDARDS
Security
IEC-62103 (EN50178), IEC 62109
Network connection standards
VDE 0126-1-1, VDE-AR-N-4105, ACE-4777, G83 / G59
Emissions
IEC61000-6-2, IEC61000-6-3, IEC61000-3-11, IEC61000-3-12, FCC part 15 class B
RoHS
Yes
INSTALLATION SPECIFICATIONS
AC output
mm
Diameter of the stuffing box 15-21
DC input
2 pairs of MC4
Dimensions (Lxdxh)
mm
540 x 315 x 260
Weight
kg
33.2
Operating temperature range
˚C
-20 - + 60 (M40 version - 40 - + 60)
Cooling
(Replaceable by the user) fan
Noise
dBA
< 50
Protection ratings
IP65 - Outside and inside
Support (support) mounted
Optional
Wifi communication module
Allows you to connect your UPS to your computer via Wifi.
Provided with program to record all the details of your production.
Specifications
| | |
| --- | --- |
| Maximum PV input voltage | 950 V |
| Power | 10000 VA |
| Monophasé / Triphasé | Monophasé |
| Nombre de MPPT | 1 MPPT |
| Inverter power | 4000VA |
Data sheets and documentation