Display all pictures
Fronius Primo 3.0-1 (2 MPPT) single - Zero injection
Fronius
More info

---
General information
With power classes ranging from 3.0 to 8.2 kW, the Fronius Primo perfectly complements the new generation of SnapINverter inverter softers. This single-phase inlemoncing, without transformer, is perfectly suited for domestic use. The innovative SuperFlex Design achieves maximum flexibility in installation design, while the SnapINverter assembly system simplifies installation and maintenance.
---
Main properties of Fronius Primo
Easy to install with SnapINverter assembly system
Two independent mppt inputs to connect panel chains with two different orientations
High-speed MPPT for real-time energy conversion and increased energy recovery
No transformer
Wide range of entry voltage ( 200 - 800 V )
DynamicPeakManager: a new algorithm capable of searching for the best MPPT dynamically
---
Brand: Fronius
Model: Primo 3.0-1 / 3.5-1 / 3.6-1 / 4.0-1 / 4.6-1 / 5.0-1 / 6.0-1 / 8.2-1

Power: 3/3.5 / 3.6 / 4 / 4.6 / 5 / 6 / 8.2 kW

Dimensions LxHxP: 645x431x204 mm
Weight: 21.50 kg
Guarantee: 5 years
---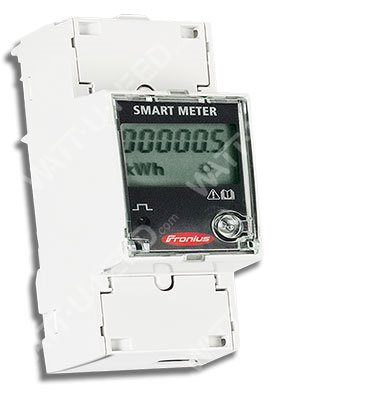 The Fronius smart meter is a two-way meter that optimizes self-consumption and records the household load curve. Thanks to very precise measurements and rapid communication via the Modbus RTU interface, dynamic power control when power limits are imposed is faster and more accurate than with the S0. With Fronius Solar.web, the Fronius smart meter provides a clear overview of electricity consumption in the home.
---
Simple, fast and efficient editing
---
Manage your production with SolarWeb
---
Management of shading with DynamicPeakManager
Chimney shade: 1-2% additional gain per year for 1 hour of shading in the morning and evening
Sleeping shade: 2-4% additional gain per year for 1 hour of shading in the morning and evening
Energy consumption of the "DynamicPeakManager": 0.05% of the annual gain
---
Residential solutions
---
Installing the monitoring system with WiFi
---
General commissioning of Fronius inverters
---
SnapINverter Technology
---
Technical features
Technical fact sheet downloadable under the Files tab.
Please contact us for more information.
Data sheets and documentation
Specifications
| | |
| --- | --- |
| Monophasé / Triphasé | Monophasé |
| Nombre de MPPT | 2 MPPT |
| Inverter power | 3000VA |