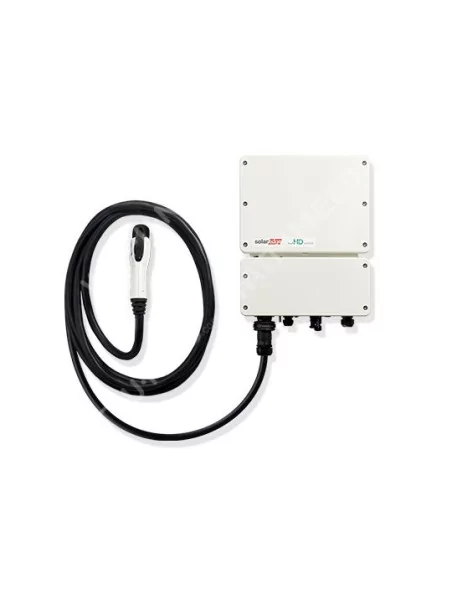 SolarEdge SE3680H AT SE6000H EV
SolarEdge
More info

---
The first solar inletor and EV 2 charger in 1

SolarEdge's EV Charging monophase inverter allows homeowners to recharge their electric vehicles directly from the power of the sun, maximizing their solar energy consumption and further reducing their bills electricity. They will also benefit from the ability to recharge their VE up to 2.5 times faster than with a standard VE charger thanks to an innovative "Solar Boost" mode that simultaneously uses the power grid and PV energy.
By installing the EV Charging inletor, you avoid the hassle of installing a separate VE charger, a PV inleducor, and then integrating it into the SolarEdge monitoring platform.
Whether your customer owns an electric vehicle today or just wants to be ready when the time is right, prepare your business for the future with SolarEdge.
---
Total visibility and control

SolarEdge's single-phase electric mobility inunr supports complete network connectivity and integrates seamlessly with the SolarEdge internet monitoring platform. Owners can track their load level, control the vehicle load and set load schedules.
Supervisory features include:
Smart planning for use with usage-based rates (TOU) - network billing during off-peak hours
Monitoring solar, electricity and grid consumption for visibility and control of household energy consumption
Remote control via a mobile app - turn on and off charging
The display of charge duration, charging energy and percentage of charge through solar energy
Easy to get the inletor ready directly via your smartphone using the SetApp mobile app
---
Main profits

• Combines solar and grid power for an EV charge up to 2.5 times faster than a conventional 2 mode charger
• Maximizes self-consumption and optimizes the use of renewable energy
• Designed to work specifically with SolarEdge power optimizers
• Record 99% return and high reliability, optimized by HD-Wave technology
• Small, lightweight and as easy to install and put into service as a standard SolarEdge inser
• Integrated supervision at the module level (a connection to supervision is also required for the initial charge of the electric vehicle)
• Advanced safety features, including built-in arch protection
• Flexible selection of charger cable types and lengths (separately controlled cable and support)
• DC-RCD 6mA integrated, compliant with IEC 62752: 2016, for reduced labour and installation costs
---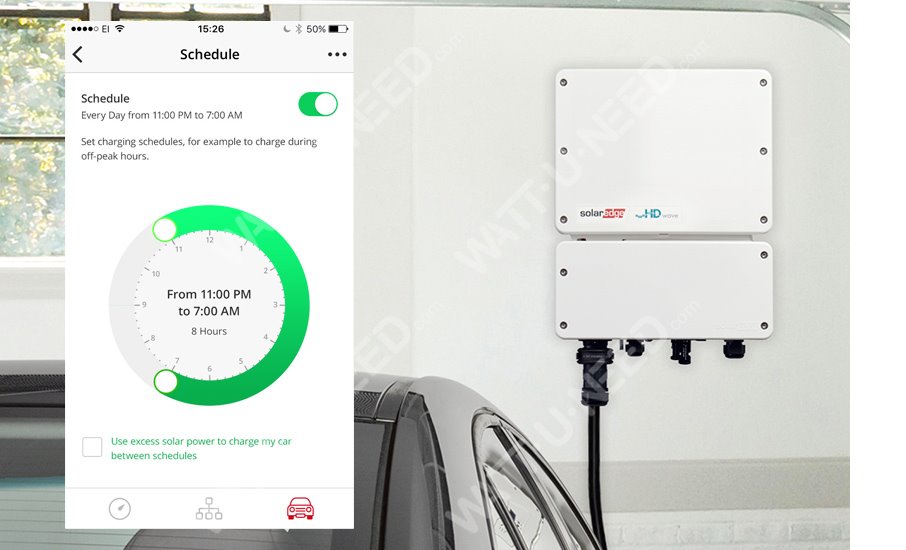 Setting up the VE charger

For the configuration of the VE charger via the SolarEdge monitoring application, an Ethernet or ZigBee connection ® is required.
A cellular connection can be used; it requires a SIM card with a 1GB data plan to purchase from a phone provider
---
Size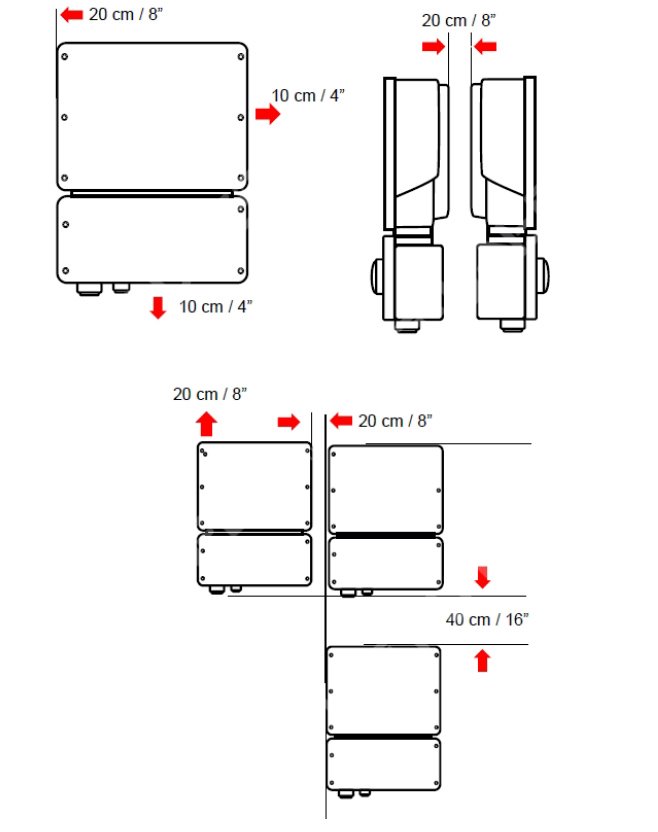 ---
Characteristics
model
SE3680H
SE4000H
SE5000H
SE6000H
value
AC Exit (Charges/Network)
Rated AC output power
3680
4000
5000
6000
Will
Maximum AC output power
3680
4000
5000
6000
Will
Maximum AC output power
220/230
Vac
Maximum AC output power
184-264.5
Vac
AC frequency (nominal)
50/60 -5
Hz
Maximum continuous output current
16
18/05/19
23
27/05/19
Has
Maximum output defect current and duration
16/20
18/05/20
23/20
27/05/20
A/ms
Residual current detector/Residual current level detector
300/30
My
AC call current (peak/duration)
2.8/20
Aac (ms) / ms
Maximum protection against over-intensity
38
Has
Power factor range
1 (flexible from -0.9 to -0.9)
Total harmonic distortion
3
Category of protection
Category I
Supervision of public facilities, protection of islet, configurable thresholds by country
yes
Category of overtention
Ⅲ
DC Entrance
Maximum DC power
5700
6200
7750
9300
W
Without trasnformateur, without grounding
yes
Maximum entry tension
480
Vdc
DC rated input voltage
380
Vdc
Maximum entry current
10.5
11.5
13.5
16.5
Adc
Protection from reverse polarity
yes
Detection of defect insulation to the ground
Sensitivity of 600 k
Maximum inlar yield
99.2
%
Weighted European return
99
%
Electric concommation nocture
2.5
W
Installation specification
AC Output - Supported Cable Diameter
9-16
Mr
AC-Section supported cable
1-13
Mm ²
DC Entrance
1 x pair MC4
2 x MC4 pair
Dimensions with connecting unit (HxLxP)
450 x 370 x 174
Mr
Weight with connecting unit
10
11.4
11.9
Kg
noise
25th
Dba
cooling
Natural convection
Operating temperature range
From -40 to '60
℃
Pressure of ambient air
Minimum 860hPa - 1060hPa
Protection index
IP65 - Outdoors and indoors (Induleur with connection unit)
Specifications
| | |
| --- | --- |
| Weight | 11,9 kg |
| Monophasé / Triphasé | Monophasé |
| Width | 370 mm |
| Height | 450 mm |
| Thickness | 174 mm |
| AC output rated power | 2 200VA; 3 000VA; 3 500VA; 3 680VA; 4 000VA; 5 000VA; 6 000VA |
| Maximum DC power | 3400W; 4650W; 5425W; 5700W; 6200W; 7750W; 9300W |