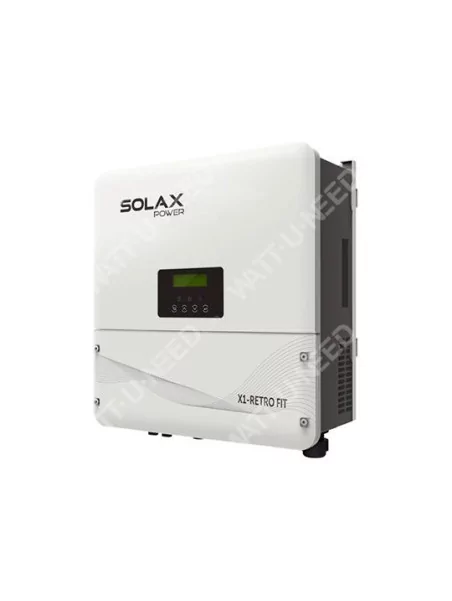 Inverter Solax X 1 Retro Fit 3.7 kW
Solax
More info

Description
X 1-Retro Fit is a high quality ups that can store energy in batteries.
The inverter can be used to optimize theown consumption, store in batteries for future use or for feed the public network.
The use depends on the level of discharge/charge of the batteries and the preference of the user.
It can provide energy for use ofemergency during one loss of network using the stored energy from the batteries.
SolaX Power is excited to announce the launch of the third generation awaited our hybrid inverter, our storage of batteries product solar market leader, which now includes a range of single phase and three phase models. The UPS for battery storage Hybrid X is compatible with lithium-ion battery solutions, making it the most popular energy storage solution.
---
The 'E' of X-Hybrid version has a function ofbackup power (EPS) integrated which allows the user to use its batteries and its photovoltaic in generator power failure. In addition, the 'E' series can be installed in an environment completely off-grid, providing thepower devices essential When no network is available.
---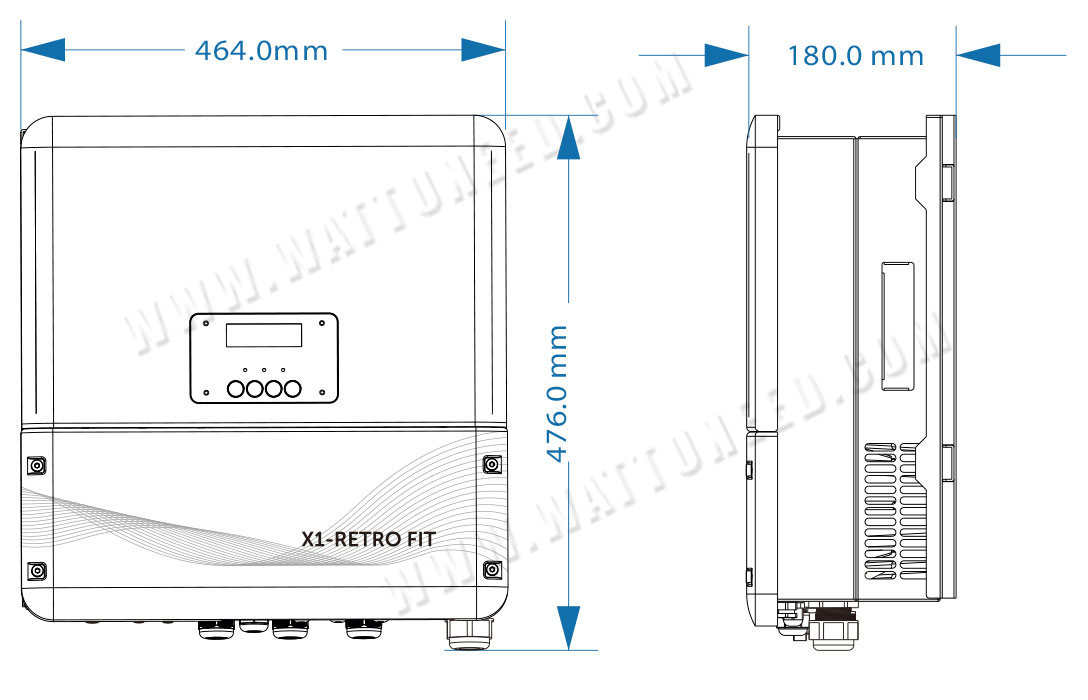 Features
• Air conditioning
• Quiet and low maintenance
• Efficiency up to 97%
• Multiple protections: DDR, insulation, overvoltage, overheating, land protection, short circuit protection, etc.
• Can be installed in parallel for l' scalability
• Compatible with batteries high voltage
---
Flexible solution
Provides a complete solution for energy consumers to optimize the use of the solar energy generated.

Increases the rate of consumption (from 20% to 70%).

The charge current to battery adjustable by the user is suitable for different types of batteries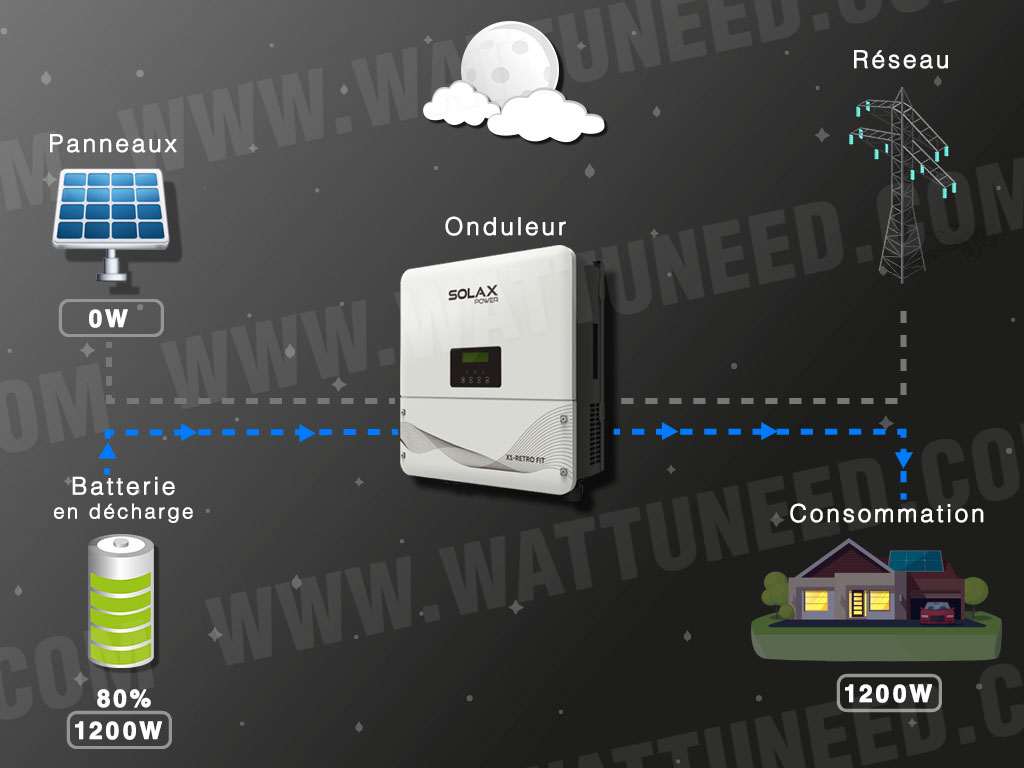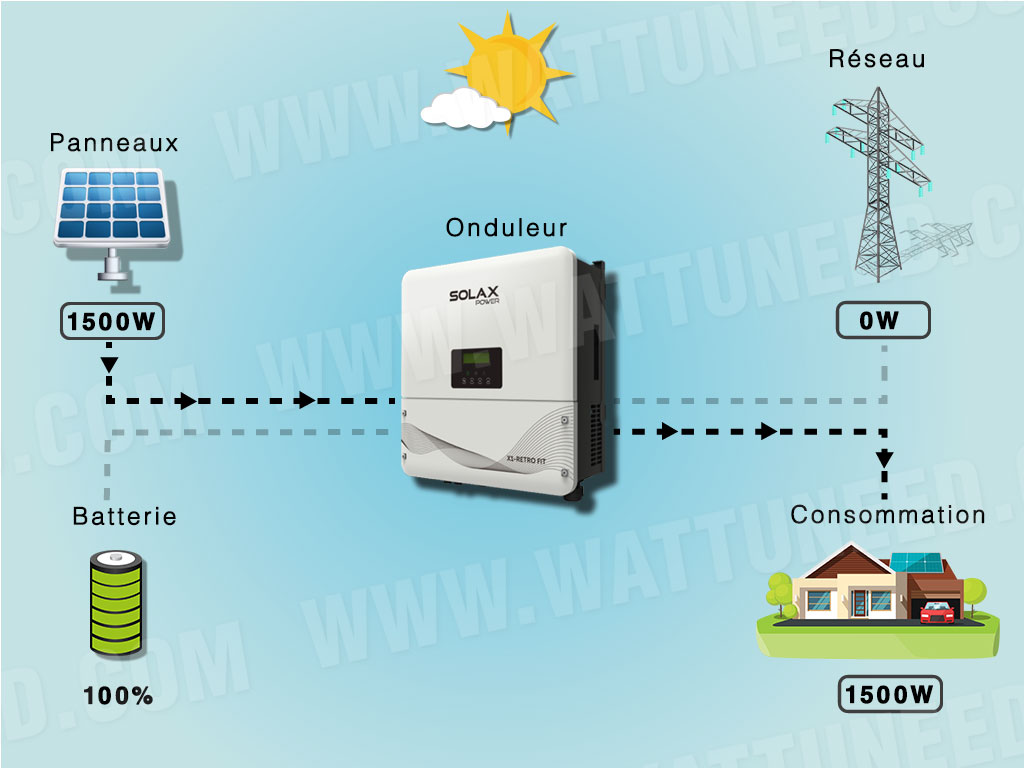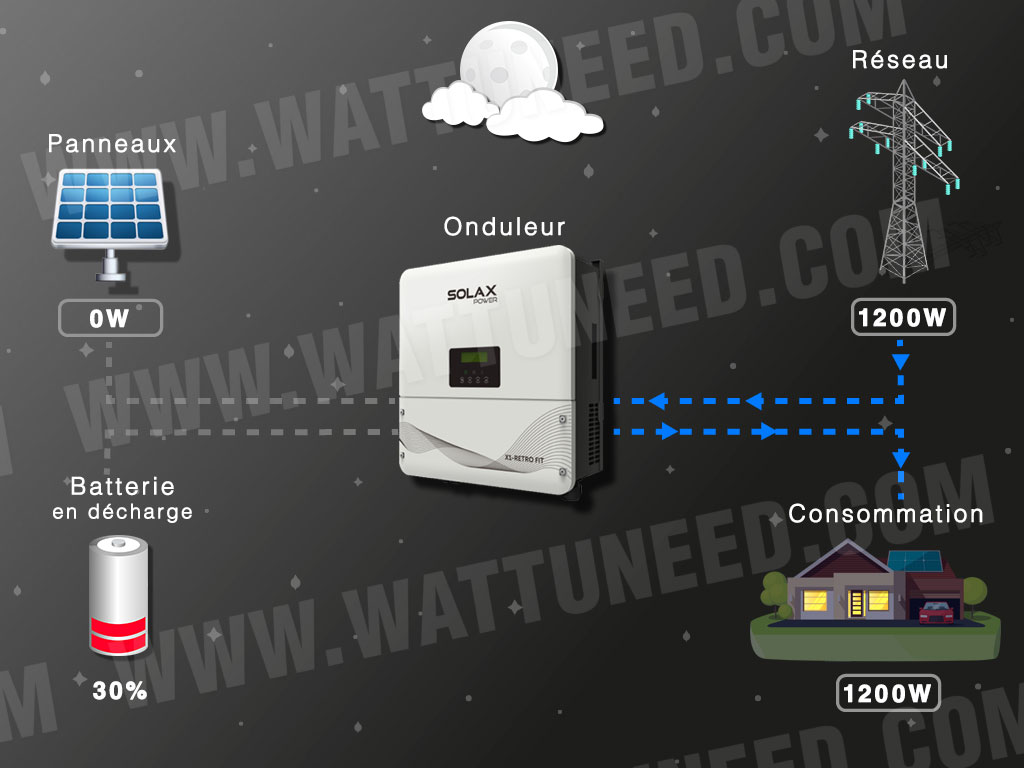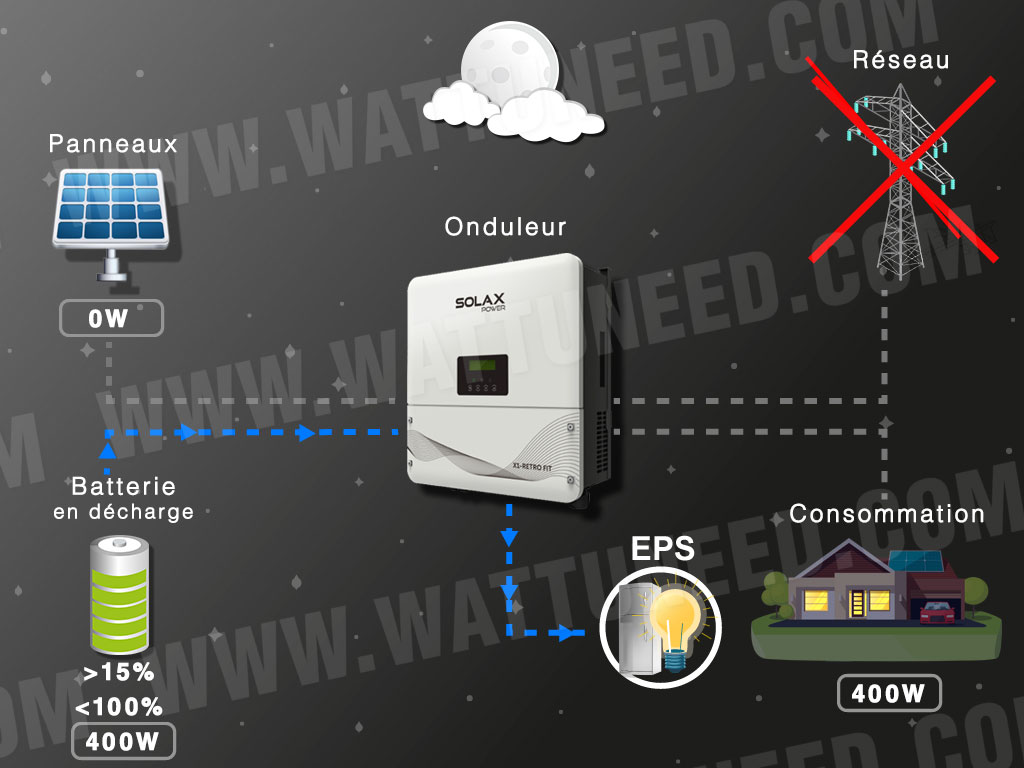 ---
Data sheet
Model
X1-AC-3.7kW
X1-AC-4.6kW
X1-AC-5.0kW
AC exit
E Version
C Version
E Version
C Version
E Version
C Version
Rated CA Power (VA)
3680
4600
4999
Max CA (VA) matching power
3680
4600
4999
Rated network voltage CA (V)
220/230/240 (180 to 270)
220/230/240 (180 to 270)
220/230/240 (180 to 270)
Rated network frequency (HZ)
50/60
50/60
50/60
Nominal current CA (A)
16
20
21.7
Current AC max. (A)
16
21
21.7
Power factor
0.8 capacitive at 0.8 inductive
0.8 capacitive at 0.8 inductive
0.8 capacitive at 0.8 inductive
Total harmonic distortion THDI, rated power)
2%
2%
2%
Parallel operation
Yes
Yes
Yes
Load control
Yes (optional)
Yes (optional)
Yes (optional)
AC Entrance
Rated CA Power (VA)
3680
4600
4999
Current AC max. (A)
16
21
21.7
Rated network voltage CA (V)
220/230/240 (180 to 270)
220/230/240 (180 to 270)
220/230/240 (180 to 270)
Rated network frequency (HZ)
50/60
50/60
50/60
Power factor
0.8 capacitive at 0.8 inductive
0.8 capacitive at 0.8 inductive
0.8 capacitive at 0.8 inductive
Battery
Voltage battery (V)
85-400
Voltage battery recommended (V)
300 VDC
Max Current Charge/Discharge (A)
20A (adjustable)
Peak charge/discharge current (A)
30A, 30S
Communication interfaces
CAN/RS485
Reverse connection protection
Yes
EPS output (with batteries)
EPS Power Max. (VA)
5000
/
6000
/
6000
/
Rated EPS Power (VAZ)
4000
/
5000
/
5000
/
EPS Tension (V), Rated Frequency (Hz)
230, 50/60
/
230, 50/60
/
230, 50/60
/
Rated current EPS (A)
17.4
/
21.7
/
21.7
/
Current EPS max. (A)
21.7
/
26
/
26
/
EPS (W) peak power
8000, 10s
/
8000, 10s
/
8000, 10s
/
Communication time (S)
0.5
/
0.5
/
0.5
/
Total harmonic distortion (THDv, lineral charge) (%)
2
/
2
/
2
/
Parallel operation
Yes
/
Yes
/
Yes
/
Change device
External
/
External
/
External
/
Compatible with generator
Yes (Signal expected)
/
Yes (signal expected)
/
Yes (signal expected)
/
Performance
Charge max. Battery (CA to BAT) (full charge)(%)
95.60
Maximum battery discharge (BAT to CA) (full charge) (%)
97.00
Energy consumption
Consumer. Internal (dead time) (W)
3
Dead-time mode
Yes
Standard
Security
IEC 62109-1/-2/IEC62040
Emc
IN 61000-6-1/EN61000-6-2/EN 61000-6-3
Certification
VDE 0126-1-1 A1:2012/VDE-AR-N 4105/G83/G59/AS4777/EN50438/CEI 0-21/VDE 2510
Environment
Protection
IP65
Operational temperature (C)
'60' (down to '45'
Humidity (%)
0-95 (no condensation)
Altitude (m)
2000
Storage temperature (C)
-20.....-60
Noise (typical (dB)
40th Place
Surge category
III (electricity input side), II (battery side)
Dimensions and weight
Dimensions (LxHxP) (mm)
482*464*182
Weight (kg)
26.85
Cooling
Natural
Topology
Without a transformer
Communication
Ethernet, Meter, Wi-Fi (optional), DRM, USB ISO alarm
Lcd
20x4 retro light
Button
Capacitive touch button
Standard warranty (years)
5
Data sheets and documentation
Specifications
| | |
| --- | --- |
| Type of need | Prosumer |
| Weight | 26 kg |
| Monophasé / Triphasé | Monophasé |
| Max. current | 16 Ah |
| Max. Power - Wp | 3680 |
| Width | 464 mm |
| Height | 476 mm |
| Thickness | 180 mm |