Display all pictures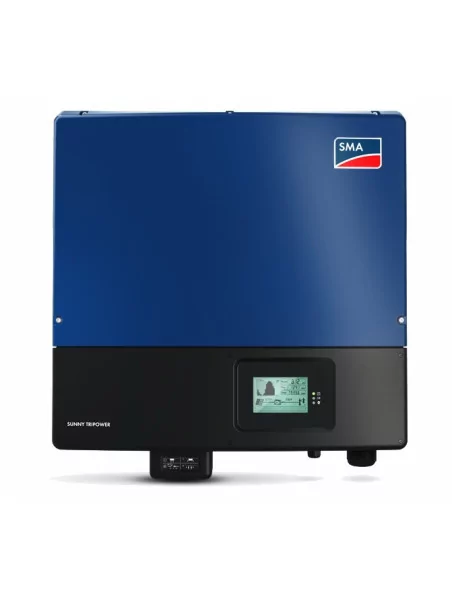 SMA Sunny Tripower STP 25000TL
SMA
More info
" SMA Sunny Tripower 25000TL "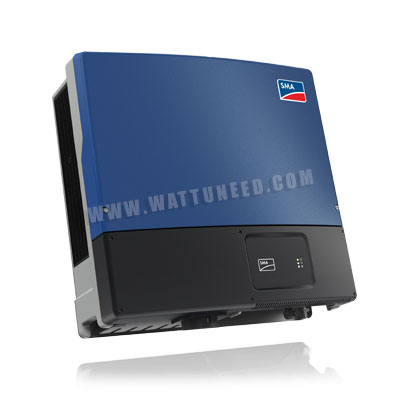 Economical
Maximum efficiency of 98.4 %
---
Reliable
DC surge arrester (Type II) can be integrated
---
Flexible
DC input voltage up to 1 000 V
Multistring capability for optimum system design
---
Simple
Cutting-edge grid management functions with Integrated Plant Control*
Reactive power available 24/7 (QonDemand24/7)*
---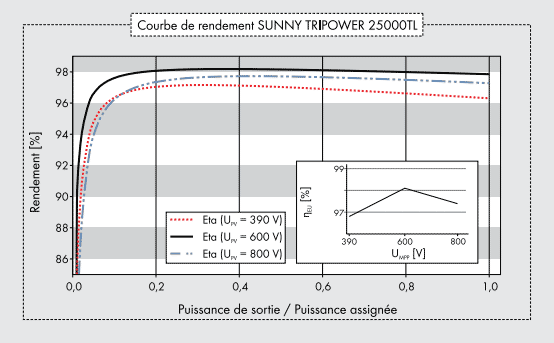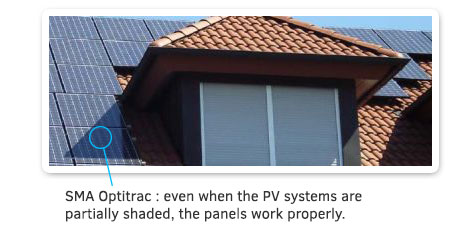 ---
Optitrac
OptiTrac Global Peak is an additional function of the MPP tracker for operation in partially-shaded PV plants.
This specialized operation management system ensures that the modules are constantly operated at the point of maxi- mum power even when there are multiple maximum power points (in the case of photovoltaic systems partially shaded), without causing measurable yield loss (loss < 0.2 percent). In other words, even if the shading panels work properly.
---
Technical characteristic
Sunny Tripower
25000TL
Input (DC)
PowerDC max. (pour cos ?=1)
25550 W
Max. input voltage
1000 V
MPP voltage range / rated input voltage
390 V à 800 V / 600 V
Min. input voltage / initial input voltage
150 V / 188 V
Max. input current input A / input B
33 A / 33 A
Number of independent MPP inputs / strings per MPP input
2 / A : 3 ; B : 3
Output (AC)
Rated power (@ 230 V, 50 Hz)
25000 W
Max. apparent AC power
25000 VA
Nominal AC voltage
3 / N / PE ; 220 / 380 V
3 / N / PE ; 230 / 400 V
3 / N / PE ; 240 / 415 V
Nominal AC voltage range
160 V à 280 V
AC power frequency / range
50 Hz, 60 Hz / -6 Hz ... +5 Hz
Rated grid frequency / rated grid voltage
50 Hz / 230 V
Max. output current
36,2 A
Power factor at rated power
1
Adjustable displacement factor
0 overexcited to 0 underexcited
Phase conductors / connection phases
3 / 3
Efficiency
Max. efficiency / European efficiency
98.3 % / 98.1 %
Protection
Input-side disconnection device
yes
Ground-fault monitoring / grid monitoring
yes / yes
DC reverse-polarity protection / AC short-circuit current capability / galvanically isolated
yes / yes / —
All-pole sensitive residual current monitoring unit
yes
Protection class (according to IEC 62103) / overvoltage category (according to IEC 60664-1)
I / III
General data
Dimensions (L / H / P)
665 / 690 / 265 mm
(26,2 / 27,2 / 10,4 pouces)
Weight
61 kg (134.48 lb)
Operating temperature range
-25°C ... +60 °C
(-13 °F ... +140 °F)
Noise emission (typical)
51 dB(A)
Self-consumption at night
1 W
Degree of protection (according to IEC 60529)
IP65
Climatic category (according to IEC 60721-3-4)
4K4H
Maximum permissible value for relative humidity (non-condensing)
100 %
Features
DC connection / AC connection
SUNCLIX / borne à ressort
Display
No
Interface: RS485 / Webconnect
In option / Yes
Multifunction relay / Power Control Module
In option
Warranty: 5 / 10 / 15 / 20 / 25 years
Yes / In option / In option / In option / In option
Certificates and approvals (more available on request)
AS 4777, BDEW 2008, C10/11, CE, CEI 0-16, CEI 0-21, EN 504381
,
G59/3, IEC61727, IEC 62109-1/2, NEN EN 50438, NRS 097-2-1,
PPC, RD 1699, RD 661/2007, SI4777, UTE C15-712-1, VDE 0126-1-1,
VDE-AR-N 4105, VFR 2014
Specifications
| | |
| --- | --- |
| Maximum PV input voltage | 1000 V |
| Power | 25550 VA |
| Monophasé / Triphasé | Triphasé |
| Nombre de MPPT | 1 MPPT |
| Inverter power | 25000VA |