Display all pictures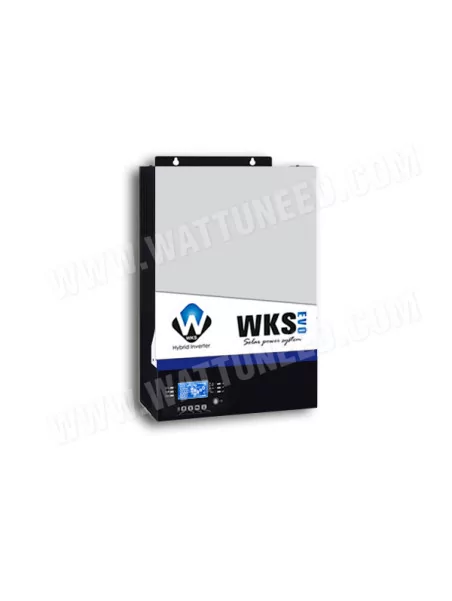 UPS hybrid WKS Evo II 48V 5kVA
WKS
More info
WKS EVO II 48V 5KVA ups

It is an inverter/charger multifunction, combining functions of inverter, solar charger and battery charger. It offers uninterrupted electric support with a portable size. His full LCD screen offers a configurable user and buttons easy to use such as the charge of the battery, the solar AC/charger, and an acceptable voltage based on different applications.
Features:
• Removable LCD command to multiple communications module
• Integrated Bluetooth for monitoring mobile (Android App is available)
• Support for USB On-the-Go function
• Communication port reserved for BMS (RS485, CAN BUS or RS232)
• Fan replaceable for ease of maintenance
• Load the power from the network or the PV, even if the battery is not available
• Timer using the configurable AC/PV output and prioritization of the use of the AC/PV output
• Charge current high power selectable
• Range of input voltage selectable for household appliances and personal computers
• Compatible with input or the input of the generator
• Auto restart during recovery of the current sector
• Cold start function
---
Removable LCD control module with various communications
This detachable LCD control module can be transformed into remote control. Users can install the LCD screen in an area accessible to a distance of 20 metres.
---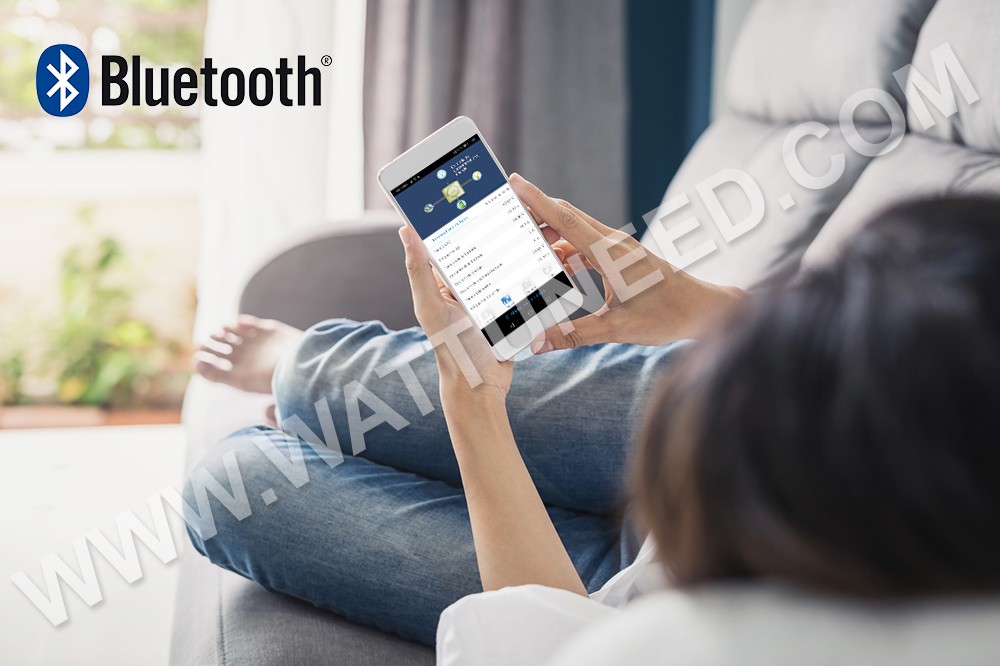 Integrated with the Android application Bluetooth interface
The EVO series has an integrated Bluetooth interface for mobile surveillance. It is easy to configure with a PC or a laptop with Bluetooth interface. This technology allows up to 6-7 m wireless communication in an open space. The watchpower application is available in the Google store.
---

Support USB On-the-Go function
The EVO II series supports the USB On-the-Go feature to facilitate loading/downloading data.
---
The distribution of batteries prolongs the life cycle
This Inverter Charger is integrated into the function of Equalization of batteries. This function allows to eliminate the sulfation to optimize the performance of the battery and even extend life.
---
Ergonomic LCD operation
Users can easily set up or change the charge current, output and the preferred source of the source of the charger by using the control panel LCD for best performance of the inverter.
---

Replaceable fans
The EVO II series is designed with a replaceable fan. This will simplify maintenance and reduce maintenance costs.
---

Communication port reserved (RS485, CAN BUS, or RS-232) for BMS
This third generation inverter is a communication port for BMS. For more information, please contact the sales department.
---
Description of the function of the icons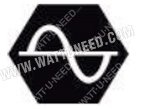 Indicates that the unit is connected to the sector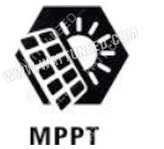 Indicates that the unit is connected to the photovoltaic panel
Indicates that the load is supplied by the sector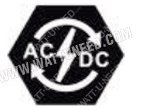 Indicates that the circuit of the charger works
Indicates that the circuit of the solar charger works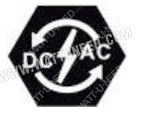 Indicates that the inverter DC circuit / it works
Indicates that the alarm of the unit is disabled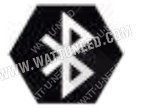 Indicates that Bluetooth is connected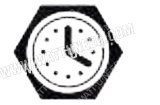 Page display time
Software
WatchPower 1.14
---
Features
POWER
5000VA / 5000W
AC INPUT
Voltage
230 VAC
Voltage range
90-280 VAC
Frequency
50 Hz / 60 Hz (auto detection)
AC OUTPUT
Regulation of the voltage AC (Batt. Mode)
230VAC ± 5%
Peak power (5 sec)

10 000VA

Performance
90 93%
Transfer time
20 ms
output
Pure sine
BATTERY AND AC CHARGER
Voltage nominal battery
48 VDC
Types of batteries
AGM, GEL, open (configurable)
Voltage in floating
54 VDC
Overload protection
63 VDC
Maximum charge current
80A
SOLAR CHARGER
Power max PV
4000 W
MPPT operating range
120 ~ 450 VDC
Maximum PV open circuit voltage
500 VDC
Load current max
80A
PHYSICS
Dimension D x W x H (mm)
115 x 300 x 400
Weight (kgs)
10
ENVIRONMENT
Moisture
5% to 95%
Operating temperature
-10 ° C - 50 ° C
Storage temperature
-15 ° C - 60 ° C
Product Reviews
Number of Reviews : 12
Average Grade : 3.8 /5
D. Ariane
the 05/12/2020
5/5
RAS dans l'attente de son installation
N. Ben Ali
the 19/10/2020
4/5
bien emballé!je n'ai pas encore essayé..mais la livraison est impeccable, rapide et bien emballée..
B. Michael
the 01/09/2020
3/5
Cet onduleur est un entrée de gamme, les caractéristiques techniques sont respectées mais je doute fortement de la précision des mesures d'énergie. A vide il consomme près de 40W ce qui n'est pas négligeable. Si c'était à refaire je prendrais la gamme au dessus...
B. Jérémy
the 19/08/2020
1/5
Ne correspond pas du tout à l'onduleur EVO I, malgré ce qui m'a était dit. Documentation en Anglais.
L. Jean-Claude
the 02/05/2020
4/5
Pour le "qualité prix", il faudra attendre la mise en fonction, mais a priori, vu les info, il n'y a aucune raison que cela ne fasse pas l'affaire, de belle aspect (manque une petite vis sur le coté droit) agréable a voir posé.
A. Anonymous
the 16/01/2020
4/5
Pas encore installé
A. Anonymous
the 12/12/2019
5/5
merci pour livraison rapide il y à du sérieux
A. Anonymous
the 21/09/2019
4/5
Bon produit, cependant attention avant d'acheter car il y a beaucoup de subtilité à prendre en compte exemple aller vous faire évoluer ou non votre installation si oui il vous faut le EVO 5 et non pas le EVO 2 avant toute commande il vaut mieux demander l'avis des technicien maxime ou Jean-noel.
A. Anonymous
the 17/09/2019
4/5
Juste que le produit était disponible à la commande et après avoir payé on m'as fait savoir qu'il y'avait rupture de stock.Et aussi quand j'ai payé on m'as contacté pour me dire que je devais ajouter les taxe si je devais être livré en France cela devrai apparaître au moment de payer. A part ces deux remarque tout va bien.
A. Anonymous
the 25/05/2019
4/5
Pas encore utilisé….Bon emballage.
A. Anonymous
the 03/03/2019
4/5
le produit correspond à 95% à mes attentes, seul hic que je ne comprends pas, c'est que lorsque l'on a un pack batterie, l'onduleur attend d'avoir atteint la tension de décharge autorisé avnt de basculer sur les consommateur => en clair, on stock d'abord dans les batterie jusque 48V (dans mon cas) puis on bascule en mode SBU, donc je ne comprends pas trop. Ensuite impossible de communiquer en série avec l'onduleur, si quelqu'un y a réussi qu'il passe sur mon post du forum du photovoltaique: https://forum-photovoltaique.fr/viewtopic.php?f=16&t=40238 sinon il est tout de meme bien bruyant, donc ne pensez pas le mettre dans une pièce à vivre de la maison (ce n'est pas mon cas). impossibilité de communiquer avec lui pour un relevé automatique via ma domotique (dommage car l'appli en bluetooth marche plutôt pas mal => juste nous fournir les requêtes bluetooth me suffirait. point négatif est peut etre en CEM car depuis son installation j'ai des deconnexion de ma domotique, j'ai regardé la forme du sinus de sortie et quelle belle surprise!!! le sinus est parfait. 50hz => je cherche encore d'où vient le soucis.
A. Anonymous
the 01/03/2019
4/5
Produit conforme à ma demande petit bémol même si il y a le manuel de dispo sur le site, il n'est pas livré avec un manuel en français. il manque un schéma simple et précis pour savoir comment le raccorder avec notre installation existante.
Specifications
| | |
| --- | --- |
| Voltage | 48V |
| Weight | 10 kg |
| Monophasé / Triphasé | Monophasé |
| Width | 300 mm |
| Height | 400 mm |
| Inverter power | 5000VA |