Display all pictures
Hybrid inverters WKS EVO 15kVA 48V + 3 communication kits
WKS
More info
The pack contains:
3 inverters hybrid WKS EVO 5 kVA - 48V
3 communication kits: parallel - three-phase
The pack allows you to connect 3 WKS EVO in parallel. It also allows the three-phase operation.
---
Composition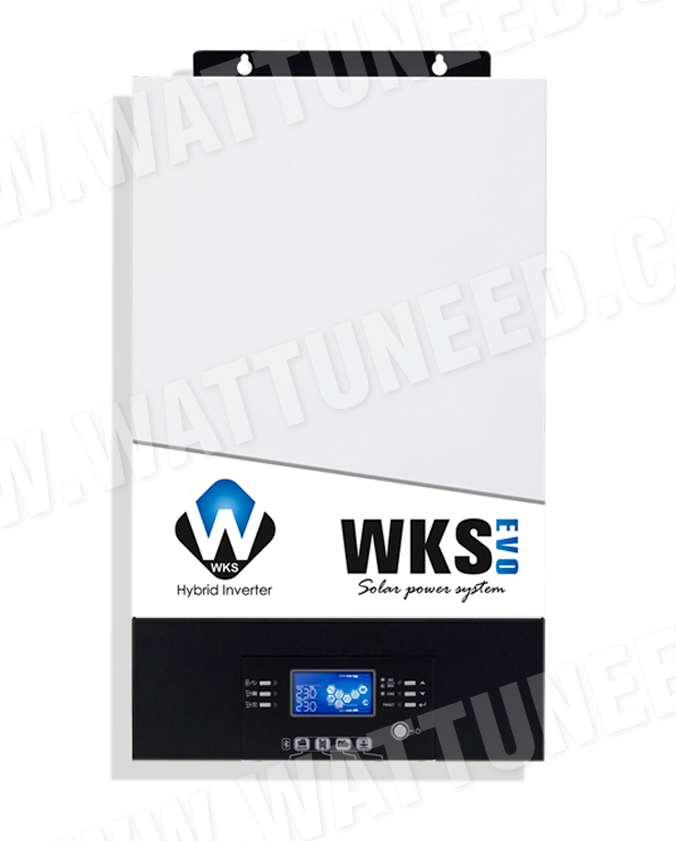 3 x UPS hybrid WKS EVO 48V 5kVA
Enjoy a continuous feeding and reliable that the network is available or not. The energy produced by the inverters WKS EVO is oriented and used intelligently for optimal performance.
All priorities can be defined by the user : use of batteries, solar or the AC source (generator or network) in consumption, the energy produced by your panels is fluctuating and it does not match the consumption.
The inverter WKS EVO stores a part of the solar production in batteries for a later use during the evening or at night. In remote areas, the WKS EVO inverter can be connected to a generator to ensure the charge of the batteries if they are empty and the solar production is insufficient.
This inverter is able to work with several different energy sources such as:
public network
photovoltaic panels
thermal generator
batteries
Software
WatchPower 1.14
---
Management by microprocessor directs energy based on production, consumption needs and the State of charge of the batteries. It is possible to carry out a follow-up in real-time locally or remotely. Inverter WKS feeding power into the grid.
---

3 x communications toolkit - implemented parallel / three-phase
5KVA WKS can be connected in parallel with this communication kit, and this in different ways:
Up to 20 KVA single-phase
Several (max4) devices can be connected in series, allow for systems with up to 20 KVA power of output.
12 or 15 KVA three-phase
By putting an inverter by phase. 3 WKS can be connected for up to three-phase 15KVA output.
The kit includes the card, a power for the cable and communication cable.
---
As an option

We offer you the pre-configuration by us at 70€.
Specifications
| | |
| --- | --- |
| Voltage | 48V |
| Power | 10000 VA |
| Monophasé / Triphasé | Monophasé |
| Inverter power | 15000VA |