Display all pictures
Inverter opti-C 3000 WKS
WKS
More info
Just increase your consumption!
---
Warranty extension

The warranty extension available in the options only covers the troubleshooting of the inverter by the manufacturer and not the transport costs of the device.
Transport is at the expense of the purchaser.
---
Store your solar production
Votre navigateur ne prend pas en charge cette vidéo.
---
Mode EPS
Votre navigateur ne prend pas en charge cette vidéo.
Your browser does not support this video.
---
Flexible solution
Provides a complete solution for energy consumers to optimize the use of the solar energy generated.

Increases the rate of consumption (from 20% to 70%).

The charge current to battery adjustable by the user is suitable for different types of batteries.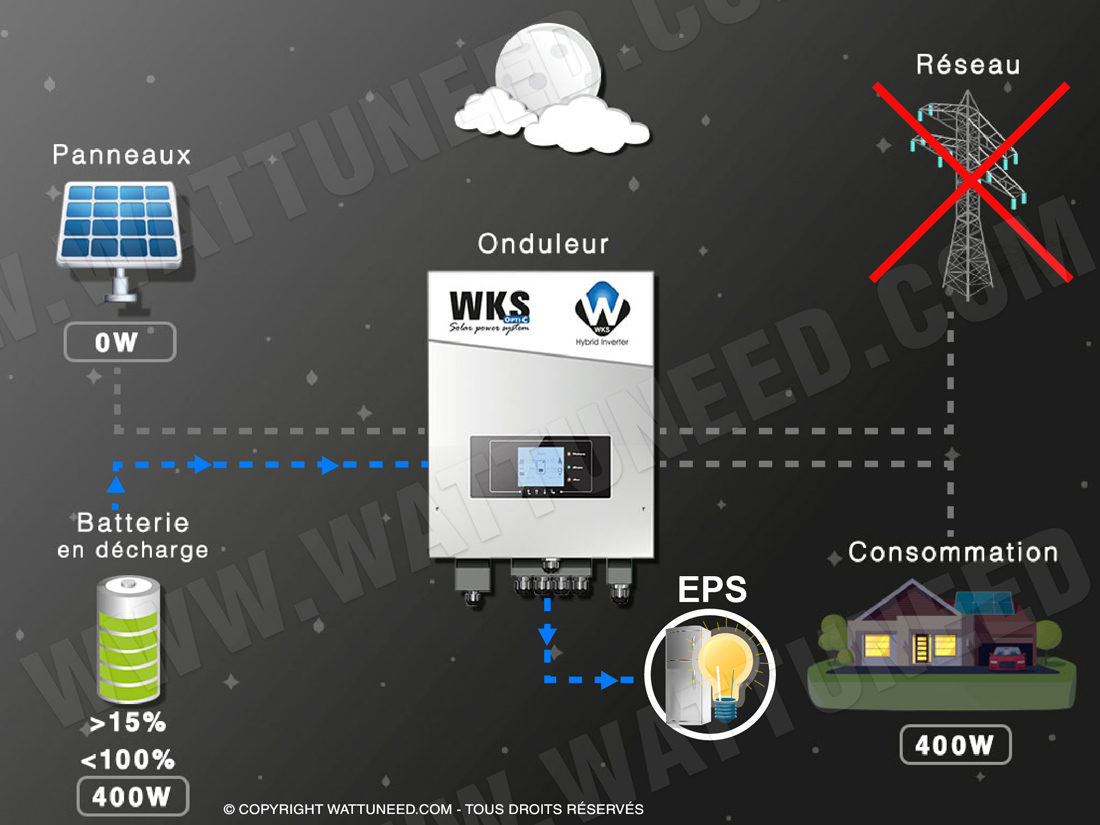 ---
Use your solar production when you need
There is an asymmetry between our electricity needs and the production of our solar system.
As you can see from the chart below, the WKS opti C allows the storage of unused production during the day (on lined yellow) via batteries.
So you enjoy the morning and evening of the energy produced during the day (red highlighted line)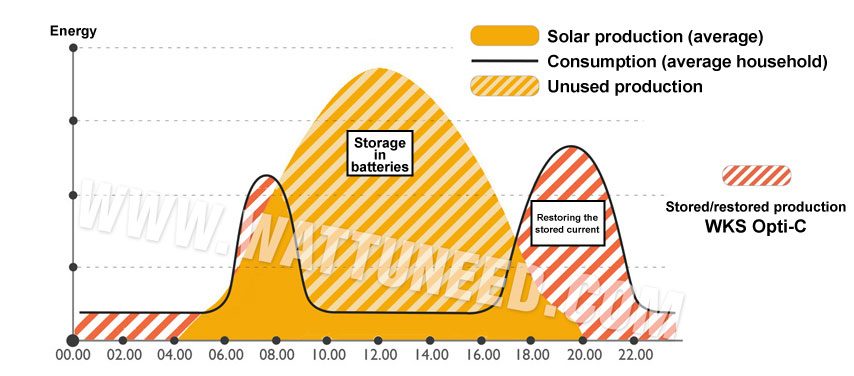 ---
Simple and reliable
Energy exchanges via the electric grid, no linkage with the PV inverter, mature, simple and reliable technology.

Can integrate with all renewable systems related to the network, including solar, wind, fuel cell systems, etc.
---
A clear and complete mobile application (Wi - Fi)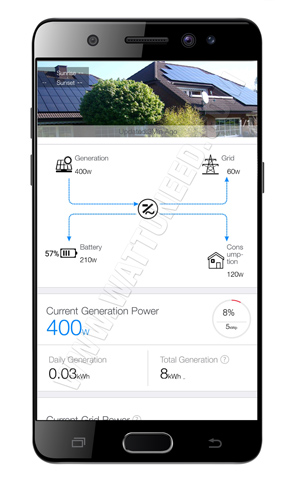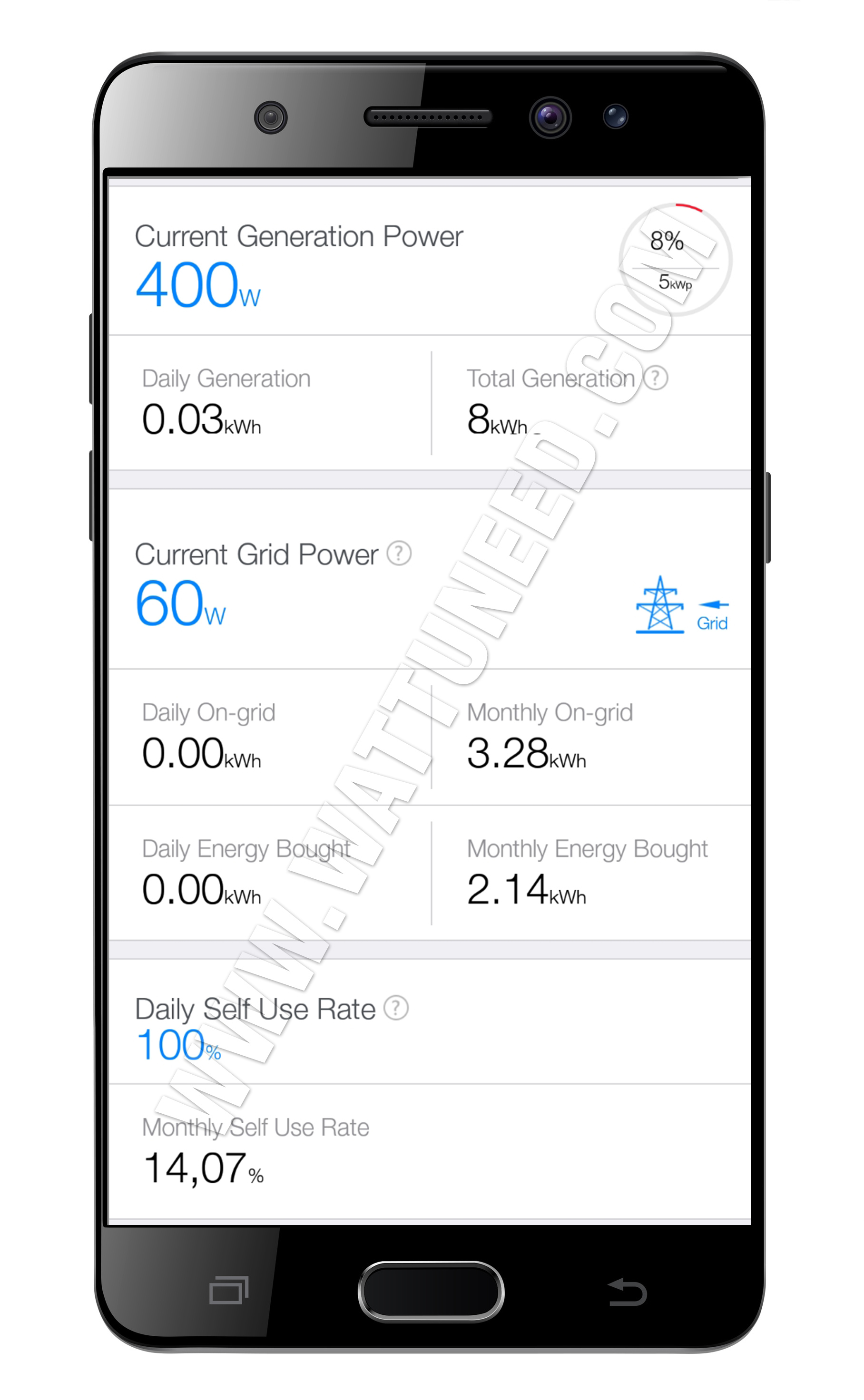 ---
Compatible with 100% of the ups network

---
Easy installation
No changes in your electrical panel is necessary.

Uses a CT scanner to double heart, there is no need to disconnect the electric network.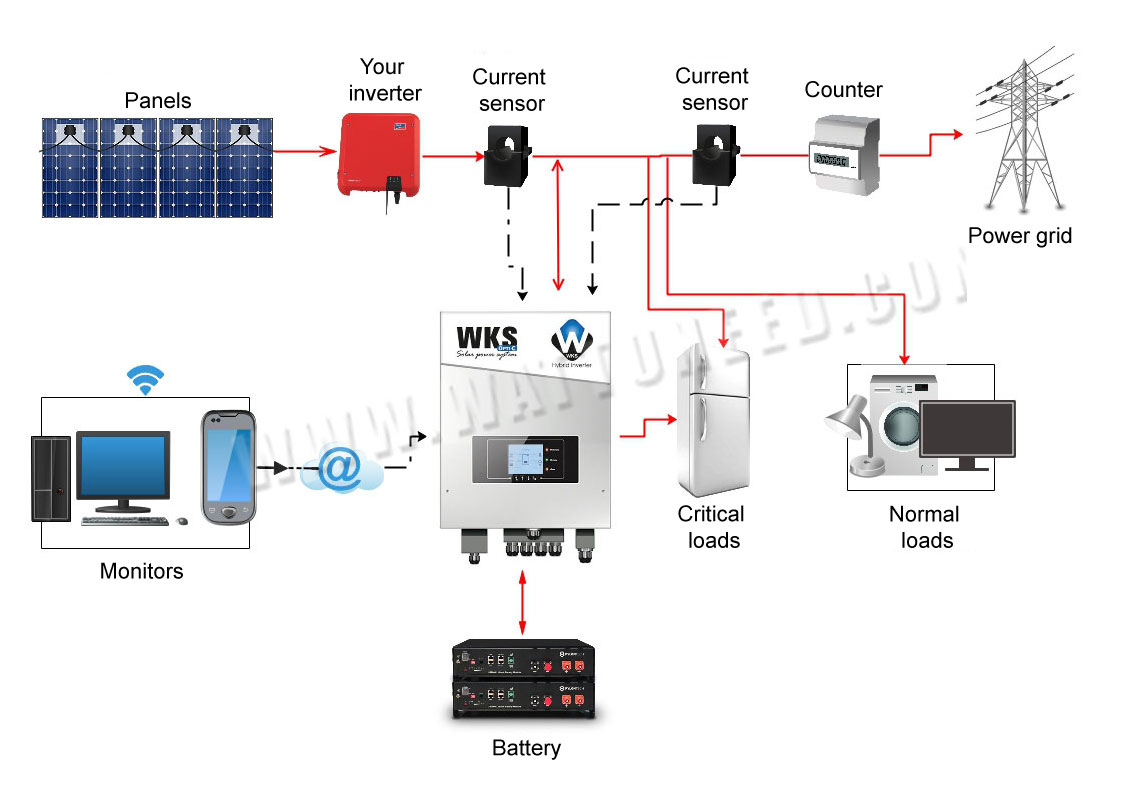 ---
Technical data
Battery settings

Battery type

Lead, Lithium-ion

Power nbattery ominale

48

Battery voltage range

42 58V

Recommended battery capacity

200Ah (100 ~ 500 Ah in option)

Recommended storage capacity

9.6kWh

Maximum load current

60A

Range of load current

0 - 60A (programmable)

Curve de load

3 floors Adaptive with maintenance

Maximum discharge

60A

Electronic protection

OCP OVP OTP

Pprotection of circuits

Fuse (100A)

Discharge time (Time)

Po = lkVA9.6 h

Po = 3kVA3.2 h

Depth of discharge

Lithium : 0 ~ 80% DoD adjustable

Lead-acid: 0 ~ 50% of DOD adjustable

Settings AC

Maximum engine Power

3KVA

Input/output voltage

230 V

Max.Input/Output current

13A

AC input voltage range

180V-270V

Frequency range of network

44 ~ 55 Hz / 54 ~ 66Hz

THD

< 3%

Power factor

l (adjustable +/-0.8)

Phase connection

unique

Maximum output over-current protection

13A

The system parameters

Load Maximum efficiency

94.1%

Maximum discharge efficiency

94.3%

Tired of Eve

< SW

Technology

Isolated transformer hhigh frequency

Degree of Protection

IP65

Protection measures

Anti-ilotage, RCMU

Certification

IEC 62116, IEC 61727, 61683, IEC 60068 IEC (1, 2, 14.30), AS4777 IEC62109-1/2,.VDE 0126-1-1, G83/2, lc0/11, RD1699, UTEC15-712-1, EN50438,.VDE-AR-N4105

Communication

WiFi, RS485, CAN2.0

Environment

Temperature range

-25°c...+ 60 ° c


Allowable Relative humidity range

0 ... 100%, without condensation

Protection class

Class I

Altitude Max.

2000 m

Connection of current sensors

external

General data

Noise

< 25dB

Weight

16kg

Type of cooling

Natural

Dimensions L x H x d

532 * 360 * 173 mm

Display

LCD

Warranty

5 years


Emergency power supply

EPS rating

3000VA

Distorted harmony

< 3%
Product Reviews
Number of Reviews : 2
Average Grade : 4.5 /5
S. Mickael
the 22/09/2019
4/5
c est un produit peu répandu conforme a mes attente mais la notice incomplète notamment le wifi ;le mode basic etc.… mais correspond pour la plus part des utilisateur lambda
V. Marc
the 10/03/2019
5/5
Je ne l'ai pas encore installé