Display all pictures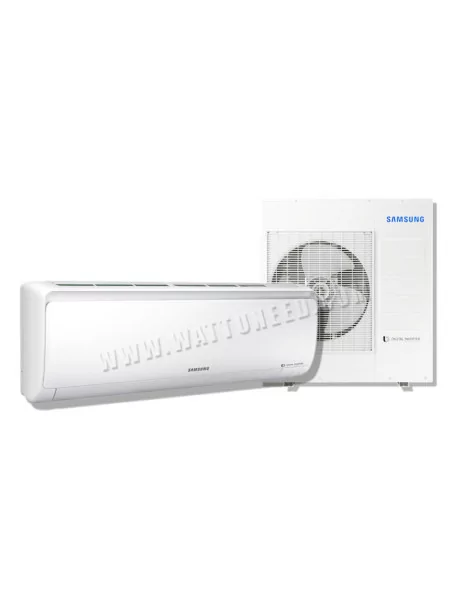 Samsung Maldives heat pump from 2.75 to 6.5Kw
Samsung
More info
Samsung Maldives heat pump from 2.75 to 6.5Kw
Samsung air/air heat pumps can be used to cool or heat your home or business. A heat pump extracts heat or freshness from the outdoor ambient air and enhances it through a compression and then relaxing circuit. Compared to conventional heating, a heat pump has a great energy advantage. Smart Inverter technology offers rapid heating or cooling power, with low electricity consumption. Samsung heat pumps have COPs in the order of 4! So with a Smart Inverter air conditioner you avoid wasting energy and you save money.
---

Benefits
Energy saving

Air purification

Improved comfort and sleep

Instant heating or cooling

Silent operation

Improved air diffusion

Automatic mode change
---
Significant savings and a sense of comfort
Samsung air conditioners are equipped with "Smart Inverter" technology that maintains an ideal temperature without the compressor continually alternating between onand and stop. The "Smart Inverter" technology guarantees you long-lasting comfort for minimal energy consumption. It automatically regulates the power of the air conditioner to compensate for temperature variations, which produces a feeling of optimal comfort. Improved control ensures a reduction in energy consumption of up to 80%.
---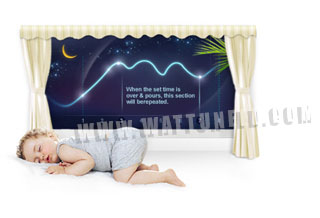 Better temperature for deep sleep
With automatic temperature setting, Samsung provides a comfortable environment to ensure a good night's sleep. Samsung's night mode takes into account the rhythm of different sleep cycles.
---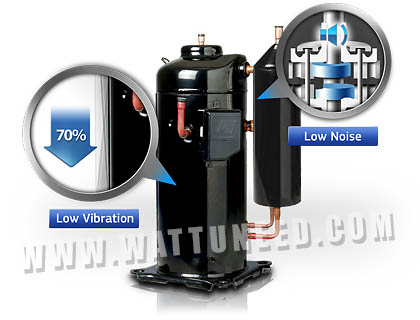 Silent operation
The Maldives PAC uses a bLDC dual compressor with stable moving parts. This engine is very efficient and produces very little vibration.
---
Design and order
The Maldives CAP is a classic unit that integrates into the majority of interiors. Thanks to the large digital screen, the control is easy to read and manipulate.
---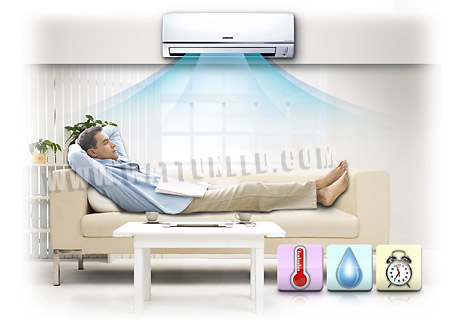 Cooling and fast heating
When starting, the "Smart Inverter" air conditioner is running at full capacity and then stabilizes to reach the desired temperature in a matter of minutes.
---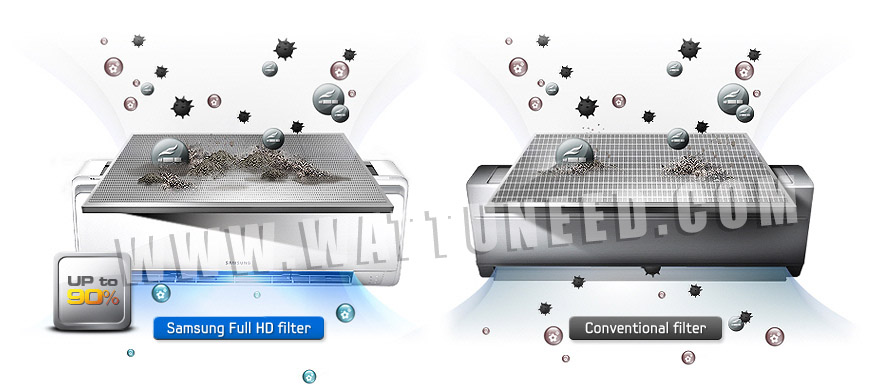 S-Plasma ion system and Full HD filter
Samsung improves the purification system by using an advanced filter and an intelligent "S-Plasma ion" system. This system purifies filtered air with the high-density "full HD" filter to ensure a cooler and healthiest environment.
Step 1: High-density fitre retains dust, bacteria and allergens.

Step 2: The air purification device removes 99% of contaminants, bacteria and viruses from the ambient air.
Data sheets and documentation