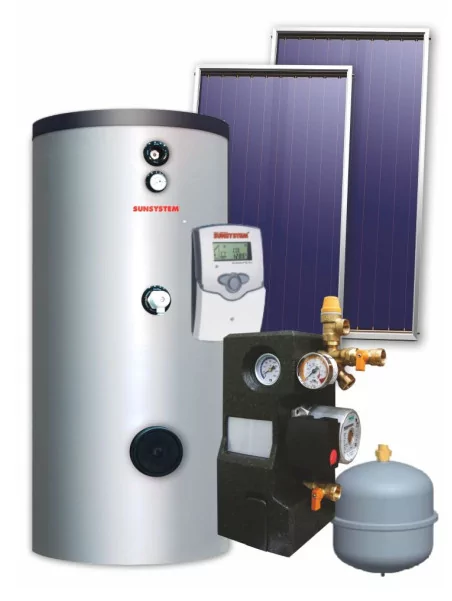 Solar kit SunSystem for hot water - 300L
BURNiT
More info
The SUNSYSTEM solar kit for hot water is ideally conceived to harness the free and ecological solar energy for the household daily needs.
Product Features :

Ideally combined components for optimum performance


Energy efficiency


Inclined or flat roof installation possibilities


Reliable design


High-grade materials employed


Solar Keymark certified



Components :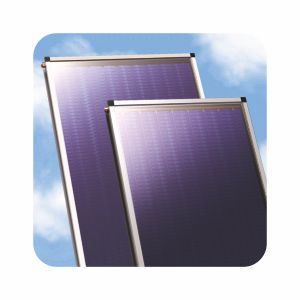 Collectors SUNSYSTEM Select
Thanks to their highly selective absorber they are efficient throughout all seasons
Rock wool insulation brings about reduced heat loss back to the atmosphere.
Harp absorber construction ensuring low flow resistance and economic energy consumption
Durasolar® P+ glass used on the front for optimum absorbtion of solar radiation and endurance.
UV resistant materials guarantee long lifespan
Certified by DIN CERTCO for compliance with DIN EN 12975:2006-06 and Solar Keymark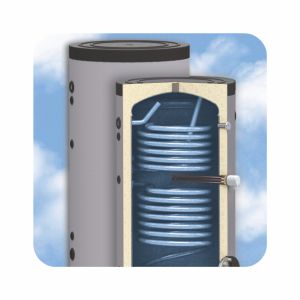 SUNSYSTEM family of solar water heaters
Water tank of low-carbon steel, coated with titanium enamel for a long service life.
Rigid PU insulation for efficient heat conservation
Heat exchanger coil / coils for use with solar collectors or/ and another heat source, i.e. BURNiT boiler.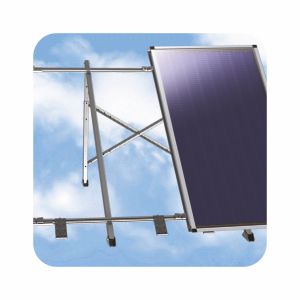 Solar support system
Two versions available: for inclined and flat roof.
Durable lightweight construction of Aluminum withstanding severe climate conditions.
The support structure is resistant to wind speeds up to 150 km / h and snow mass up to 1.25 kN / m² according to ENV 1991-1-3 and 1991-1-4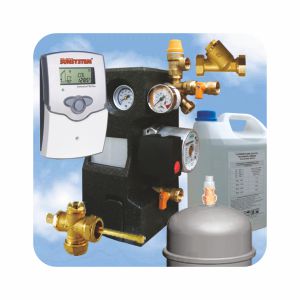 Accessories
The necessary fittings, expansion vessel, and heat carrier.
Solar station ensures forced circulation of the heat carrier fluid, performs basic system measurements, safety and maintenance functions. Employs energy efficient solar grade Wilo pump, designed to withstand the demanding conditions of a solar system. Smart insulating case of durable elastic EPP ensures thermal insulation of all elements and neat appearance.
Solar controller with pump speed control, drainback option, and 4 temperature sensors monitors the operation of the entire system and controls the function of the solar station for maximum yield.
Cross fitting 2 in 1 with sensor housing and manual air vent.
Propylene glycol is used to ensure flawless heat carrier even at negative ambient temperatures.

Expansion vessel. Fixed bladder expansion vessels are designed to absorb the volume increase when temperature rises. Working temperature tolerance -10°C +110°C. The products comply with European Directive 97/23/CE.
Connection schemes :

Attention! All schemes are examples.
It is recommended that sizing and connection of your system be carried out by an authorized service professional/specialized service shop.
Technical characteristics :

Household size

3-4 persons
Solar flat-plate collector
Flat-plate collector
3x PK SL 2,15
Absorber coating
Select
Inlet/outlet sleeves
R ½
Overall dimensions of 1xPK
mm
2125/1000/90
Collector roof-top support system
flat/inclined roof mounting
Solar water heater S series
Solar water heater S series
SON
Water heater capacity
Liter
300
Operating pressure / maximum temperature
bar / °C
10/95
Overall dimensions of heater
mm
1420 / ø 660
Lower / upper coil capacity
Liter
7.40 / 5.55
Operating pressure / max. Of the serpentine
bar / °C
16 / 110
Electric heater (optional)
kW
3 - 7,5
Solar station
S
Single line / two lines
Solar system control with four temperature sensors
U
Delta Sol BS 4
Accessoires
Solar check valve
1"
Solar filter
1"
Cross fitting 2 in 1
ø 22
Transition fitting
22x ½"
Hollaender fitting
4x ½"
Solar expansion vessel
V, Liter
24
Heat Transfer Fluid, PG 100%
Liter
10
Double corrugated pipe
Number of pipes / size
G
2x DN16 - 2xDN20
Fittings
¼" / 1"
Material
High-grade stainless steel
Components
Integrated sensor cable
Insulation
UV-resistant insulation
Installation options for back up heat supply
Solid fuel boiler WBS
Compatible
Solid fuel boiler WBS Active
Compatible
Wood gasifying boiler PyroBURN
Compatible
Pellet boiler PelleBURN
Compatible
Ballon tampon SUNSYSTEM
Compatible