Display all pictures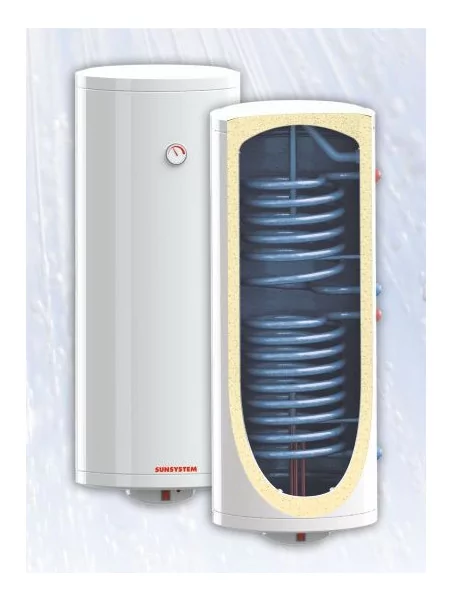 Water heater wall-hung 150L BB S2 - 2 coils
BURNiT
More info
Wall-hung water heaters BB S2 - with two coils
High efficiency water heater for domestic hot water.
Easy to use and reliable.
Wall-hung, for bathroom installation.
For direct electric heating and indirect heating with added two heat exchanger coils. This water heater may employ both electricity and a renewable energy source (solar collectors and biomass boiler).
Warranty : 5 years
Diameter : 520 mm
Orientation and size, L :
Vertical model : 200
Product features :
Thermal insulation with reinforced PU - thickness 32.5 mm and aesthetic coating in metal color RAL 9003


Vitreous ceramic ball, made of sheet steel S235JR, in accordance with DIN 4753-3


Two magnesium anodes for protection against corrosion in accordance with DIN 4753-6 for all enamelled models


Electric heater


Thermal indicator


Double thermal insulation and safety valve, set at 8 bar


Two combination coils of two independent thermal sources


A large heat exchange surface of the coil ensures effective heat exchange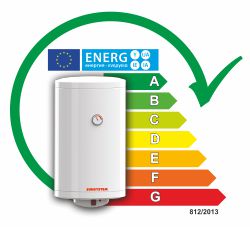 Energy Efficiency Directive 2010/30 /EU, Regulation 812/2013:
Class Е for capacity of 200 Liters.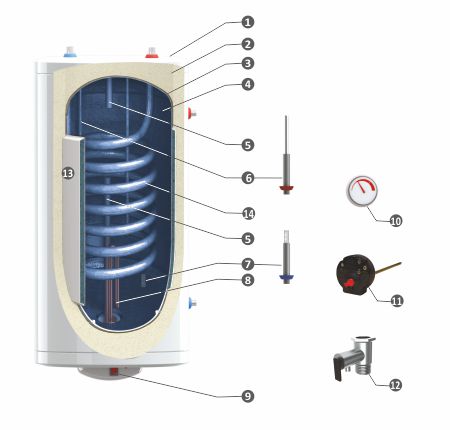 1. External casing in white.
2. High efficiency thermal insulation of environment-friendly rigid PU, with thickness 32mm.
3. Water tank of low-carbon steel with wall thickness 2,5 mm.
4. Titanium enamel (DIN 4753-3)
5. Cathodic protection of the tank by means of sacrificial anode protector (DIN 4753-6) - 2pcs.
6. Stainless tube for hot water.
7. Stratifier mounted on cold water inlet.
8. Electric heating element.
9. Power ON / OFF button.
10. Temperature indicator.
11. Dual thermal electric protection.
12. Safety valve, 8 bar.
13. Water mantle heat exchanger.
14. Lower heat exchanger coil.
15. Upper heat exchanger coil.
Technical characteristics
BB V S2
200
Height
mm
1370
Depth
mm
540
Diameter D
mm
ø 520
Operating pressure / max. temperature
bar/°C
8/95
Testing pressure of tank
bar
13
Lower coil S1
Heat exchanger surface
m²
0.8
Heat exchanger volume
L
4.07
Prolonged power according to DIN 4708; 80/60/45 °C
kW
15
m³/h
0.37
NL - power coefficient at 60°C
15
Pressure drop Δp
mbar
60
Upper coil S2
Heat exchanger surface
m³
0.53
Heat exchanger volume
L
2.70
Prolonged power according to DIN 4708; 80/60/45°C
kW
9
m³/h
0.22
NL - coefficient at 60°C
1.3
Pressure drop Δp
mbar
55
Operating pressire / max. operating temperature coils
bar/°C
16/110
Testing pressure of coils
bar
25
Temperature indicator
Yes
Anode
pcs
2
Heating element (optional wattage)
kW
2/3
Weight
kg
96
Lower coil outlet
A, mm
R3/4" / 215
Cold water inlet
G, mm
R3/4" / 150
Lower coil inlet
B, mm
R3/4" / 653
Upper coil outlet
J, mm
R3/4" / 733
Recirculation
C, mm
R3/4" / 883
Upper coil inlet
K, mm
R3/4" / 1095
Hot water outlet
E, mm
R3/4" / 1555
Dimension F
mm
60
Dimension H
mm
1310
Dimension P
mm
220
Dimension Y
mm
900
Dimension Z
mm
240
Data sheets and documentation